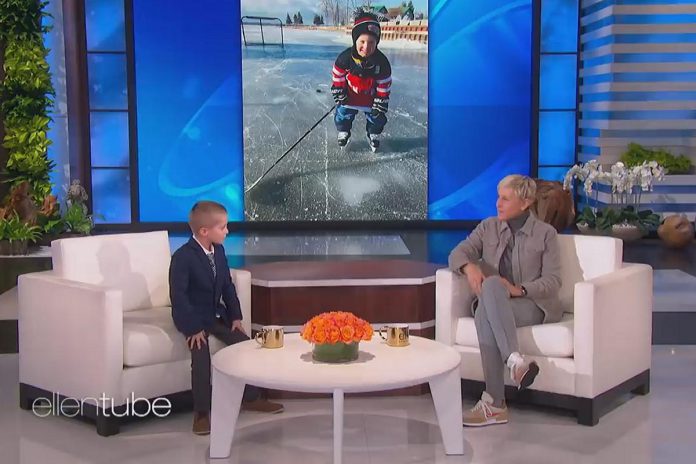 Seven-year-old Callan Perks of Lakefield brought talk-show host Ellen DeGeneres to tears when he appeared on her show on Wednesday (January 5).
The enthusiastic young hockey fan rose to fame after he delivered a rousing speech to the Peterborough Petes before their November 28th game against the Ottawa 67's. Callan has been sslected to act as head coach as part of the OHL Team's "Next Gen" promotion where kids five to 12 were invited to audition to shadow various roles with the organizaition.
"Legends are made every day and you could be one of the greats," Callan said during his minute-long speech. "We're going to do whatever it takes to get the W."
Advertisement - story continues below
The Petes went on to win the game and, after the organization shared a video of "Coach Cal" giving the speech on social media, it went viral.
The speech was broadcast on Sportsnet and TSN, and Coach Cal quickly became a media darling, appearing on CBC, CTV, Global, and ABC.
Callan and his family were flown to Los Angeles to appear on The Ellen DeGeneres Show, which was recorded on Tuesday.
VIDEO: Kid Motivational Speaker 'Coach Cal' Brings Ellen to Tears with Pep Talk

"First of all, do I call you Callan or Coach Cal?" Ellen asks.
"It really doesn't matter, but Coach Cal has a really good ring to it and coaches are like a leader and they coach hockey teams and a lot of sports … so Coach Cal's good," Callan replies, to laughter and applause from the audience.
After commenting on his energetic hand gestures while speaking, Ellen asks Callan if he has always been so optimistic and positive.
"I always want to think positive, so even if you're having a bad day just go out there and get the W, no matter what comes," he says.
Advertisement - story continues below
After calling him "absolutely adorable," Ellen then tells Callan she understands he has a motivational speech for her, which he proceeds to give.
"For 19 seasons you have given your all on this stage," he begins, before concluding with "When it's time to say goodbye and turn out the lights, just remember that you Ellen will always get the W because you have given whatever it takes to be you."
"Just keep working hard and staying positive and making people laugh, 'cause you are a legend. So let's get fired up and go out there and get the W, today and every day. Let's go Ellen!"
VIDEO: Callan Perks' pre-game speech to the Peterborough Petes
Coach Cal's powerful pre-game speech!

Coach Cal's dream came true? On Sunday while Coach Wilson was away at the Capital Cup, Coach Cal delivered this electrifying speech that led the boys to a 3-2 victory over the Ottawa 67's during Next Gen night!

Posted by Peterborough Petes on Monday, November 29, 2021
The audience erupts with applause, cheers, and a standing ovation, and a teary-eyed Ellen then gives Callan a big hug.
"I know a lot of fancy people and what you just said to me means more to me than what I can possibly convey to you," she tells him. "I don't even know you, but you are just a special little being with such a big heart and I thank you for that. That was the sweetest thing."
Ellen then presents Callan with a personalized "Coach Cal" tracksuit, clipboard, and megaphone.
"I think you're going to go on to do big, big things," Ellen says.