This month, food writer Eva Fisher gets the scoop on The Lokal by Neski's, a new restaurant and makers' market set to open soon in Woodville, checks in with fine dining restaurants as they pivot to takeout (again), learns about new care packages for at-home cooks offered by Nateure's Plate, and indulges in weekly take home dinners from Revelstoke Café.
Advertisement - content continues below
Mother-son team set to open The Lokal restaurant and makers' market in Woodville
Mother-and-son team Lorrie and Bren Neskovski are in the process of opening a new makers' market and restaurant in the heart of Woodville. The location previously occupied by The Brick Oven will now house The Lokal by Neski's (97 King Street, Woodville).
The space has been completely gutted and redone, with a wall knocked out to adjoin the unit next door for twice the space. On one side there will be a retail space, selling locally made products, and on the other side there will be a restaurant.
A commitment to local ingredients and local sourcing is a key value for Bren.
"Over the past two years I feel like everyone has just fallen into trying to survive and make do, and we really want to bring that focus back to the local communities and supporting local and really showing what us as Kawarthans and Canadians really are all about and that's supporting each other. We're always stronger when we're together."
VIDEO: Lorrie Neskovski talks about preparations for The Lokal
Bren and Lorrie are also the owners of Neski's Lunchbox, a food truck located in Rosedale. They plan to open a new Neski's Lunchbox food truck this summer at Pioneer Point Resort, between Lakefield and Buckhorn.
Bren began partnering with his mom in 2019.
"A lot of people don't like the idea of mixing family with business," he says. "I totally get it. However, mom and I are so similar and we're both brutally honest with each other, which works out really well. We both have the same vision, we both have the same core values, so whenever it comes to business decisions we both know where we're heading."
Advertisement - content continues below
The new Woodville location will be a homecoming for Bren, who owned the restaurant Silver Spurs in Woodville a decade ago.
The menu for the new location will be a combination of food truck fare, including chicken burgers and poutine, and classics from the Silver Spurs menu such as home-made pizza.
Opening two new businesses in one year in the midst of a pandemic might seem daunting, but Bren enjoys the challenge of entrepreneurship.
"I get bored really, really easily," Bren says. "I always have to keep doing something and it's always been about the entrepreneurial spirit for me."
The Lokal is currently scheduled to open in February, but renovations are still underway and might be delayed.
You can follow them on Facebook and Instagram for updates or visit thelokal.ca.
Fine dining at home in the Kawarthas during lockdown #5
It's an extremely difficult time for those in the fine dining industry, with provincial restrictions keeping the warm murmur of a candlelit dining room silent for the time being. Luckily, the creative minds behind some of the best fine dining establishments in the Kawarthas have take-home options to brighten your lockdown.
Pane Vino Trattoria and Wine Bar (56 Kent St W., Lindsay, 705-878-4663) is offering a virtual wine dinner this Saturday (January 22) featuring a four-course meal with four Italian wines and a guided tasting. They are also offering Burger Thursdays, with your choice of a classic cheeseburger or a double-smoked bacon cheeseburger and either truffle frittes or classic frites with bomba mayo. Visit facebook.com/PaneVinoLindsay for more details.
Rare (166 Brock St., Peterborough, 705-742-3737) is back to their backdoor takeout, offering a selection of more casual fare like macaroni and cheese and fried chicken sandwiches. You can also purchase frozen foods and preserves, like smoked pulled pork and house made HP sauce. You can order from Tuesday through Saturday beginning at 4 p.m. at www.rareexperience.ca.
Advertisement - content continues below
Amandala's (375 Water St., Peterborough, 705-749-9090) is offering a decadent takeout menu, with highlights including spaghetti squash crab fritters with sherry aioli, baby arugula and chamomile smoke, and a braised briket ravioli with house-made black garlic scented pasta, house ricotta, braised brisket filling, creamed pan reduction, toasted almonds, and Littleleaf Farm microgreens. Perfect for a decadent night in. Amandala's "Here we go again takeout menu" is available Thursday through Sunday, and orders can be placed by phone.
Dreams Café and Bistro (138 Hunter St. W., Peterborough, 705-742-2406) is offering their dinner menu by takeout on Fridays and Saturdays from 5 to 8 p.m. Their menu, which includes decadent pastas, aromatic curries, and jumbo prawns served with banana blossom fritters, was posted on Facebook with the note, "We need your incredible support during these extremely difficult times to stay afloat." For details, visit facebook.com/DreamsCafePtbo.
Now is the time to support the restaurants that you love.
Nateure's Plate in Peterborough offers care packages with plant-based meat and cheese alternatives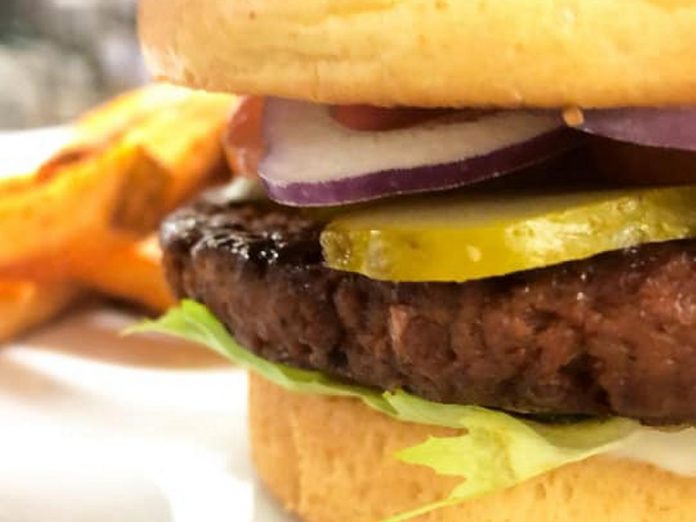 Nateure's Plate (182 Charlotte St., Peterborough, 705-874-1215) is making it easier to incorporate plant-based ingredients into your heartiest homemade meals. Co-owners Nathan and Danielle White are offering "care packages" — a collection of plant-based meat and cheese alternatives made in house at Nateure's Plate.
This first package, debuting this week for $50, features entirely plant-based alternatives for cheddar cheese, feta cheese, parmesan cheese, ground beef, and burger patties.
Nathan hopes that this will allow people an opportunity to try something new in their kitchen during lockdown.
"Since everybody can't come into the restaurant, it gives them a chance to have food that we make at their disposal that they can also get creative with."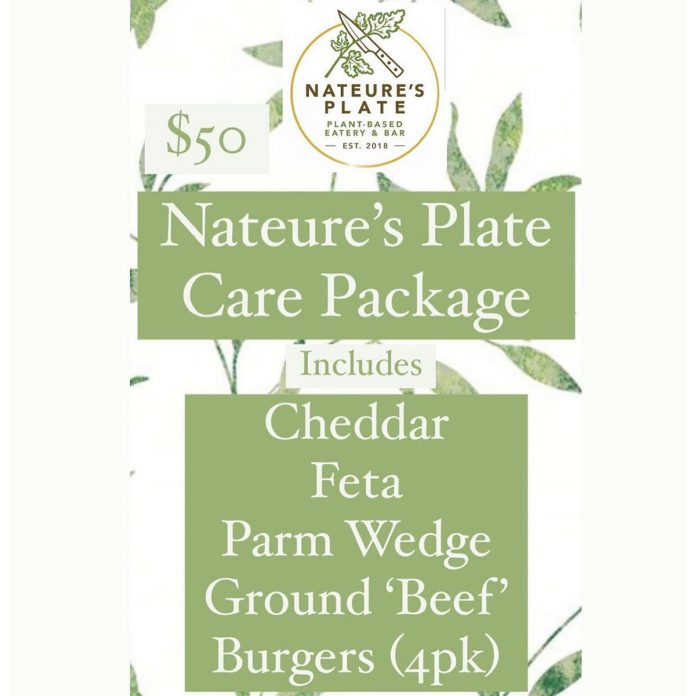 Nathan has spent the past two years developing a gluten-free and soy-free bacon alternative, which will be available in their care packages within the month. Every product within the care packages has been crafted with care from scratch.
I asked Nathan how he approaches developing plant-based products.
"That's a thought process I've had for five to six years" he says. "You take a product — any product, any animal-based food — and think of how to make it plant based. That's just something I'm obsessed with."
Advertisement - content continues below
Nathan explains how he came up with his plant-based parmesan cheese.
"Parm is the most umami-rich cheese, so from a taste level you have to make it very rich in umami. You have to have the salinity level where it needs to be, and then you have to get the right acid — there are different cheeses and different dairy products that have different acids created through the culturing process, so that's something you need to nail down. And then you have to pick a base cheese note flavour, and then you have to pick your secondary flavours from there."
"And from there, you move to texture," he adds. "You take a regular parm, look at the nutritional information, and you find plant-based ingredients that give it that same texture."
You can order care packages by messaging Nateure's Plate on social media or by phone. Nateure's Plate will also be releasing new takeout breakfasts next week.
To order and for updates, visit Nateure's Plate on Facebook and Instagram.
Revelstoke Café in Peterborough offers take-home dinners to brighten your lockdown
Revelstoke Café (641 George St. N., Peterborough, 705-808-2893) is offering weekly Friday take-home dinners throughout the latest lockdown.
The plant-based kitchen is known for their creative brunches and lunches (and for their decadent cinnamon rolls and scones), but co-owner Jeff Clarkin — who owns the restaurant with his son Connor Clarkin — says that this lockdown was an opportunity to try something new.
"Last time when the dining area was closed, we did a cinnamon bun specialty contest where I made two different creative buns each week. Tis time I wanted to do something different to keep with the creativity and keep our guests engaged and fed."
Each week, Jeff and Connor select a new take-home dinner.
"The choices are made by discussing with our employees and guests what they would like us to do, and we choose whatever the consensus decides," Jeff says.
This week, that will be a vegan butter chicken with homemade garlic naan and basmati rice. Past specials have included lasagna with caesar salad and garlic bread, and build-your-own tacos with options including jerk jackfruit with pineapple verde and buffalo cauliflower with pickled red onion. Each dinner can feed four to six people.
You can preorder your dinner through Instagram or Facebook or by calling 705-775-5757. Revelstoke's lockdown hours are Thursday to Monday from 11 a.m. to 4 p.m.