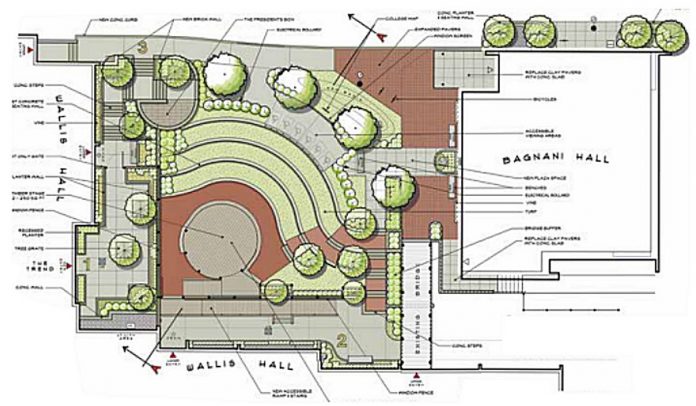 Construction of a new outdoor amphitheatre in downtown Peterborough is set to begin this summer.
Trent University announced on Monday (April 25) that the Jalynn Bennett Amphitheatre at the university's Catharine Parr Traill College has received $560,000 in funding through the federal government's Department of Canadian Heritage, as a part of the Canada Cultural Spaces Fund Program.
The three-season amphitheatre is named after the late Jalynn Bennett, former chair of Trent's board of governors, whose foundation provided the university with a gift of $1.13 million in 2018 — part of has been used to seed the amphitheatre project along with several other projects.
Advertisement - story continues below
Tweet this quote
"Our dream for the amphitheatre falls directly in line with the challenge from Jalynn, to do something 'bold, audacious and effective' for our community," says Julie Davis, vice-president of external relations and development at Trent University, in a media release. "This funding is incredibly exciting as it allows us to take our dream to the next stage of development."
Located in the central courtyard of Traill College between London and Dublin streets, the accessible amphitheatre will feature tiered seating for 80 to 100 people, professional lighting, and carefully directed sound using designs of ancient Greece that contain acoustics. The projected cost of the amphitheatre is $1.4 million.
"Not only will the new amphitheatre provide students with a space to practice and perform, but it will be a new home for arts and culture in Peterborough's historic downtown — uniting music, theatre, expression, and history," Davis says.
Both the Electric City Culture Council (EC3) and the City of Peterborough's Arts, Culture, and Heritage Advisory Committee have endorsed the amphitheatre project, along with community partners in arts, culture, and heritage including 4th Line Theatre, New Stages Theatre, Theatre Trent, Anne Shirley Theatre Company, Trent University Music Society, Public Energy Performing Arts, Nogojiwanog Indigenous Fringe Festival, Peterborough Symphony Orchestra, Art Gallery of Peterborough, Peterborough Museum and Archives, and the Peterborough Historical Society.
Advertisement - story continues below
Tweet this quote
Along with providing a new outdoor performance space for the community, the amphitheatre will also provide space and hands-on learning opportunities for students studying at Trent.
"Several Trent departments based at Traill offer music, performance, or theatre as a part of their curricula," explains Dr. Michael Eamon, principal of Catharine Parr Traill College. "The amphitheatre will expand the educational experience as well as offering a new venue to enrich Peterborough's cultural experience."
"It will be a space where professional artists and performers will entertain the community and also provide experiential learning and mentorship opportunities for students in various programs including Culture and Media Studies, English Literature, and Canadian Studies."
The amphitheatre is expected to be completed in September 2022. Rental fees will be waived for student, amateur, and non-profit groups.