A program encouraging innovative tourism ideas has officially launched in the Peterborough area.
The "Spark" Mentorships and Grants Program will match selected applicants with a mentor and provide a $3,000 seed grant to help take their new tourism idea to the next level.
The non-profit Tourism Innovation Lab at the University of Windsor first launched the program in Windsor-Essex in 2018, and it has since expanded to more than 20 regions in Ontario and British Columbia.
Advertisement - content continues below
"We are very excited to be launching the Spark program in Peterborough and the Kawarthas," says Justin Lafontaine, program lead with the Tourism Innovation Lab, in a media release. "Innovative tourism ideas brought forward by entrepreneurs, small businesses, and organizations will elevate Peterborough and the Kawarthas tourism offerings and experiences and inspire travel to the region."
The goal of the program is to find, foster, and support new tourism ideas that will enhance current offerings, address gaps or challenges, motivate travel and longer stays, and increase year-round visits.
Program organizers are especially interested in experiential and sustainable culinary tourism and agritourism tourism ideas as well as ideas that address the shoulder season.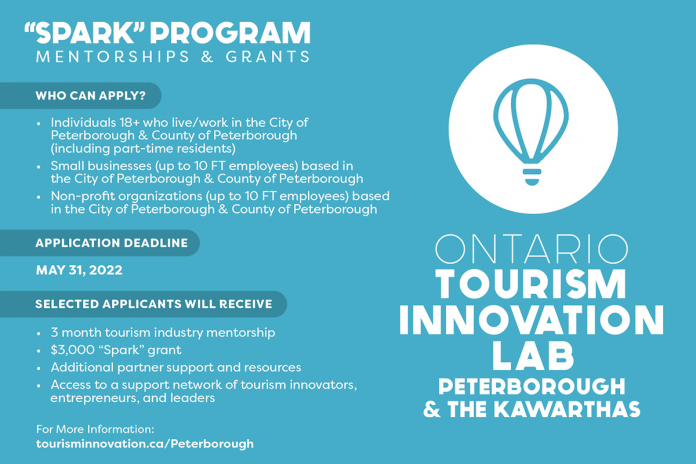 The "Spark" program is being led by the Tourism Innovation Lab in collaboration with Peterborough & the Kawarthas Tourism, a division of Peterborough & the Kawarthas Economic Development (PKED), and the official destination marketing organization for the City and County of Peterborough.
"We are pleased to offer this opportunity to tourism businesses in this region," says Joe Rees, director of tourism with PKED. "This collaboration with a nationally recognized leader in innovative tourism development furthers our goal of supporting the sustainable growth and expansion of tourism businesses through experiential product development."
Entrepreneurs, small businesses, nonprofit organizations, and community groups in the City and County of Peterborough are encouraged to apply with their new tourism ideas by the deadline of Thursday, May 31.
Advertisement - content continues below
Finalists, selected by a juried review process, will be invited to a virtual pitch session in June.
Six winners — three from the City of Peterborough and three from the County of Peterborough — will each win a $3,000 grant and a three-month mentorship (with a tourism innovator, experienced operator, industry leader, or sector expert), along with access to a support network of tourism innovators, entrepreneurs, and leaders and additional support and resources.
For more information and to apply, visit tourisminnovation.ca/peterborough.