Niki Pulchinski likes to tell the story about the family road trip where she and her husband Jason conceptualized their small business At The Lake Distributing. At the time, their family lived in Kitchener, where Niki stayed at home with their three young children while Jason worked for a large corporation in a job he wasn't enjoying. They both wanted a change.
"We met in Peterborough years ago, and then our careers took us away," says Niki.
When the couple set out on the road trip to South Carolina Myrtle Beach over 15 years ago, starting their own business was an idea they'd already floated around. Shortly after their return, Jason submitted his notice to work, and they packed up and moved their family to Peterborough — all with the plan of starting At The Lake Distributing.
Fifteen years later, Jason and Niki's waterfront recreational product distribution business has experienced significant growth and success. The business has come a long way from the eight-by-nine basement bungalow office it ran from during the first five years. But, Niki says, no step of the way was easy.
With growth came many unforeseen obstacles. A number of those obstacles, Niki says, they got through thanks to the support they received from Community Futures Peterborough.
One of 267 non-profit Community Futures organizations across Canada, Community Futures Peterborough receives funding from the Federal Economic Development Agency for Southern Ontario (FedDev Ontario) to provide loans and financing, training and advice, and tools resources to small and medium-sized businesses in the County of Peterborough. The organization aims to assist the growth of the local business and employment opportunities, strengthening Peterborough's communities and economy.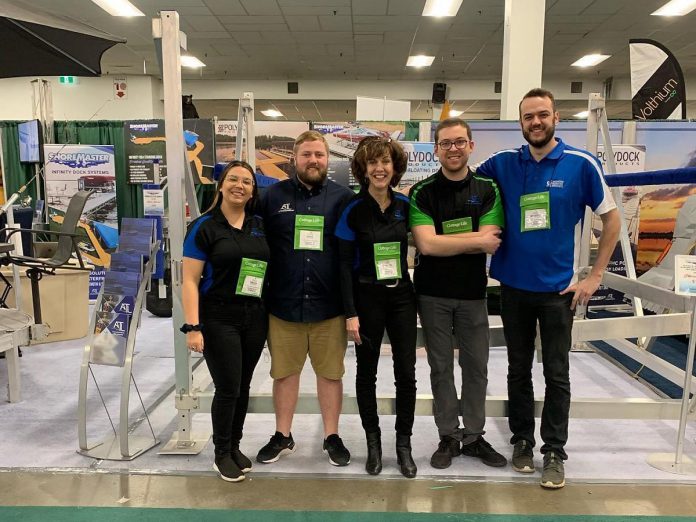 Tweet this quote
As a small business owner, Niki pitched her vision for innovation and growth for At The Lake Distributing to Community Futures for the first time in 2019.
"When we first moved to Peterborough to start our company back in 2007, I went around to all the organizations that support the business community and picked up literature and pamphlets," Niki recalls. "Over the years, while our company was growing, I went to some Community Futures workshops, but the relationship really cemented when we were a semi-finalist in the Ignite 100 competition."
The 2019 competition awarded one winner a grant to support an innovative project to expand and grow their business. While At The Lake Distributing did not win the competition, Niki and Jason then applied for a grant under the Rural Innovation Initiative Eastern Ontario (RIIEO) program, aimed at helping traditional small and medium-sized businesses and manufacturers expand their business growth and adopt innovative business processes.
Tweet this quote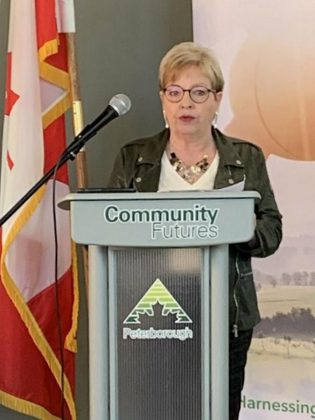 According to Gail Moorhouse, executive director of Community Futures Peterborough, there are multiple reasons At The Lake Distributing was chosen as one of eight businesses to receive the RIIEO that year.
"Niki put in the application that met the qualifications," Moorhouse notes. "Her project was innovative, and it aligned with the government priorities. It improved productivity, enhanced her business, and created jobs."
Niki and Jason used part of the grant to purchase an enterprise resource planning (ERP) system for their growing business. Without the RIIEO grant, Niki says they would not have been able to afford the cloud-based software that helps businesses to manage day-to-day business such as accounting, procurement, supply chain operations, and more.
Acquiring the new technology was crucial for At The Lake Distributing which, as a waterfront recreational product distribution business, saw the demand for their products spike during the pandemic.
Tweet this quote
"Without it, we could not have handled the growth we experienced during COVID," Niki explains. "We were one of the fortunate businesses that did well during COVID. Because people weren't travelling, they were spending a lot of time at their homes, whether a waterfront home or cottage. A lot of those travel budgets went into purchasing a new dock or a boat or water toys."
The ERP system eliminated time-consuming manual paper-based processes for the At The Lake Distributing team, freeing their time to fulfill more orders and grow the business.
"Now we're scanning inventory in and out," says Niki. "All our invoicing is done electronically and has a built-in customer resource management system. We can track leads, quotes, and customer orders. It lets us handle growth."
As a wholesale distributor, At The Lake Distributing sources water-related recreational products — including docks, boat lifts, canoes, kayaks, paddle boards, skis, inflatable water toys, water sports equipment, and more — and brings them to their Peterborough warehouse, where they resell them to retailers.
"When we talked about what business we were going to start, we both knew distribution and business from our own work experience," Niki recalls. "Our passion is water sports and cottaging. We thought this would be the perfect marriage of the products we love and our expertise."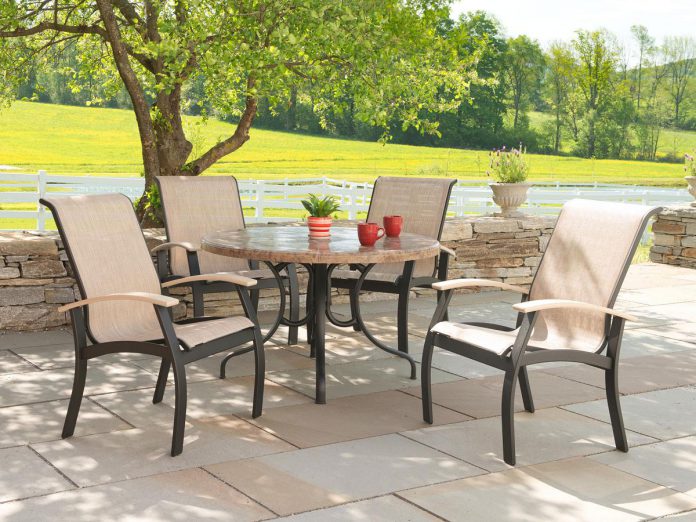 Tweet this quote
Another benefit of the ERP system is that it allowed employees to work efficiently from home during the height of the pandemic — a period when the size of their staff also grew significantly.
"We've probably added at least 10 employees since we received the RIIEO grant," Niki says.
After receiving the RIIEO grant, Niki and Jason also purchased a building at 1525 Chemong Road to run At The Lake Distributing While renovating the space, they also decided to launch a second business inside the new building.
"The main floor of that building had been a patio furniture business for the last 25 years," Niki explains. "When we were getting close to the end of the deal with the previous owners running the lease, we told them we were going to divide the bottom part into two separate retail stores and rent them out to retailers."
That's when one of the previous owners suggested one of those retailers could be a patio furniture store.
"At the end of the day, Jason and I were chatting and we got thinking: patio furniture, why don't we do that? Because it's the same game — it's just supply chain."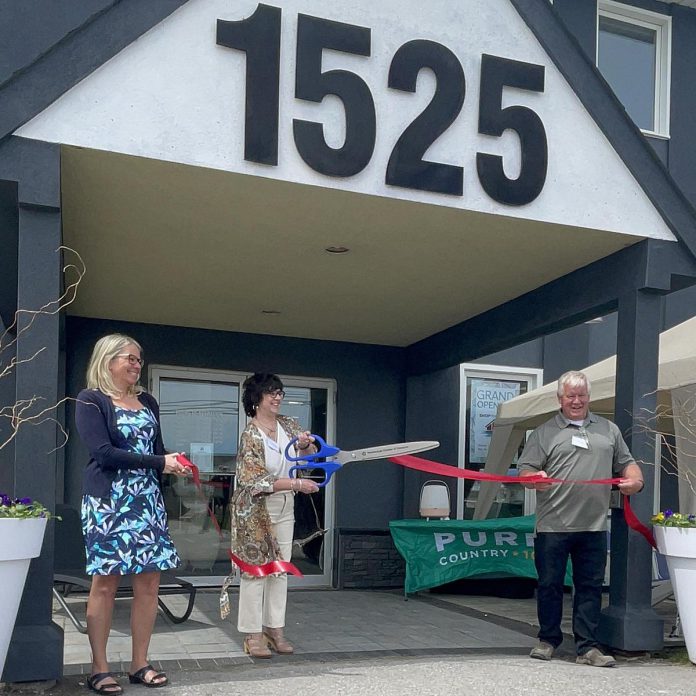 Tweet this quote
The couple launched their new patio furniture store, called 'Shop The Lake', just two weeks before the pandemic shut down Ontario. On May 7, two years later, the business celebrated its much-delayed grand opening.
In addition to the RIIEO grant, Niki and Jason have taken advantage of Community Futures' business counselling services, which Niki says are invaluable for busy entrepreneurs caught up in the daily work of running a business.
"It's so different working for a corporation because you have teams of people that deal with all these other details," she explains. "I think a characteristic of entrepreneurs is where we try to do everything ourselves. We really started growing our company when we started reaching out more to other professionals."
According to Community Future Peterborough's executive director Gail Moorhouse, while not every small business achieves the same level of success as At The Lake Distributing, the ones that do succeed are the ones who seek out help.
"Build a network of people who can help you diversify areas of your business," Moorhouse says. "Together, we go farther."
For more information about At The Lake Distributing, visit their website at www.atldistributing.ca. You can also follow them on Facebook, Instagram, and Twitter.
To learn more about Niki and Jason Pulchinski's patio furniture business Shop The Lake, visit their website at www.atldistributing.ca. You can also find them on Facebook and Instagram.
To find out how Community Futures Peterborough supports local business, visit their website at communityfuturespeterborough.ca and follow them on Facebook, Instagram, and Twitter.
This branded editorial was created in partnership with Community Futures Peterborough. If your business or organization is interested in a branded editorial, contact us.