The first thing I noticed about Jen Deck is her sense of humour. Faced with a criticism by one of her challengers in an early debate, she batted it away with a witty retort like a pro baseball player might hit a lob ball. "I've learned to be tough," she would tell me during a wide-ranging discussion, "in order to have my voice heard."
Jen Deck moved to Peterborough from Toronto to attend Trent University. She had children young and briefly lived on social assistance with her partner and newborn baby. Somehow, Deck self-deprecatingly tells me, she still managed to finish her three-year degree in biology and women's studies, "on the eight-year plan."
She went on to work as an occasional teacher before taking on a leadership role with the teachers' union. Indeed, she's been the occasional teacher president of the Kawartha Pine Ridge Elementary Teachers Federation of Ontario for the past eight years.
When I talked to Deck mid-campaign, she was open, forthright, and like I said, very good-humoured. By her own admission, she's not a politician; she's simply a capable, concerned citizen who stepped up when the NDP came calling. I believe the human being you vote for — what interests them, how they see the world, who influenced them — is important. It was also crucial to me that I ask every candidate about the issues our readers told us are most pressing for them.
To that end, kawarthaNOW published a poll that asked readers to rank 11 issues of concern, as well as to tell us what we may have missed. What follows is a lightly edited conversation (for length and clarity) that includes Deck's responses to some of those issues.
Advertisement - content continues below
Justin Sutton: We know you're a Trent University alumna, a trained teacher, and union leader. Aside from your area of expertise, what else interests or motivates you?
Jen Deck: I can tell you that all of my adult life I've been an avid canoe tripper and white-water paddler. I'm actually a white-water canoe instructor and I've had the opportunity to guide a number of really amazing canoe trips in Canada, which is one of the ways I've been able to grow to love the Canadian wilderness. I got to lead a trip on the Soper River on Baffin Island, I've been many times down the Dumoine River, I went down the Nahanni when I was 17.
I was privileged to send my kids to the same camp that I went to, so they had similar experiences. I'm also an avid blood donor and I'm set to my 50th donation before my 50th birthday and I'm also really proud that one of my kids followed in my footsteps and he'll be making 30 donations before he turns 30.
I am an environmentalist, and both of my kids wore cloth diapers, and I ran a little business in town when they were little selling cloth diapers. I did that as a side gig while I was finishing my own degree in biology and women's studies.
JS: Could you tell me about your influences? Who has had a profound impact on you and why? I'm thinking of writers, artists, politicians, thinkers, activists, educators, business people, and so on.
JD: I'm a big science fiction reader … I'm a bit of a geek. Margaret Atwood had a big influence on me as a very young person. I read all of her books but of course The Handmaid's Tale (1985) was foundational for me as was The Edible Woman (1969).
I was really influenced by some of the amazing profs that I had at Trent University. Marg Hobbes was one of my woman's studies profs and she really opened my eyes to feminism and how to bring intersectionality into feminism. Michael Berill was studying frogs and the impact that pollution was having on them and messing with their hormones way back 30 years ago so that was influential for me developing as an environmentalist. I followed David Suzuki very closely in those days and (the late former federal NDP leader) Jack Layton — of course, I think everyone fell in love with Jack Layton.
Books wise, The Hitchhiker's Guide to the Galaxy (1979) is one of my favourite books that I read when I was 12 and keep reading it because I just loved (the late author Douglas Adams') gentleness and his comedy, and he sneaks in some social commentary really subtly. I also know that he struggled with mental health and I was really sad when he died because that was a loss to us all. He also wrote a really great book about species extinction (Last Chance to See, 1990) with Mark Carwardine.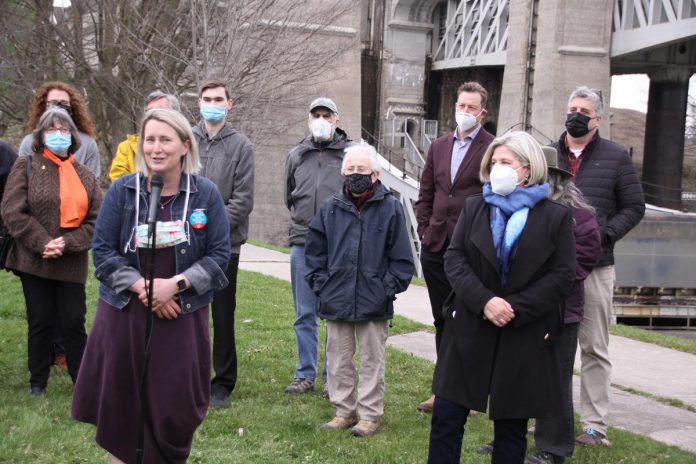 JS: Did any musicians impact the way you see the world?
JD: My kids have had a huge influence on my musical taste, so we have LPs of Run the Jewels. I love the Rheostatics, Ani DiFranco, Steely Dan, Tom Waits, Peter Gabriel, Mother Mother, and Spoon. I tend to put podcasts on or CBC Radio. I went to see Ani DiFranco quite a few times, she came to Peterborough and then I saw her in Victoria where I danced like an absolute maniac when I was like eight months pregnant. I think I alarmed people, because I was a massively pregnant person dancing like a whirling dervish.
JS: Can you tell me about something you've experienced along the way that influenced or changed the way you see the world?
JD: I had my kids really young and we didn't have a lot of money. We were on social assistance for a period of time out in Victoria, I certainly got used to funny looks from people, and that was really an education for me because for most of my life I've lived a very privileged life. So it was a glimpse into an idea of what many people experience on a daily basis, and that's always stuck with me and I try to remember that and have compassion.
You know, you'll hear of people who will disparage people on social assistance for like having a great stroller or a car seat. I've worked with young mums and I've been one myself and I know that their lives are really tough, and I don't begrudge them those little nice things in their life because I know they have a tough go.
JS: I'd like to confront something head on. You only just joined the campaign in the last few weeks and, because of that, there may be concern that you have not had enough time to really dig in and get to know the brief as well as make in-roads with Peterborough-Kawartha voters. It could be said that you're not well known enough to win at the moment, so I'd like to give you the chance to make your pitch — why should voters take a chance on you?
JD: I did definitely come in late in the game and that is because we needed an NDP candidate. There wasn't one and I was approached. I wanted to vote NDP and there wasn't a candidate, so I stepped up. I'm new to politics; this is not something that I sought out but the job that I've been doing for eight years is very similar. I've been representing my occasional teacher members for eight years and fighting for them, so labour activism and equity activism is not new to me.
I'm not a flash in the pan — I'm rising to a challenge and accepting a responsibility that somebody needed to take and I'm a quick learner. I'm not new to the values and the issues that the NDP is trying to address in their platform. I'm new to the platform (so) it's been an accelerated learning curve for sure, but I'm not new to that either. I'm used to getting announcements from the ministry of education and we have to jump and respond and put things into place quickly.
I think it's fair to say that some people may not know me, but I actually have a surprising number of contacts with really important organizations and community members that even I hadn't really thought about — until they started reaching out to me to remind me about the impacts I've had in this community over the last 30 years.
Advertisement - content continues below
JS: In addition to wanting to know more about who you are, it was important to me to centre this interview on the concerns of our readers. So we put 11 issues to them, asked them to rank them and also asked them to tell us if we missed anything. They immediately told us it's nearly impossible to rank interconnected issues, which I completely understand. So, looking at the broad strokes of what we learned, healthcare ranked head and shoulders above every other issue. Readers connected their concern to Bill 124, which limits wage increases for nurses, nurse practitioners, and other health-care professionals. Others suggested mental healthcare should be much more of a priority for the next provincial government.
My observation, and I put this to the other candidates, is that the pandemic has revealed multiple intersecting cracks in the public healthcare system to Ontarians who may not have paid close attention before the pandemic. Do you see it the same way?
JD: Oh, absolutely. It's no surprise to me to see healthcare at the top of the list. Just as you said, the pandemic shone a light on an already broken system. We in education and healthcare have been screaming for years and it feels like we've been screaming into the void. Bill 124 is emblematic of the Doug Ford government: complete disregard for workers, predominantly women and disproportionately women of colour and other equity seeking groups.
I think most people have a deep sense of fairness and justice and to see healthcare workers so disrespected at a time when they have been put on the line — their lives have been put at risk — and they have been working themselves to the bone and to absolute exhaustion and to have them to have a wage freeze that's effectively a pay cut because it doesn't even come close to keeping up with inflation, that is insulting to most people on a really deep and fundamental level. We're for sure talking about nurses but we can't forget PSWs and technicians and custodians. All of these people deserve a fair wage, and they deserve to bargain fairly.
JS: Climate change/environment was chosen by 20 per cent of respondents as their second ranked issue of concern. We've discussed the NDP's plan in our coverage of the environmental debate at Trent University, so I would ask you to speak to this issue more personally, if you would. Perhaps you could tell us what you've observed in your work and how it's impacted your view of environmental issues.
JD: I think it's notable that climate ranks as high as it does. I was just at a debate the other day and a comment was made that young people don't want the climate to be prioritized over their ability to buy a house and my response was, I think you're mistaken. I think young people, more than anyone, are aware of how critical the climate is to their well-being and it's just fundamentally important.
We've known for decades. I remember (it) from high school. At the time we called it global warming, but the term that makes more sense to me is global weirding where we're getting these extreme weather events that upset the balance. How can farmers possibly plant when they're having massive droughts and massive floods that are happening at critical times of the planting season and destroying their crops? Our bee population that we depend on … we largely depend on wild bees to do most of our pollination, and yet we're managing to kill them off with such disregard.
I know, because I've been a teacher, that we are motivated by optimism not pessimism, so you don't change people's behaviour by telling them how bad things are. I just think it's incumbent upon all of us to do our best, like the camp site rule, you should leave the camp site better than you found it. We should be leaving the planet in better shape for our kids than it was when we arrived.
We need to tackle this in many ways and the Green New Democratic Deal will tackle our climate crisis but in doing that it will create hundreds of thousands of good-paying jobs. We also want to create a climate youth corps, which will give kids good-paying jobs and give them a post-secondary credit for free and give them experience in the world of restoration or environmental management, which will hopefully spark a love for them of our planet and maybe those kids will go into conservation-themed employment.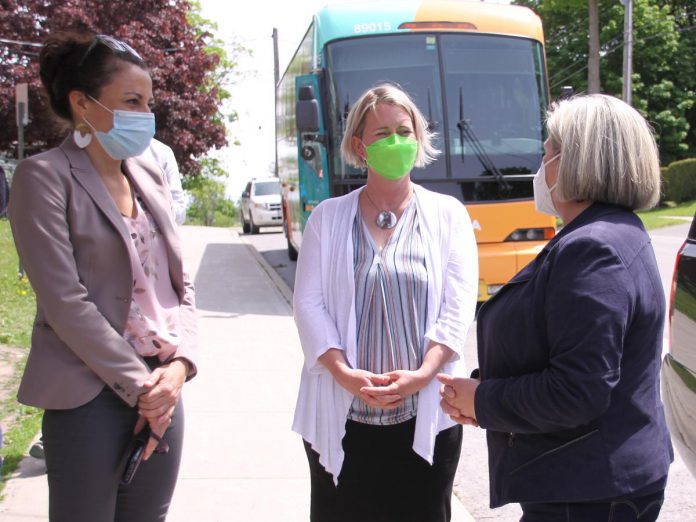 JS: Could you discuss the differences between the NDP and the Ford Conservatives? Why should Peterborians take a chance on the NDP? How would you govern differently?
JD: The biggest difference that I see is that throughout all NDP policies, the focus is on equity and on the environment. So whether it's talking about solutions for healthcare or education, or housing, or even pandemic preparedness, we need to always need to remember that different demographics experience these issues in different ways and to properly plan and respond to needs, we have to bear that in mind.
Equity and the environment are through lines in all of our platforms and that is exactly the opposite of the Ford Government. They come up with quick fixes and they don't consider, in my opinion, the unintended consequences, or they disregard them. Saving money, for example, by freezing the wages of healthcare workers, education workers, and other predominantly female job classes in the public sector was a quick way to save some money, but it hobbled those workforces in a way that was unfair.
It's been demoralizing to see how little the Ford government places value on us. It means they don't really care about (all) kids — they only care about kids who are at private school whose parents can afford to pay for private school and don't mind that public school kindergarten classes can be packed with 32 kids in them. Or that people are in hallways receiving their healthcare because they can access private healthcare.
JS: What would the NDP do to alleviate the housing crisis even in the short term?
JD: Housing is fundamental, it's about dignity, it ties up all the cost-of-living bits because for most people their housing costs are one of their biggest expenses.
In the medium to long term, the plan is to build a ton of houses over the next decade. The numbers are in the platform, a quarter of a million of them will be below market rates. That's going to take a decade. In the meanwhile, there are a wide number of initiatives that the NDP wants to put in place that will take the burden of housing and alleviate it by tackling other huge cost of living items.
Covering dental care, for example, is huge in freeing up people's resources. Pharmacare — people are forgoing their medicines because of the expense. Insulin and needles will be covered. This is stuff that could have been fixed during the 15 years of Liberal government.
We're also looking at bringing back rent control. We want to hold bad landlords accountable. We know that many landlords and landowners are ethical, but everybody deserves guardrails in rental and in real estate to bring the cost of housing down.
Advertisement - content continues below
JS: Education also rated highly with our readers; what would the NDP do differently than the Ford government?
JD: Bill 124 has to go. It's such a sexist act, it has to go so teachers can bargain fairly. The violent incidents that our education staff are encountering every day is shocking and the reason for that is kids are not getting the mental health supports and just the regulation supports and that early intervention.
If kids have experienced trauma or poverty, or neglect, they're not developing the kind of social skills that will help them be happy and productive citizens. If we don't address those needs early on, it gets harder and harder with each passing year because behaviour gets entrenched.
It's heartbreaking to see that the vast majority of violent incidents that I'm seeing as a union president are coming from kids in kindergarten (and) grade 1 and 2. I'm talking about throwing desks and hitting and punching teachers. These are kids that are in crisis and we do not have the resources to properly help them.
JS: Stephen Lecce [Ontario minister of education] often touts a 420 per cent increase in school mental health investments. Are you saying you're not seeing the evidence of that investment?
JD: So one of the things the Ford government loves to do is to talk about injections of funding, but they don't talk about the cuts they've already made, and they don't talk about how that impacts on a per pupil level. The government has really been advertising that they're putting more money into education. What they fail to say is that it doesn't even come close to keeping up with the number of pupils that are entering the system.
We are in a moment of expansion. Kids are flooding into the education system, our population dips and rises, and we're in a period of growth right now, so the funding they say they're increasing is not keeping up with that. On average the Kawartha Pineridge District School Board is receiving $800 less per student per year than it was a few years ago.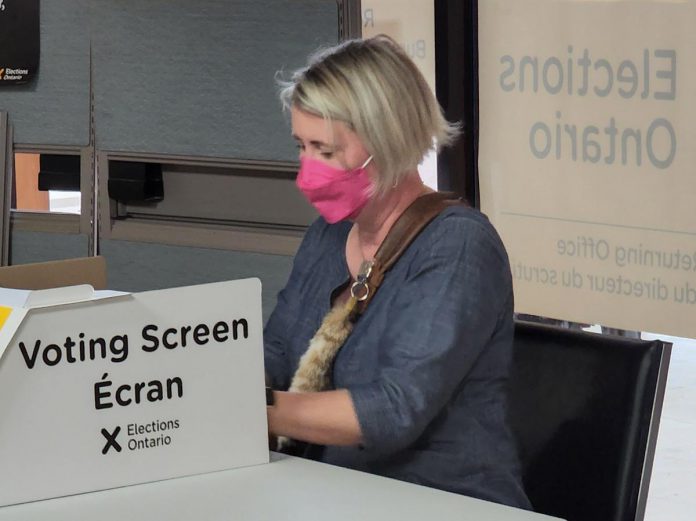 JS: You make a strong point about violence in the classroom and I wonder if there's a link between that and what our readers told us is one of their biggest concerns, which is the rise of political polarization and increasing levels of violent rhetoric. You were right in the middle of a violent experience when Jagmeet Singh met with you on May 10. Have you had time to reflect on that day and think about what you might do to help confront this issue?
JD: I spent a long time thinking about the day Jagmeet came to visit and I've shed my fair share tears about it. I believe that one of the reasons people are mistrusting their government is that their government hasn't been trustworthy. They make promises and they don't fulfill them. I also believe people see our government officials speaking about people in a way that disregards and disrespects them.
My fix is to do what I've always done, which is I try to model the type of behaviour that I'd like to see. So I give people the benefit of the doubt and I try to engage with them in a respectful way. We need to dig down deep and try to figure out why people do what they do. I think misinformation is on all of us. We rubber neck when people crash but we don't notice that most people are driving carefully. By spending so much attention on the really tiny proportion of people who are behaving inappropriately, I worry that it creates a permission structure for others.
It makes me uncomfortable, but obviously we just can't live in a world where our mayor is receiving death threats and where people are afraid to go into politics because it's going to be dangerous. It's a concern that I have now.
We need more NDP in government so we can see the supports that people need that right now they're getting angry about not having. Their anger is misinformed and against their best interests, but it comes from a place of deep hurt and feeling left behind.