Millbrook's 4th Line Theatre is celebrating its 30th anniversary in 2022 with the outdoor theatre company's first-ever endowment fund, a six-part podcast series on 4th Line's history, and the staging of two world-premiere productions this summer after a two-year delay because of the pandemic.
On Tuesday (June 7), 4th Line announced its "30 to the Future" endowment fund, managed by the Community Foundation of Greater Peterborough. The fund builds upon 4th Line's history of giving young people the opportunity to become involved in the theatre. Over the past 30 years, around 2,000 youth have been given apprenticeships through 4th Line Theatre.
The endowment fund will help provide young people with scholarships, apprenticeships, and honorariums, as well as theatrical and public speaking training. Support of the endowment fund will mean that half of the annual costs for youth training will be covered for the next 30 years, with 4th Line planning to raise and invest at least $50,000. Donations to the endowment fund can be made at cfgp.ca/project/4th-line-theatre-30-to-the-future-fund/.
Advertisement - story continues below
In May, 4th Line announced its first-ever podcast series, entitled "Treading the Barn Boards." Produced and hosted by Megan Murphy, 4th Line's associate artistic director of special projects, the six-part series documents the 30-year history of 4th Line Theatre.
The series features interviews with creative director Robert Winslow, managing artistic manager Kim Blackwell, general manager Lindy Finlan, Maja Ardal, Griffin Clark, Maude Rose Craig, Beau Dixon, Sedina Fiati, Justin Hiscox, Alex Poch-Goldin, Patti Shaughnessy, The Spasov Family, Kate Suhr, Esther Vincent, and many others.
You can listen to the first three episodes of the series — "Cattle to Curtains Up", "A Cavan Blazer," and "The Little Mouse That Could" — online at 4thlinetheatre.on.ca/treading-the-barn-boards-podcast-series.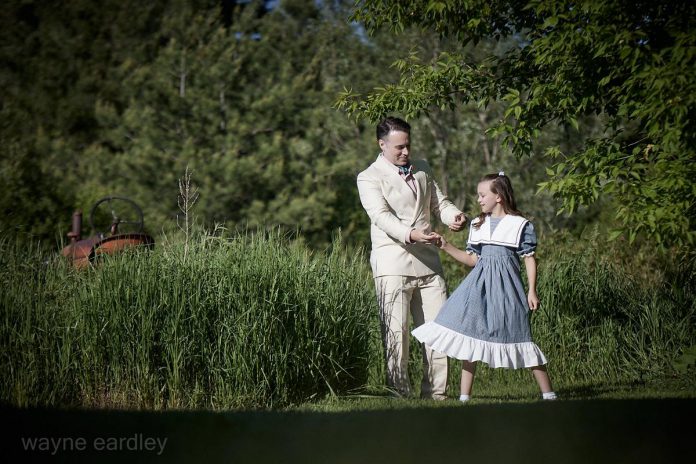 On Tuesdays to Saturdays from June 28 to July 23, 4th Line will be presenting the world premiere of The Great Shadow by playwright Alex Poch-Goldin, who has also written The Bad Luck Bank Robbers and The Right Road to Pontypool for 4th Line. Originally set to premiere in summer 2020, it's the first full summer production at the Winslow Farm in Millbrook since the pandemic began.
Based on the story of the Trenton Film Plant in Trenton, Ontario — a film studio that made more than 1,500 silent films between 1917 and 1934 before it was shuttered by the Ontario government — The Great Shadow follows one man's dream to build a film industry in Canada and a single mother's search for love after the devastating loss of her husband in World War I, all against the sociopolitical backdrop of the 1920s "Red Scare" that communism and leftist political movements were going to destroy western democracy.
4th Line will be hosting a 30th anniversary season opening night gala at 3:30 p.m. on Saturday, July 2nd at the Winslow Farm, featuring farm-to-table food from Black Honey Catering and hard and soft drinks, a silent and live auction, a ticket to The Great Shadow, and a post-show reception including a champagne toast with the cast and crew. Tickets are $140, which includes a $35 tax receipt, and can be purchased online at 4thlinetheatre.on.ca/30th-anniversary-season-opening-gala.
Advertisement - story continues below
In August, 4th Line will be presenting the world premiere of Maja Ardal's Wishful Seeing, based on the novel of the same name by Janet Kellough. Directed by Kim Blackwell and starring Robert Winslow, the play tells the story of saddlebag preacher Thaddeus Lewis, who stumbles upon a murder mystery on the shores of Rice Lake in 1853.
4th Line Theatre was founded in 1992 by Robert Winslow, who had begun his theatrical career in the late 1970s at the Peterborough Theatre Guild, before travelling to Edmonton in 1982 to work professionally in theatre. In 1988, he founded the improvisational theatre company East City Productions in Peterborough and began directing and writing for the stage.
After his mother passed away in 1990, Winslow inherited the family's 150-acre farm in Millbrook that had been in the family for 150 years. After spending the summer of 1991 at the Edmonton Fringe at one of its "Bring Your Own Venue" productions, Winslow was inspired to use the family farm as a stage for theatrical productions.
With the mission of preserving and promoting Canadian cultural heritage by developing and presenting regionally based historical dramas, Winslow staged 4th Line's very first production at the Winslow Farm in 1992.
The Cavan Blazers, written and directed by Winslow (who also performed), told the story of the 19th-century Orangemen in Millbrook who violently tried to drive out Catholics who wanted to settle in the area. It has proven to be one of 4th Line's most popular plays, restaged five times in 1993, 1996, 2001, 2004, and 2011 — some of the 63 productions 4th Line Theatre has staged in the last 30 years.
For more information about 4th Line Theatre, and to purchase tickets for the summer season, visit 4thlinetheatre.on.ca.
Stay tuned for kawarthaNOW's coverage of 4th Line's June 15th media day for The Great Shadow.