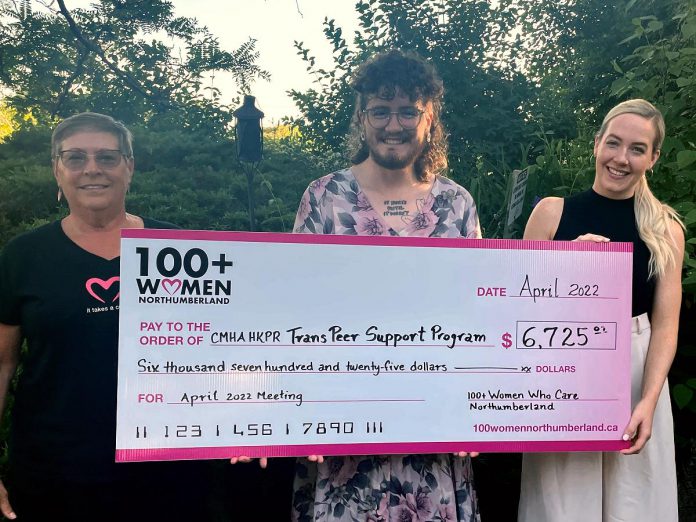 At its first meeting of 2022, 100 Women of Northumberland selected the Canadian Mental Health Association Haliburton, Kawartha, Pine Ridge (CMHA HKPR) to receive a donation of $6,725 for its Trans Peer Outreach program.
The collective philanthropy group meets four times a year and selects a Northumberland-based charity or non-profit organization to receive donations contributed by individual members of the group. At its first meeting of the year in April, the group selected CMHA HKPR's Trans Peer Outreach program as the recipient.
The group held its second meeting of the year last Wednesday (June 22) at The Mill in Cobourg and presented a cheque for $6,725 to CMHA HKPR.
Advertisement - story continues below
Tweet this quote
The Trans Peer Outreach program offers supports and services for transgender and gender-diverse people and their families, to assist them to improve the quality of their lives through the provision of community-based client-centred care that supports positive interdependence.
"This grant will go directly towards enhancing the Trans Peer Outreach Family Supports by allowing us to offer more group opportunities and one-to-one supports," says Carl Cruise-Baxter, an outreach worker with the Trans Peer Outreach program. "This will allow us to help more family, friends, caregivers, and loved ones of individuals who are trans, non-binary, or gender questioning."
Services under the Trans Peer Outreach program are delivered by people with lived-experience as a transgender or gender-diverse person, and who also may have experience living with a mental health concern.
Advertisement - story continues below
The collective philanthropy movement began in the United States in November 2006, when Karen Dunigan of Michigan formed the "100 Women Who Care" group. After their first meeting, the women raised over $10,000 for the purchase of 300 new baby cribs for a local organization.
The movement has grown over the past 16 years to include groups of men, women, youth, and children around the world, with more than 210 chapters in Canada alone.
For more information about 100 Women of Northumberland, visit 100womennorthumberland.ca.