A ribbon-cutting ceremony for held on Canada Day for Peterborough's monument to United Nations peacekeepers, located in the city's new urban park currently under construction at Charlotte and Aylmer streets.
The UN Peacekeepers Monument Project was developed in partnership between the City of Peterborough and the Frank Poley (Peterborough) chapter of the Canadian Association of Veterans in United Nations Peacekeeping to commemorate the sacrifices of 132 Canadian peacekeepers and two diplomats who gave their lives in the service of peace.
In 2017, a nation-wide call for proposals to design the monument resulted in 24 submissions from across the country, with a design from Toronto's Studio F Minus selected. The monument consists of two 14-foot mirrored sculptures with a blue square embedded at the top of each. This creates a "hall of mirrors" effect when an observer stands between them, with a blue dotted line (representing the borders between countries) appearing to float in the air.
Advertisement - story continues below
The monument is inscribed with the following words:
From all across the country they came;
from coast to coast to coast.
There was no cry for victory on their lips,
only a prayer for peace.
They sought not to impose their way,
only to preserve those most illusive ideals:
peace and humanity.
They protected the lives
of those who could not protect themselves.
Some came home broken.
Some came home not at all.
For all of those who stood their ground,
We stand for them.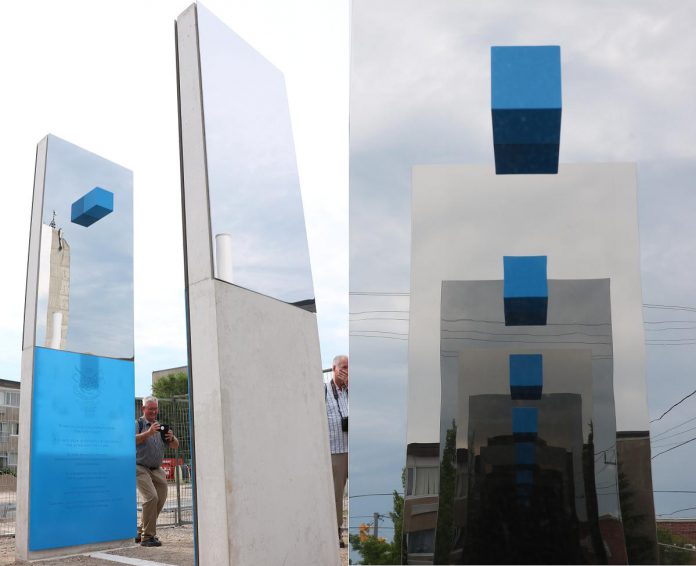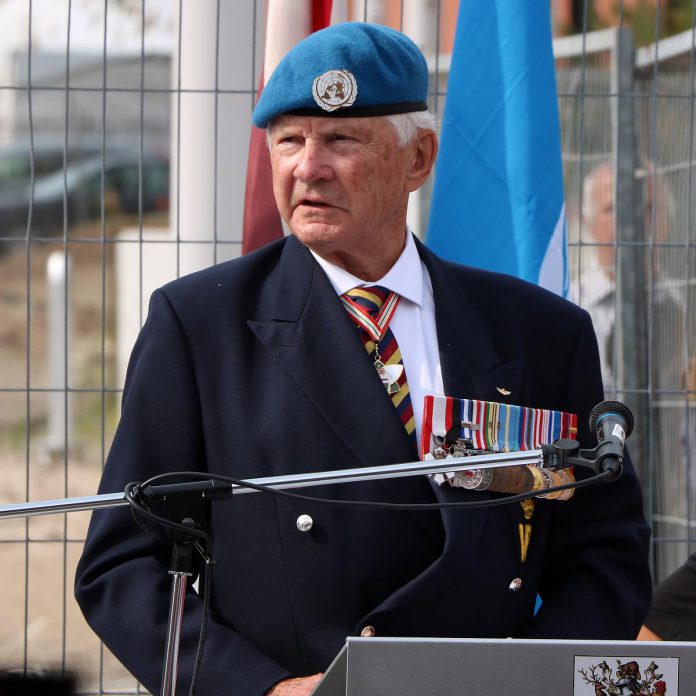 When it comes to peacekeeping, Peterborough has a connection with Lester B. Pearson, the first Canadian to be awarded the Nobel Peace Prize in 1957 for his proposal to establish a United Nations peacekeeping force to resolve the Suez Crisis. Pearson, who would later become Prime Minister from 1963 to 1968, lived in Peterborough as a youth where he attended Peterborough Collegiate Vocational School.
The ribbon-cutting ceremony for the monument featured guest speaker Major-General (retired) Lewis Mackenzie, considered the world's most experienced peacekeeper. While in Sarajevo during the Bosnian Civil War leading troops from 31 nations and under fire from all sides, MacKenzie famously managed to open the Sarajevo airport for the delivery of humanitarian aid.
By using UN force and the power of the media to restore peace, MacKenzie became an international celebrity as well as the only Canadian to be awarded a second Meritorious Service Cross.
Advertisement - story continues below
Other speakers included event co-chairs Lee-Anne Quinn, president of the Peterborough chapter of the Canadian Association of Veterans in UN Peacekeeping, and member Bill Steedman.
Quinn, the first-ever woman Honorary Lieutenant Colonel in the Hastings and Prince Edward County Regiment, is a nurse practitioner who joined the Canadian Forces in 1987 at 26 years old, where she served 23 years as a military nurse, including four tours in the former Yugoslavia, Somalia, Rwanda, and Afghanistan.
In 2019, she received the Sovereign's Medal for Volunteers from Canada's Governor General in recognition of her leadership roles with the Peterborough chapter and her role as a co-founder of Salaam Peterborough, which has sponsored several Syrian refugee families in Canada.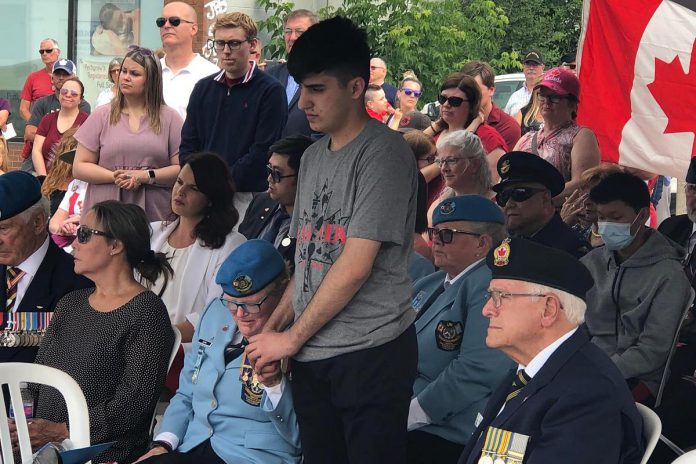 Quinn is also part of a sponsorship group that recently brought 18-year-old Syrian refugee Rashid Sheikh Hassan to Canada from Turkey, where he had been living for two years separated from his family and in constant fear of deportation. Rashid attended the ribbon-cutting ceremony on Canada Day along with some of his other sponsors, including Dave McNab and Kristy Hiltz, as well as other Syrian refugees.
During an emotional moment at the ceremony, Quinn and Rashid held each other's hand as MacKenzie spoke about peacekeepers and refugees.
Emceed by peacekeeping veteran Reverend Frank Patrick, the ceremony also featured a flyby by a Hercules aircraft from Trenton, a performance by the Hastings and Prince Edward Regimental Pipe Band, and more.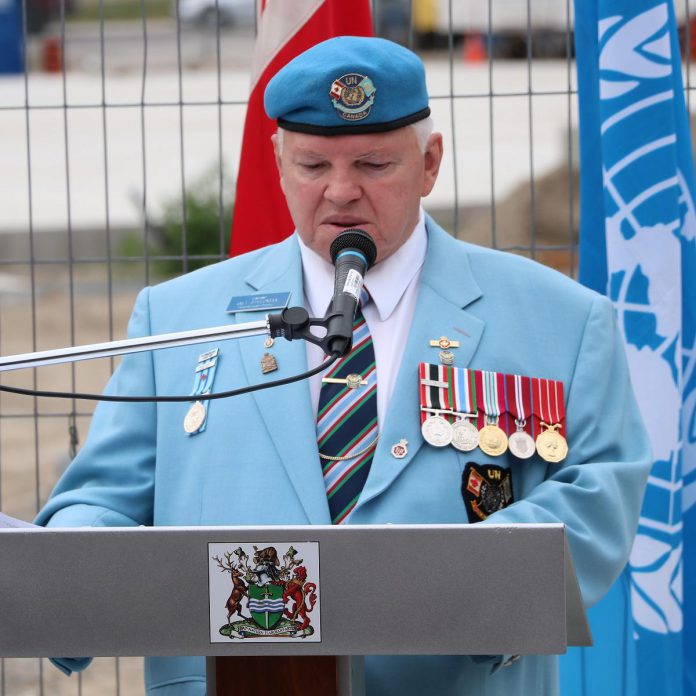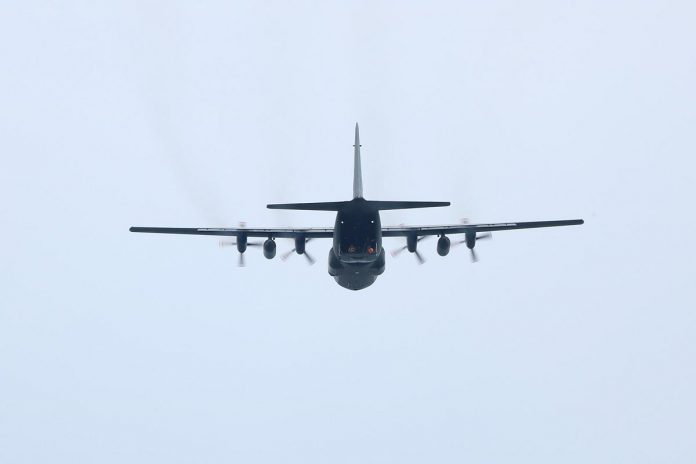 The City of Peterborough, Veterans Affairs Canada, and local donors provided funding for the UN Peacekeepers Monument.