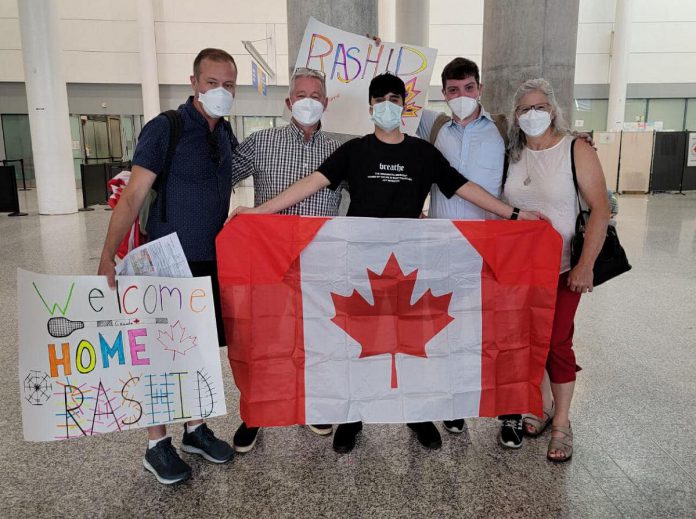 What opportunity does Canada Day present to you?
For many, it's a day for reflection on what it means to be Canadian — to give thanks that, despite our individual and collective day-to-day challenges, we are blessed to live in a country where freedom of speech is an entrenched right and war has remained a distant horror.
When all is said and done, the celebratory parades and fireworks are sideshows to the main tent event: awareness that, despite our penchant for finding something wrong about this place we call home, there are many things that are right and shouldn't be taken for granted.
Advertisement - content continues below
For those who struggle for whatever reason with arriving at that conclusion, meet Rashid.
The 18-year-old Syrian refugee arrived in Canada just a week ago to begin a new and safe life here in Peterborough, thanks in no small way to a group of caring residents who never wavered in their determination to get Rashid here. Now, as Canada's 155th birthday dawns, we're presented with the opportunity to see Canada through the eyes of someone so very grateful to be here.
The back story of how a teenage refugee from Syria, living in Turkey in constant fear of deportation back to his civil war-torn native country, came to be here is quite a tale in itself.
It was back in early May 2021 that Dave McNab, a retired Peterborough County OPP officer, stumbled quite by accident on Rashid's plight.
After learning of and reading a number of "racist, hateful and anti-immigrant" comments posted on, of all things, a Facebook group page dedicated to birds that Rashid had posted on out of desperation, and impressed by local resident's Matt Park's defence of Rashid via his condemnation of his attackers, McNab made it his business to learn more.
When that investigation revealed Rashid's desperate plea for guidance on how he could come to Canada to start a new life, McNab initially connected with Rashid via a short video call during which he encountered "a scared young man … very fearful, very nervous" and, with his family members missing in Syria, very alone.
Advertisement - content continues below
Tweet this quote
Flash forward to last Thursday (June 23) at Toronto's Pearson International Airport where McNab — joined by his wife Kristy Hiltz, along with refugee advocate Michael VanDerHerberg and Matt Park — welcomed Rashid to Canada following his long flight from Istanbul via Frankfurt.
"We all cried," recalls McNab, adding "Rashid's first question was 'Am I safe now?' My answer was 'You are safe forever now.'"
McNab explains that Rashid's setting foot on Canadian soil is no small miracle.
VIDEO: Meeting Rashid at the Airport

"If Rashid had been found by the police (in Turkey), they would have deported him back to Syria," McNab says. "If he went back to Syria, the application (for entry to Canada) would have been terminated. We could not have helped him. Until Rashid took off in that plane, we were all scared. His landing in Canada was a relief. It was freedom."
"It was good — people treat each other very nice," says Rashid in halting English of his introduction to Canada.
And what was the first thing Rashid asked for on arrival? If you guessed uniquely Canadian food fare, you guessed right.
Advertisement - content continues below
Tweet this quote
"We left the airport and stopped about half an hour away, got poutine, and had a little toast and sang O Canada," McNab says. "We were on a restaurant patio. We were feeling so lucky — relief, tears of joy. Kristy said 'This feels like a moment to sing O' Canada.' Rashid said 'I know this song.'"
With the help of a donations received through a GoFundMe campaign started by McNab — with a goal of $8,000, it's now at just more than $13,000 — Rashid is living in a downtown apartment and sharing the space with two others, one a Trent international student from Bangladesh.
But for his first three days in Canada, Rashid stayed with McNab and Hiltz at their home.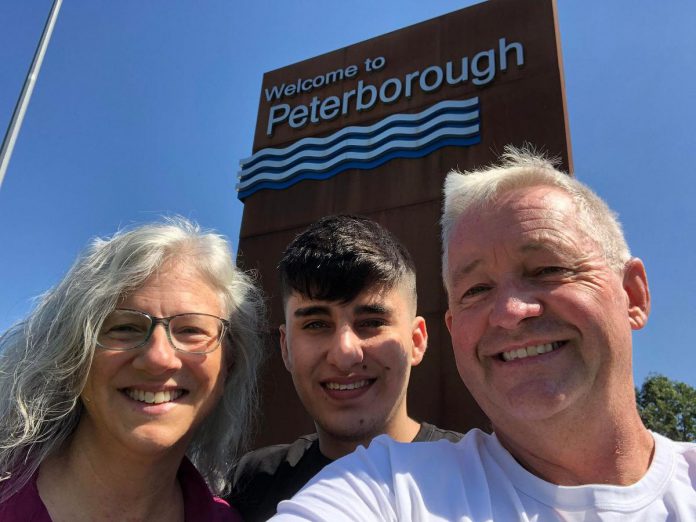 "During the time I was helping Rashid learn English (via Zoom), the way we did that was to share photos and talk about family, food, and nature," recalls McNab.
"We sent a picture of our family at the dinner table and said 'Someday I hope you'll join us.' The second night he was here, we sat down at our dinner table and there he was with his new family. It was only then that we fully realized we finally did it."
Ahead for Rashid is high school at Thomas A. Stewart Secondary School starting in September and, perhaps, some classes through Peterborough Alternative and Continuing Education (PACE) — his first steps toward his ambition to attend university to study architecture or engineering. His Peterborough support group will also help him find a part-time job.
Advertisement - content continues below
Tweet this quote
As busy a time as that will prove to be for him, it pales in comparison to the whirlwind of the past few days which saw McNab provide Rashid with a crash course of life experiences far removed from what the teenager has known.
"When Rashid fled to Turkey, he couldn't go anywhere without fear of being deported," says McNab. "There are many things he hasn't experienced. When we were in lockdown at its worst stage, that was life for Rashid every day since he was 16."
"Since he arrived, we've gone on a forest hike. We've gone shopping. He swam in a pool. We had a chocolate milk shake. We've talked about cinema, too — he has never been in a movie theatre."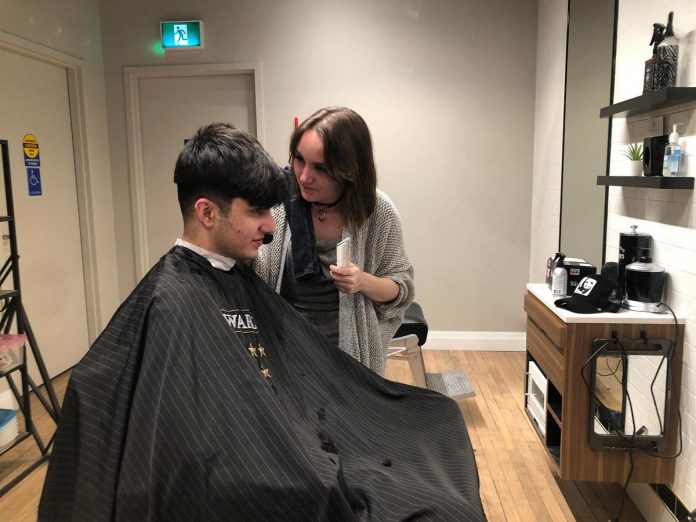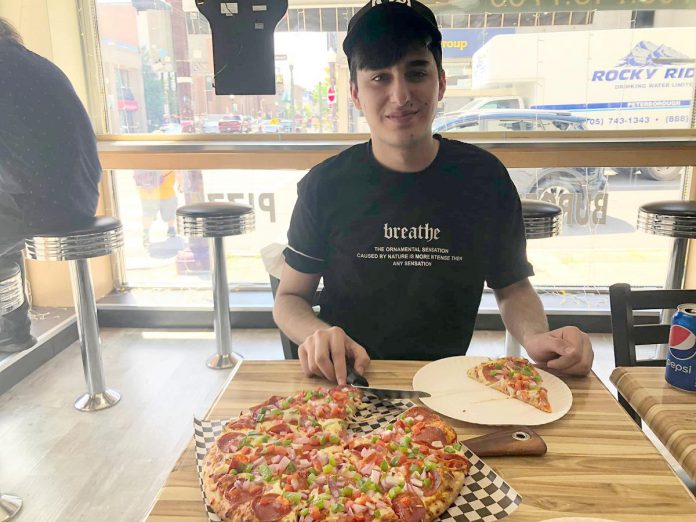 "The library was really fun," adds Rashid. "And pizza … first time."
On Canada Day, Rashid will join Lee-Anne Quinn, a nurse who has served on peacekeeping missions as a Blue Beret, for an unveiling of a new UN peacekeeping-related monument in Peterborough. And, on July 27, Rashid will mark his 19th birthday.
"He's never had a birthday party," notes McNab, prompting Rashid to ask this writer "Will you come to my party?"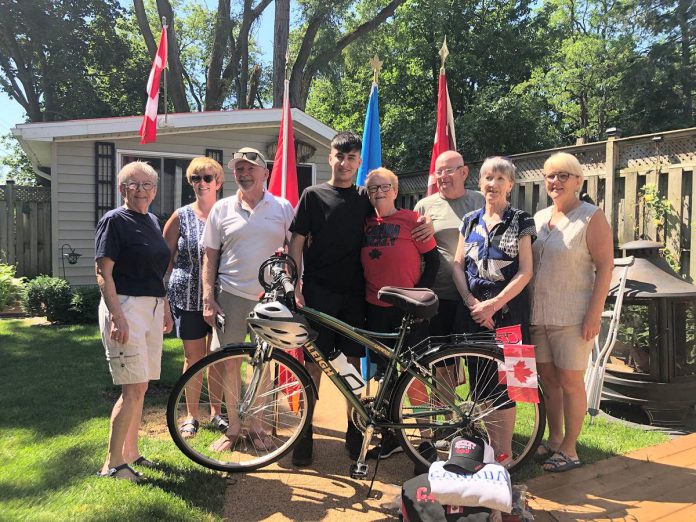 Tweet this quote
McNab stresses "a big team effort" has brought Rashid from daily danger in Turkey to safe haven in Canada. Besides the dedicated sponsor group of which he's part of, McNab points to the "heartwarming" GoFundMe response.
It's been a long journey from that day last spring when McNab found about Rashid's plight on Facebook and Matt Park's support of the desperate teenager.
"It was such an amazing coincidence that we met at all — such a lucky stroke of chance," McNab reflects. "I can't imagine if we had not met. It was Matt who really made that happen."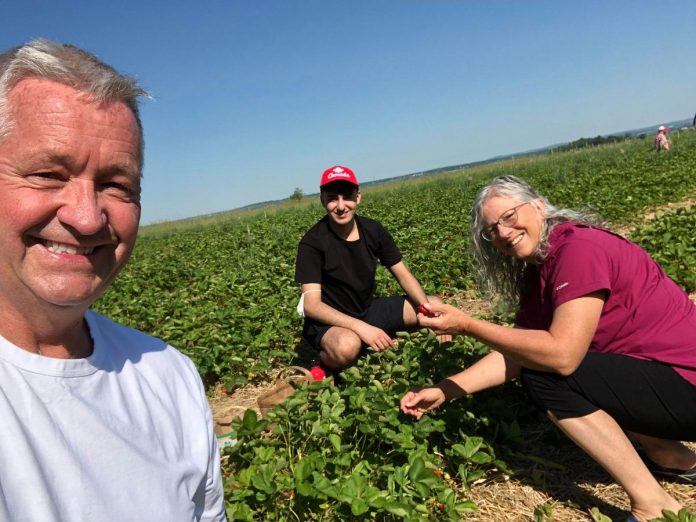 Tweet this quote
But as Rashid settles in, watched over and supported by so many in his corner, there remains a dark cloud hanging over this feel-good story.
"Rashid would love to find his family," says McNab. "The last time Rashid saw his family was in Syria. Right now, we don't have any clue. It's a mystery."
Donations to Rashid's GoFundMe page are still being accepted. Visit gofundme.com/f/help-bring-rashid-to-canada to make a donation.
McNab notes any funds remaining after rent, food, and living expenses for one year are covered will go into a trust fund for Rashid's education.