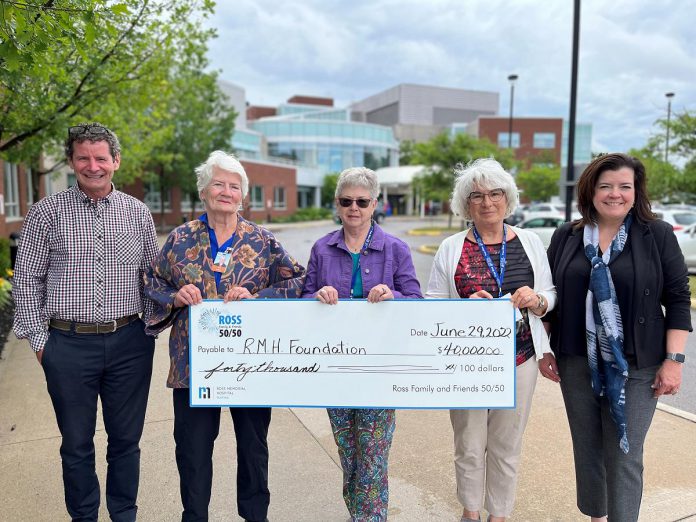 The Ross Memorial Hospital (RMH) Auxiliary has donated $40,000 to help the Lindsay hospital purchase a new Magnetic Resonance Imaging (MRI) machine.
The RMH Auxiliary is a group of dedicated volunteers who actively raise funds for the RMH Foundation to support the purchase of hospital equipment and other special projects at the hospital. They operate the hospital's Reflections gift shop and cafe, the patients' tuck cart, and the Ross Family & Friends 50/50 raffle.
50/50 committee chair Karen Simser and committee members Nelia Steward and Jan Morrison presented the donation to RMH Foundation board chair Ryan O'Neill and RMH Foundation CEO Erin Coons. The $40,000 donation was raised through the 50/50 raffle and sales in the gift shop and cafe.
Advertisement - story continues below
"We wouldn't be able to donate these funds for our new MRI if it weren't for the wonderful response we've had from everyone playing the 50/50 and those who visit the gift shop and café in the hospital," says Simser in a media release. "Every purchase helps us support the Ross."
MRI helps physicians confidently diagnose disease and injury in the brain, spine, joints, breasts, and organs. It helps detect herniated or bulging disks, arthritic changes, tumours, and other lesions. More than 500 patient exams are scanned at Ross Memorial Hospital every month.
The existing MRI machine at Ross Memorial Hospital is 11 years old and must soon be decommissioned. The cost of a new $2.5 million MRI machine is not funded by government.
"We want our hospital to have the best medical equipment possible so patients continue to have access to the best care close to home," O'Neill says. "We're grateful to our partners in the Ross Memorial Hospital Auxiliary who volunteer their time and services to advance patient care. Their efforts impact everyone in the City of Kawartha Lakes."
Tickets for the Ross Family & Friends 50/50 are currently on sale at auxiliary.rmh.org.