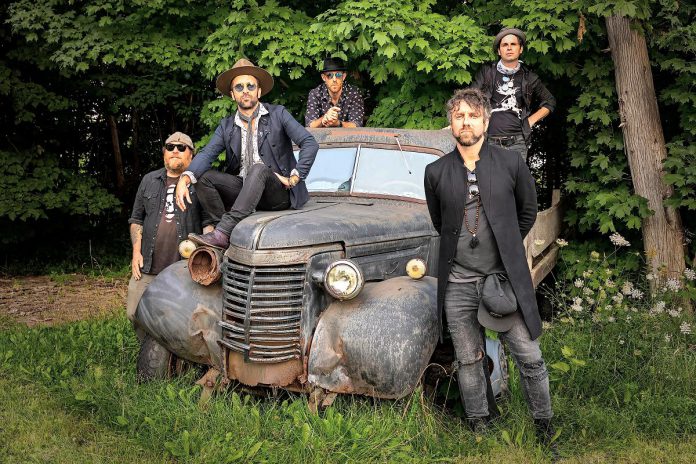 Kathleen Edwards, Bahamas, and The Trews Acoustic will headline the Peterborough Folk Festival when it returns for its 33rd edition from August 17 to 21, 2022, organizers announced on Wednesday (July 6).
This year's musical performances begin with two ticketed concerts at Market Hall Performing Arts Centre on Thursday and Friday, followed by a weekend of free music and activities at Nicholls Oval Park for the first time since the pandemic began. The festival also includes a film screening and two weekend after-parties in downtown Peterborough.
Along with the headliners, other performers announced on Wednesday include Odario, AHI, My Son The Hurricane, Georgia Harmer, and Adria Kain, along with local musicians Kelly McMichael, Joyful Joyful, Michael C Duguay, Lauryn Macfarlane, Kayla Mohammed, and Nathan Truax.
Advertisement - story continues below
Tweet this quote
"We are truly lucky to have so many amazing talented local in Peterborough," says the festival's artistic director Ryan Kemp in a media release. "I don't think many people in Peterborough are aware that Kelly McMichael and Joyful Joyful were just long-listed last week for the Polaris Music Prize for top Canadian albums in 2022 alongside The Weeknd and Arcade Fire. We are so fortunate as a community to have them both perform at this year's festival."
The festival will kick off on Wednesday, August 17th at Market Hall Performing Arts Centre with a screening of the hour-long film We Can Do This, which documents the festival's concert series at Rolling Grape Vineyard in Baileboro over four nights in August 2021, with performances by Greg Keelor and Melissa Payne, Chantal Kreviazuk, Hawksley Workman, Terra Lightfoot, William Prince, Whitehorse, Brooks and Bowskill, Donavan Woods and The Opposition, and Travis Good of The Sadies. The film was a finalist for the small music festival award at Canada Music Week.
On Thursday, August 18th, there will be a ticketed concert at the Market Hall, with the performer to be announced, followed on Friday by a ticketed concert by Juno-nominated Kathleen Edwards, with tickets going on sale on Friday, July 8th.
VIDEO: "Glenfern" by Kathleen Edwards

VIDEO: "Stepping Stone" – Kelly McMichael

On Saturday, August 20th and Sunday, August 21st, the festival moves to Nicholls Oval Park where musicians will perform on five stages. The weekend's festivities also include more than 50 artisan vendors, a children's village presented by Lavender and Play, and a beer garden presented by Cameron's Brewing.
Juno-winning and Grammy-nominated musician Bahamas (Afie Jurvanen) will headline the festival on Saturday and Odario, host of CBC Music's Afterdark, will emcee Saturday night's main stage and perform with his band. On Sunday, Juno-nominated and ECMA award-winning band The Trews will perform as The Trews Acoustic with a full acoustic band.
Jumo-nominated artist AHI (Ahkinoah Habah Izarh) will also perform on Sunday, as well as the 12-piece brass band My Son The Hurricane.
Advertisement - story continues below
Tweet this quote
Past folk festival emerging artists Lauryn Macfarlane and Kelly McMichael — who is an ECMA winner for best rock album for her debut full-length album Waves, which has also been long-listed for the 2022 Polaris Music Prize — will also be performing, along with Joyful Joyful (singer Cormac Culkeen and instrumentalist Dave Greno), also long-listed for the 2022 Polaris Music Prize for their self-titled debut album.
"We will have a second announcement in the coming weeks with more national and local artists being added," Kemp says. "I'm proud to see the lineup come together the way it has so far and I have a feeling many attendees will discover their next favourite artist at the festival this year."
There will also be after-parties on Saturday and Sunday night at Jethro's Bar + Stage and the Historic Red Dog in downtown Peterborough, Festival musicians frequently show up to perform at the after-parties.
VIDEO: "Tired of Waiting" – The Trews

VIDEO: "Marrow" – Joyful Joyful

With a record 14,000 people attending in 2019, the Peterborough Folk Festival is seeking 125 volunteers to help with this year's event.
"It seems that it is more difficult to recruit volunteers," says the festival's board chair Malcolm Byard. "We are reaching out to the greater community to ensure we are able to host the event in the same manner as the community has grown to appreciate."
"If we are unable to recruit at least another 125 volunteers, the festival may not look like it has pre-pandemic," Byard adds. "If you can help, please reach out. We are a 100 per cent volunteer-organized charity, so we don't have year-round paid staff to raise sponsorships or recruit volunteers."
VIDEO: "Way With Words" – Bahamas

VIDEO: "Danger" – AHI

To become a volunteer, donate or sponsor the festival, or become an artisan vendor, visit peterboroughfolkfest.com.
kawarthaNOW is pleased to be a major media sponsor of the 2022 Peterborough Folk Festival.