Peterburgers restaurant in Peterborough is closing its doors for good on August 5th, only four months after it reopened following a four-month closure by Peterborough Public Health for defying COVID-19 public health measures.
Owners Nicole Comber and Roy Asselstine made the announcement in a Facebook video posted on Wednesday (July 6), a few minutes after talking about the launch of the restaurant's new poutine menu.
"We are very sad about it, but it is the end of the road for this journey for us," Comber said, adding the couple will be undertaking a new business venture. "We aren't going away."
Advertisement - content continues below
Comber and Asselstine first opened their 25 George Street restaurant in late 2019. During the pandemic, they became anti-lockdown advocates and continually defied public health measures.
Aside from their restaurant, the couple participated in the "Freedom Convoy" protests in Ottawa and, most recently, Comber followed Canadian soldier James Topp for part of his protest march to Ottawa. Topp is facing a court martial for having spoken out against the federal government's COVID-19 vaccine requirements while wearing his uniform.
Last October, Peterburgers received three $880 fines under the Reopening Ontario Act, for failing to confirm proof of vaccination and identification of indoor diners, failing to ensure the use of masking and face coverings in the indoor area, and failing to collect contact information for patrons remaining at the premises to dine.
In late November, Peterborough Public Health served Peterburgers with a section 22 order requiring them to comply with public health requirements or close. The restaurant continued to operate while ignoring the requirements of the order, and the health unit closed the restaurant on December 3.
The restaurant was allowed to reopen four months later, and held a grand reopening celebration with a large crowd gathered to support the restaurant, leading to a charge under the city's noise by-law.
"It has been a very, very trying battle to keep Peterburgers open," Comber said. "Not just with our stance, but with the inflation, the lockdowns, COVID, the lies, all the garbage (in the) newspapers, corruption, all this and that."
Advertisement - content continues below
Comber added their three-year lease for the restaurant ends in November.
"We're just closing a little bit early," she said.
"Peterburgers was a stepping stone for us," Asselstine said. "We opened this small business to kind of prepare ourselves for something bigger, and then we realized that opening Peterburgers was to fight the fight that we fought, and we are 100 per cent okay with that."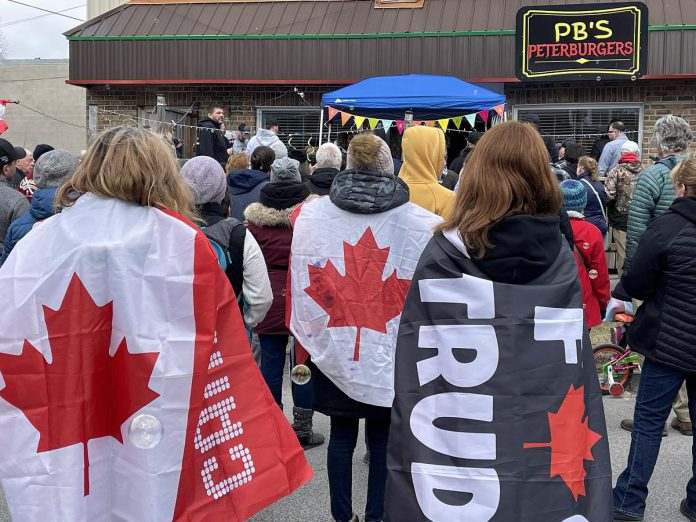 As for the state of their business, Asselstine said "the sales are still there" but inflation "has gone so high we should be selling a plate of fries for 12 bucks right now."
The couple said they don't want to have to charge customers high prices to turn a profit, adding the restaurant is also suffering from supply chain issues.
"We're scrounging for buns and napkins and sauces," Comber said, with Asselstine adding "The shelves are empty at all the suppliers, we can't get half the stuff that we need."
Advertisement - content continues below
Having described the issues facing the business as a reason for closing, Asselstine said the couple had been planning to close at the end of their lease in any case.
"We never had intentions of going past the three years, because we wanted to keep building and growing," Asselstine said. "We did it through the hate, we did it through the pandemic, we did it through the lockdowns, we did it through the corruption, and there's nobody that can take that away from us."
After thanking their customers and supporters, Asselstine said the doors "will be locked" after August 5th.