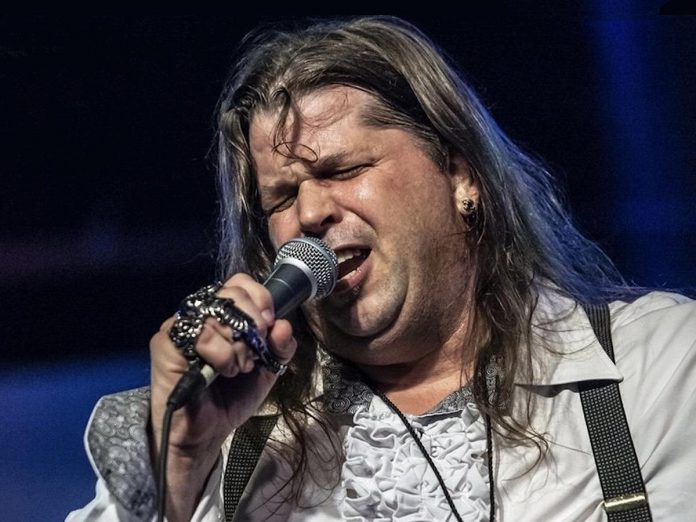 Rock music has gifted us its fair share of bigger-than-life characters; individuals whose over-the-top stage presence is central to their presentation, their vocal or instrumental talent aside.
When he exploded onto the charts in 1977 via his debut studio album Bat Out Of Hell, Michael Lee Aday — a.k.a. Meat Loaf — was truly a sight to behold, his massive sweat-drenched frame drawing as much attention, if not more, as his huge singing voice and stage theatrics.
Backed by his band Neverland Express, Meat Loaf's first post-album gig saw him open for Cheap Trick in Chicago. An appearance on Saturday Night Live followed. Suddenly everyone was talking about the massive singer who delivered like few prior.
If you've guessed it takes a special performer to come even remotely close to capturing the sound, look, and body-draining emotion that defined Meat Loaf, you've guessed right. Since 2013, John Saxon Doboe has brought the Grammy Award-winning rock music giant back to exhilarating life for fans of his music across North America.
On Wednesday, July 13th at Del Crary Park, Doboe will do his thing, fronting the All Revved Up Ultimate Meat Loaf Tribute as part of Peterborough Musicfest's 35th season. As has been the case since July 1987, admission to the 8 p.m. concert is free.
Advertisement - story continues below
Backed by a seven-piece band based out of Long Island, New York, Doboe will deliver Meat Loaf's high-energy signature songs — a long and impressive list that includes "Bat Out Of Hell," "Paradise By The Dashboard Light," "Two Out Of Three Ain't Bad," and "I Would Do Anything For Love (But I Won't Do That)," which earned Meat Loaf a Grammy Award in 1994.
Beyond the talents of Doboe et al, the Musicfest audience will be treated to costume changes, choreography, and even comedy as All Revved Up pays tribute to Meat Loaf's music catalogue produced and performed from 1977 to 2016 when Braver Than We Are, Meat Loaf's 12th and final studio album, was released.
Shortly after Aday was born in Dallas, Texas — on November 22, 1963, at age 16, he was a witness to history as events unfolded at Parkland Hospital following JFK's assassination — his father, noting his new son resembled 'nine pounds of ground chuck,' convinced nurses to write Meat on his crib ID card. Later, in grade school, classmates nicknamed him Meat Loaf, a reference to his five-foot two-inch 240-pound stature. That nickname stuck like glue to Aday ever after.
VIDEO: Highlights from All Revved Up Ultimate Meat Loaf Tribute

An actor originally — he appeared in stage productions of Hair and The Rocky Horror Picture Show as well as in the 1975 cult film version of the latter — Meat Loaf burst onto the charts in 1977 with his debut album Bat Out Of Hell. Central to his initial success was his involvement with lyricist and producer Jim Steinman who composed the tracks for the Todd Rundgren-produced album.
To say Bat Out Of Hell proved to be a blockbuster debut is a major understatement.
The album's classic cover featuring a long-haired man on a motorcycle bursting forth from a cemetery — designed by the late American illustrator and comic book artist Richard Corben, best known for his comics featured in Heavy Metal magazine — heralded the goods inside in the form of the title track along with "Two Out Of Three Ain't Bad," "You Took The Words Right Out Of My Mouth" and "Paradise By The Dashboard Light," the latter augmented by a memorable shared vocal with Ellen Foley that's stilled hailed as one of the greatest rock duets of all time.
Advertisement - story continues below
Bat Out Of Hell sold some 43 million copies worldwide, making it one of the best-selling albums of all time, certified 14 times platinum by the Recording Industry Association of America and still selling some 200,000 copies annually to this day. It also formed the basis of a stage musical brought to life in 2017 in England and later presented in Toronto at the Ed Mirvish Theatre.
While Meat Leaf continued to record with considerable success over the ensuing years, his output never matched the reception granted his debut album.
The follow-up album, 1981's Dead Ringer, inevitably didn't live up to critics' expectations, and subsequent albums Midnight At The Lost And Found (1983), Bad Attitude (1984) and Blind Before I Stop (1986) similarly did little to recapture his debut's success.
However, in 1993, with the release of Bat Of Out Hell II: Back Into Hell, the single "I'd Do Anything For Love (But I Won't Do that)" brought Meat Loaf another chart-topping hit and a Grammy Award for Best Rock Vocal Performance, Solo.
Besides his music career, Meat Life returned to his acting roots, appearing in a number of feature films and television shows up until 2017.
Besieged by a number of medical issues — Meat Loaf was diagnosed in 2003 with Wolfe-Parkinson-White syndrome that causes a rapid heartbeat, and was also severely asthmatic — he was a vocal anti-vaxxer during the COVID-19 pandemic. On January 20, 2022 in Nashville, Tennessee, Meat Loaf died in hospital. While no official cause of death has been provided, he was reported to have earlier contracted the COVID-19 virus.
VIDEO: "Paradise By The Dashboard Light" – Meat Loaf

Peterborough Musicfest is presenting 16 free-admission concerts during its milestone 35th anniversary season, each staged Wednesday and Saturday nights at Del Crary Park in downtown Peterborough.
Overseen by general manager Tracey Randall and staff, a board of directors, and numerous volunteers, Peterborough Musicfest's stated mission remains "to provide diverse, affordable live music to enrich cultural and economic prosperity in our community."
For more information on this concert or the entire 2022 season, visit www.ptbomusicfest.ca or phone the Peterborough Musicfest office at 705-755-1111.