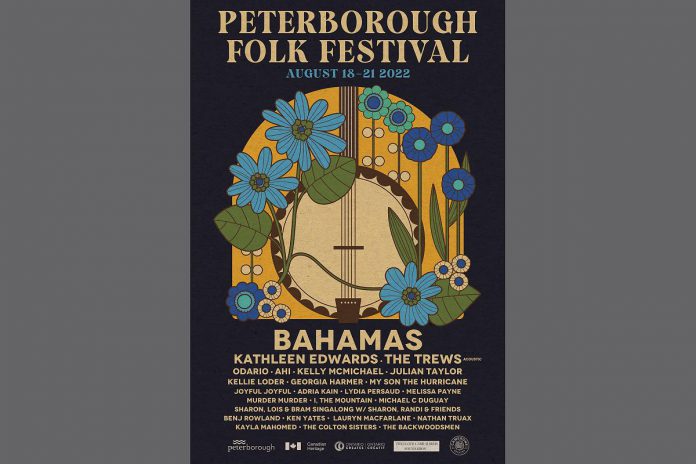 The Peterborough Folk Festival has revealed the full lineup of performers at the free festival in Nicholls Oval Park on the weekend of August 20 and 21.
Newly announced performers include Toronto singer-songwriter Lydia Persaud, folk singer-songwriter Ken Yates from London, Ontario, traditional music group The Backwoodsmen, and local musicians Benj Rowland and Melissa Payne.
Previously announced performers include headliners Bahamas, The Trews Acoustic, and Kathleen Edwards, with the latter performing a ticketed concert on Friday, August 19th at Market Hall Performing Arts Centre in downtown Peterborough.
Advertisement - story continues below
Other previously announced performers in the lineup are Odario, AHI, Kelly McMichael, Julian Taylor, Kellie Loder, Georgia Harmer, My Son The Hurrican, Joyful Joyful, Andrea Kain, Murder Murder, I, The Mountain, Michael C Duguay, Sharon, Lois & Bram Singalong with Sharon and Randi Hampson and friends, Lauryn Macfarlane, Nathan Truax, Kayla Mohammed,and The Colton Sisters.
In addition, festival organizers announced Indigenous performers Kelli Marshall and Payge Marshall will take to the main stage prior to the Sharon, Lois & Bram Singalong.
Along with the free weekend of music at Nicholls Oval and Kathleen Edwards' August 19th ticketed concert, the Peterborough Folk Festival is also presenting the premiere of its concert film We Can Do This with two evening screenings at the Market Hal on Thursday, August 18th.
Festival organizers will be releasing a performance schedule soon. In the interim, the festival is still seeking volunteers to help with this year's event.
For more information about the Peterborough Folk Festival, or to become a volunteer, donate, or sponsor the festival or become an artisan vendor, visit peterboroughfolkfest.com.
kawarthanow is pleased to be a major media sponsor of the 2022 Peterborough Folk Festival.