The Peterborough Folk Festival has announced the premiere of its concert film We Can Do This along with a limited vinyl edition soundtrack featuring 11 songs from the film.
The film will be screened at Market Hall Performing Arts Centre in downtown Peterborough on Thursday, August 18th, the day before the 2022 Peterborough Folk Festival kicks off with a ticketed concert by Kathleen Edwards, also at the Market Hall, followed by a weekend of free musical performances at Nicholls Oval Park by Bahamas, The Trews Acoustic, Odario, AHI, My Son The Hurricane, Georgia Harmer, and Adria Kain, Joyful Joyful, Michael C Duguay, Lauryn Macfarlane, Kayla Mohammed, Nathan Truax, Kelly McMichael, Julian Taylor, The Colton Sisters, I, the Mountain, Murder Murder, Kellie Loder, and Sharon & Randi.
We Can Do This documents the festival's four-day series of concerts during the pandemic in August 2021 at the Rolling Grape Vineyard in Bailieboro, and features performances by Terra Lightfoot, AHI, Evangeline Gentle, Lauryn Macfarlane, Brooks and Bowskill, William Prince, Whitehorse, Hawksley Workman, Donovan Woods and the Opposition, Melissa Payne, Travis Good, and Greg Keelor and the Family Band.
Advertisement - story continues below
After Heritage Canada asked live event producers to reinvent artistic presentations during the pandemic, the Peterborough Folk Festival conceived of a film to document musical performances in unique locations using a mobile recording studio. Recording engineer James McKenty and his 'In Record Time' mobile studio to capture musical performances using 32 channels of inputs for maximum quality.
The project then evolved to include the idea of recording performances in front of a live audience. Unable to host a live event within the City of Peterborough due to pandemic restrictions, the Peterborough Folk Festival decided to instead host a four-day concert series at the Rolling Grape Vineyard.
The resulting 55-minute film will be screened at 7 p.m. and again at 9 p.m. on Thursday, August 18th at the Market Hall in downtown Peterborough.
VIDEO: "We Can Do This" trailer

Admission is a pay-what-you-can donation to the Peterborough Folk Festival, with tickets available at the door. Donations over $20 will receive a tax receipt.
Accompanying the film is a limited edition vinyl soundtrack album featuring 11 songs recorded live. Only 400 copies will be available to the public, with no plans to create a digital download. The album will be available for sale at the Peterborough Folk Festival as well as at Blue Streak Records in Peterborough.
The album features "Empty House" by Terra Lightfoot, "Sundays" by Evangeline Gentle, "The Lonely Club" by Brooks and Bowskill, "Run" by William Prince, "Broken" by Whitehorse, "Piano Blink" by Hawksley Workman, "We Used To" by Donovan Woods, "Letting It Out" by Lauren MacFarlane, "September Skies" by Melissa Payne, "All The Good Times Are Past And Gone" by Travis Good, and "Lost Together" by Greg Keelor and The Family Band.
Advertisement - story continues below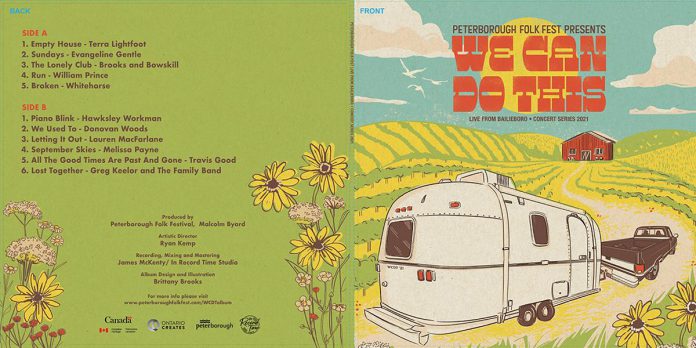 We Can Do This was written, directed, and executive produced by Peterborough Folk Festival board chair Malcolm Byard, with the festival's Ryan Kemp as artistic director and executive producer. The film was produced by award-winning Jim Lambie (The Umbrella Academy), with sound recording, mixing, and mastering by James McKenty. Brittany Brooks designed and illustrated the vinyl soundtrack album.
For more information about the Peterborough Folk Festival, or to become a volunteer, donate, or sponsor the festival or become an artisan vendor, visit peterboroughfolkfest.com.
kawarthanow is pleased to be a major media sponsor of the 2022 Peterborough Folk Festival.