Did you know that the decoratively carved "love spoon" was originally a way for a suitor to show a young woman his skill at woodworking and to demonstrate to her father that he was capable of providing for the family?
This is one of the early courtship and wedding traditions you can explore by visiting Lang Pioneer Village Museum in Keene for their "Tying the Knot: Early Wedding Traditions" event, running from 10 a.m. to 4 p.m. on Sunday, August 14th.
The event will delve into 19th-century traditions from courtship to marriage along with wedding fashion and décor, with the museum's best and most fashionable costumes on display throughout the village as well as a few brides dressed for their big day.
Advertisement - story continues below
Along with learning about courtship traditions such as love spoons at the Carpenter Shop and courting candles in the Blacksmith Shop, you can find out what would be in a traditional trousseau (the clothes, household linen, and other belongings collected by a bride for her marriage) and experience a shivaree (a noisy mock serenade performed by a group of people to celebrate a marriage) in the Fitzpatrick House.
You can browse common 19th-century wedding gifts at the Milburn House, where you can also watch a demonstration of bobbin lace making. In the Keene Hotel, learn about wedding folklore and superstitions as well as 19th-century bachelor and hen parties. Upstairs at the Salesman's room, you can also view the museum's wedding clothing display.
You can experience what dancing was like at a 19th-century wedding by taking a lesson from a local English country dancer, and listen to traditional wedding songs played on the organ and harpsichord in the Glen Alda Church.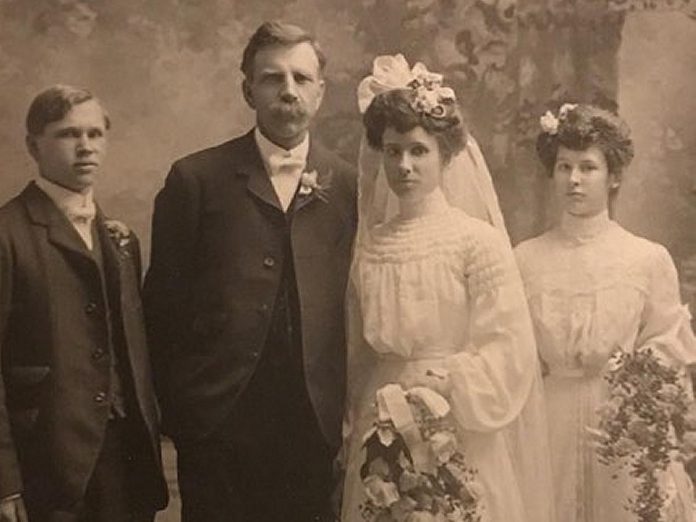 You can also learn how to create a tussi mussi — a small flower bouquet that became a popular fashion accessory during the reign of Queen Victoria — with the Peterborough Master Gardeners on the Village Green. There will also be natural dyeing demonstrations, needlepoint demonstrations by the Cobourg Stitchery Group, and quilting demonstrations by the Kawartha Quiltmakers Guild.
At 12:30 p.m., the Peterborough Concert Band will perform a special concert outside of the Church featuring traditional wedding and love songs of the 19th century. At 2 p.m., a 19th-century fashion show presented in partnership with Pickering Museum Village will begin with music and an introduction to wedding attire from the Keene Hotel porch before proceeding to the Glen Alda Church.
For refreshments, you can enjoy an English tea in the Great Hall of the Peterborough County Agricultural Heritage Building, or stop by the Keene Hotel for a cold refreshment and a slice of wedding cake (additional fees apply). The day also includes horse-drawn wagon rides and crafts for the kids.
Advertisement - story continues below
Lang Pioneer Village Museum encourages visitors to dress up for the occasion by wearing an old wedding gown, bridesmaid frock, or suits and suspenders.
Admission to "Tying the Knot: Early Wedding Traditions" is $15 for adults, $10 for students and seniors 60 and older, $7 for children and youth ages five to 14, and free for children under five. Family admission (two adults and up to four youth) is also available for $40.
While advance purchase is not required, it will result in faster processing at admissions. To purchase tickets in advance, visit langpioneervillage.ca/plan-your-visit/events/tying-the-knot/.