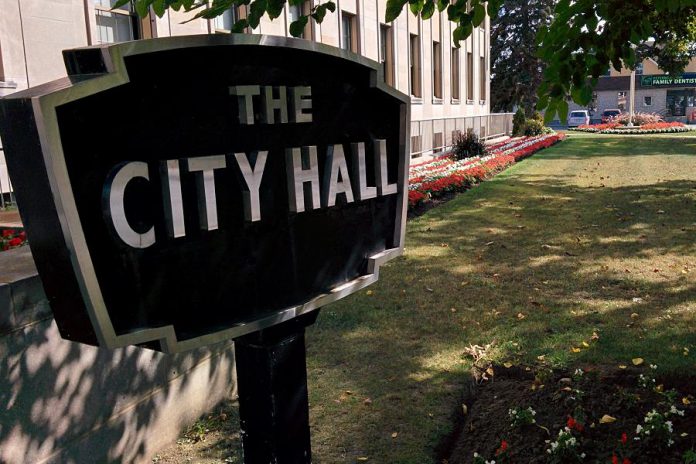 The nomination period to run for as a candidate for Peterborough city council or as a school board trustee in the fall municipal election closes at 2 p.m. next Friday (August 19).
Elected positions in the City of Peterborough include the mayor, two councillors for each of the five wards in the city (Otonabee, Monaghan, Town, Ashburnham, and Northcrest), and trustees for each of the school boards serving the city.
As of Monday, August 15, the following candidates have declared their nominations:
Advertisement - content continues below
Mayor of Peterborough – Stephen Wright, Henry Clarke, and Jeff Leal
Councillor for Otonabee Ward 1 – Lesley Parnell, Kevin Duguay, and Chanté White
Councillor for Monaghan Ward 2 – Jeff Westlake, Matt Crowley, Charmaine Magumbe, Lyle Saunders, Don Vassiliadis, and Tom Wigglesworth
Councillor for Town Ward 3 – Dean Pappas, Alex Bierk, Brian Christoph, Joy Lachica, and Vickie Ann Karikas
Councillor for Ashburnham Ward 4 – Gary Baldwin, Keith Riel, and Andrew MacGregor
Councillor for Northcrest Ward 5 – Dave Haacke, Carlotta James, Andrew Beamer, Shauna Kingston, Aldo Andreoli, and Karen Grant
Trustee for Kawartha Pine Ridge District School Board – Wayne Bonner and Steve Russell
Trustee for Peterborough, Victoria, Northumberland and Clarington Catholic District School Board – Loretta Durst
There are currently no declared candidates for trustee for Conseil Scolaire Viamonde or for Conseil Scolaire Catholique Mon Avenir.
To file nomination papers, candidates are required to make an appointment with the City Clerk's Office at City Hall ( 500 George St. N., Peterborough) by emailing election2022@peterborough.ca. Candidate packages and resources are available online at peterborough.ca/vote.
The municipal election takes place on Monday, October 24th, with voting locations open from 10 a.m. to 8 p.m.
Advertisement - content continues below
Residents can confirm they are registered to vote by visiting www.voterlookup.ca. Eligible voters on the voters list will receive a voter notification card in the mail in early October telling them where they may vote.
Online voting will be available from October 1 until 8 p.m. on October 24, and in-person voting will be available on both Election Day and through advanced polls.
Advanced polls will be held from 10 a.m. to 4 p.m. on the three Saturdays before election day (October 8, 15, and 22 at Healthy Planet Arena (911 Monaghan Rd.) for Ward 1, Westdale United Church (1509 Sherbrooke St.) for Ward 2, Peterborough Public Library (345 Aylmer St. N.) for Ward 3, Lions Club (347 Burnham St.) for Ward 4, and Northview Community Church (1000 Fairbairn St.) for Ward 5.
An advance voting location with enhanced accessibility features will be held from 10 a.m. to 4 p.m. from Monday, October 17th to Friday, October 21st at Peterborough City Hall (500 George St. N.).