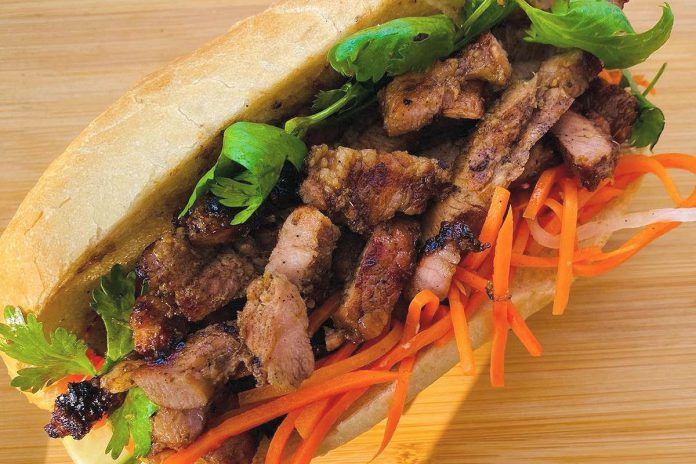 This month, food writer Eva Fisher has an authentic Vietnamese banh mi with Bibi Banh Mi in Peterborough, brings the farmers' market to her doorstep with Orono's Graze & Gather, learns about Haliburton's local food hub in an unlikely location with Abbey Gardens, and celebrates with lobster at Chemong Lodge in Bridgenorth.
Advertisement - content continues below
Bibi Banh Mi brings homestyle banh mi to market in Peterborough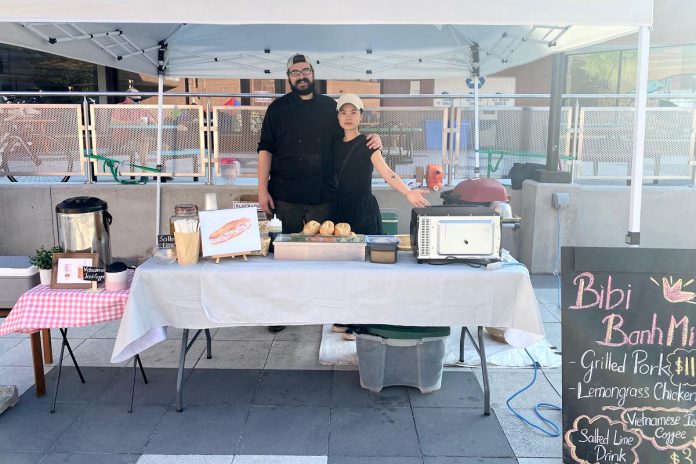 Aurora Nguyen and Connor McCracken didn't set out to join the sandwich business, but with a push from some friends they began selling their homestyle banh mi this spring at the Peterborough Regional Farmers' Market.
Aurora says that the idea started over a meal with friends.
"One day we invited our friends over to our house and I wanted to make Banh Mi, which is a Vietnamese sandwich, and I made it for them. I made the bread and made everything homestyle. And one of my friends said, 'Why don't you sell this? This is so good. This is the best banh mi I've ever had.' And I said, 'No way, no one's going to like this.' But she convinced us."
It may have helped that those friends were Sam and Tom Thanomphan from Real Thai Cuisine.
"They've helped us out really a lot with everything," Connor adds.
Aurora and Connor offer two varieties of banh mi: grilled lemongrass chicken and grilled pork from Otonabee Packers. Each sandwich is topped with home-pickled carrots and daikon, homemade pork liver pate, and cilantro. The bread is also homemade — an airy Vietnamese-style baguette.
"It's influenced by when Vietnam was a colony of France, but the Vietnamese baguette is lighter and crispier and not so chewy," Connor explains.
You can purchase Bibi Banh Mi every week from 8 a.m. to 1 p.m. at the Saturday farmers' market in the Peterborough Square courtyeard in downtown Peterborough. You can follow Bibi Banh Mi on Instagram @bibibanhmi.
Advertisement - content continues below
Graze & Gather in Orono brings 100 farms and producers to your doorstep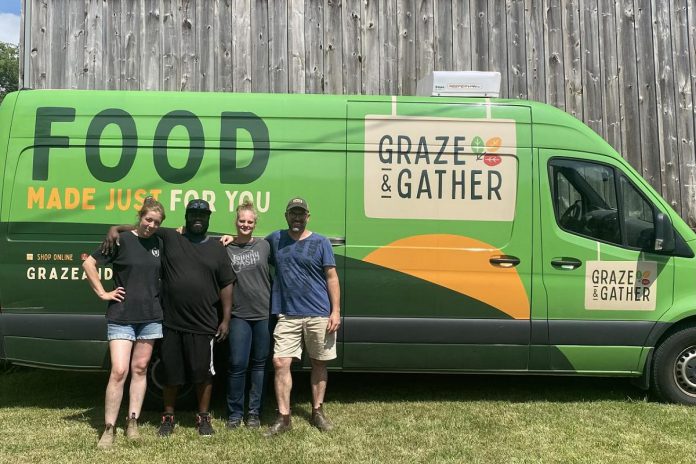 Graze & Gather is an online farmers' market that makes it simple and convenient to order from 100 different farmers and producers, most of whom are based locally.
Founder Dave Kranenburg began the business in mid-March 2020, a few days after the first pandemic lockdown. Dave owns Kendal Hill Farms (8075 Maynard Rd., Orono, 416-824-1917) with his wife Emily.
"My farm was in a place of panic with all of the markets closing, all of the restaurants closing … facing all of the cancellations because of the pandemic. I was basically looking at the year ahead at the time and thinking, 'If this thing lasts until the end of the year we've lost all of our revenue, so we need to find a different way to get our food to people.'"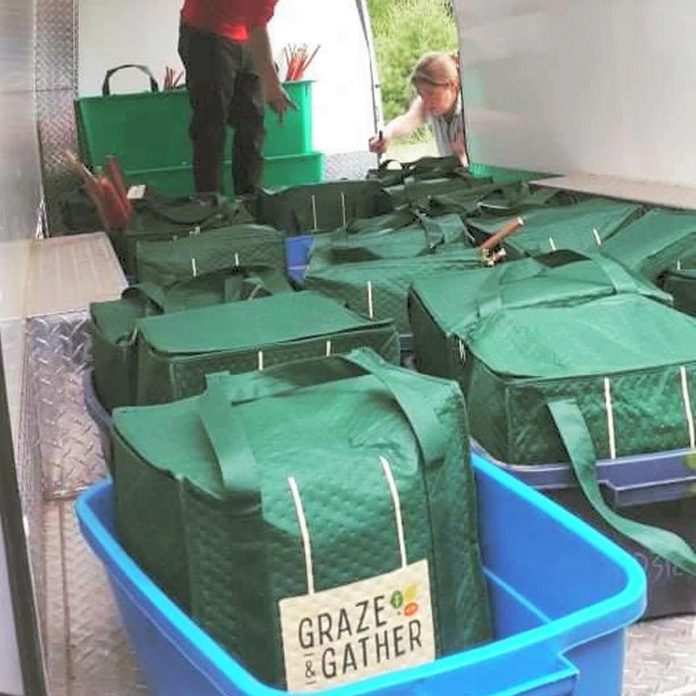 Originally the business was called the Virtual Farmers' Market, but they decided to rename it to Graze & Gather last summer as it became clear that this business was more than a stop-gap pandemic measure. Dave says that the concept is a convenient options for customers and farmers.
"We're trying to make it easy for homes to enjoy the food from farmers' markets. The team here takes on all the legwork of coordinating with farmers and producers on what they have available, picking it up from farms, and packaging groceries and doing home delivery."
"It's really meant for homes that might not be able to make it to the farmers' market that week because of other commitments. It also really works for the farmers because there's only so many markets that each of us can be at."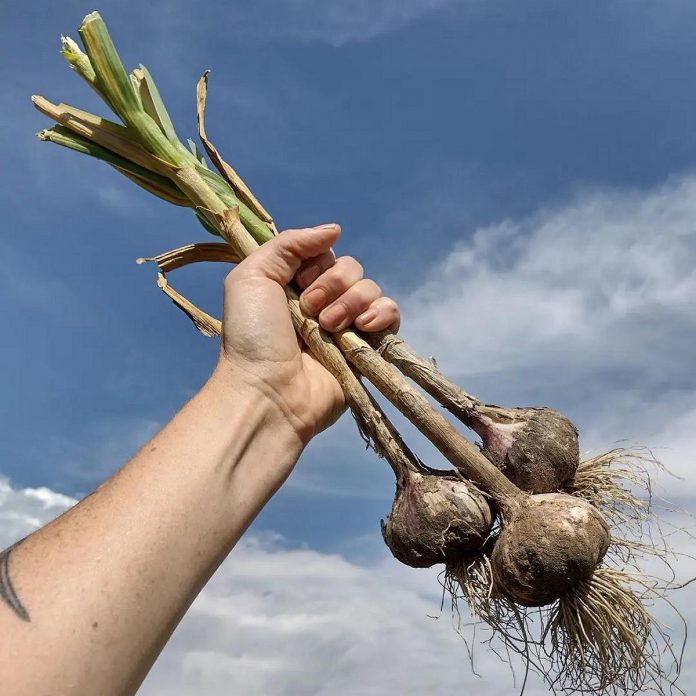 With 100 different farms and producers on the roster, there are plenty of local options, but Dave also selects farmers with integrity.
"Our criteria is that we need to know that they're the ones growing or making the food. That they have a really strong commitment to working with nature, treating their workers with respect, and just growing or making really high quality good-tasting food."
You can place orders at grazeandgatherfood.ca. Graze & Gather offers home delivery into Peterborough, Port Hope, Cobourg, and some of the rural areas between. You can also opt for pickup from The Food Shop in downtown Peterborough or from Kendal Hills Farm in Orono.
Advertisement - content continues below
Abbey Gardens in Haliburton transforms a gravel pit into a "regreened" local food hub
An abandoned gravel pit doesn't necessarily evoke a land of plenty, but the team behind Abbey Gardens (1012 Garden Gate Dr., Haliburton, 705-754-4769) have created just that in the footprint of an open-pit gravel mine.
Founded in 2009 by retired businessman John Patterson, the 380-acre "regreened" property includes a food hub, an 18-hole disc golf course, an off-grid event space and drive-in movie theatre, a two-acre vegetable garden, public trails, a natural playground for kids, a wood-fired pizza truck, and a craft brewery.
Director of operations and strategic initiatives Ashley McAllister says their main goal is to support and grow local food initiatives in the Haliburton area.
VIDEO: Abbey Gardens: Our Story (2016)

"It's all centred around the food hub, a social enterprise that specializes in local food and supporting local growers and makers."
Ashley adds that local food initiatives like these are vital.
"The food hub was created because supporting local food and small growers and producers is critical to food sustainability in Canada, particularly in rural areas like Haliburton County."
The food hub is a specialty grocery store that carries products from local artisans, beekeepers, and farmers. According to Ashley, 90 per cent of their products are sourced from within 200 kilometres, and about 30 per cent of the products are actually made right on site in Abbey Gardens' commercial kitchen or vegetable garden.
"It's not just shopping — it's an experience with where your food comes from," Ashley explains. "It's really common for visitors to be shopping when a farmer drops off fresh meat, or our garden team brings in a new harvest, or you can smell the fresh-baked pies the kitchen team are bringing out into the cafe."
"You can grab lunch at the Into the Blue pizza truck and watch our beekeepers harvest honey from the apiary. On Mondays, that air still smells like the freshly roasted coffee from County Coffee, who roast every Sunday in the hub. You just can't find that kind of transparency around the food you're purchasing at the grocery store or anywhere else."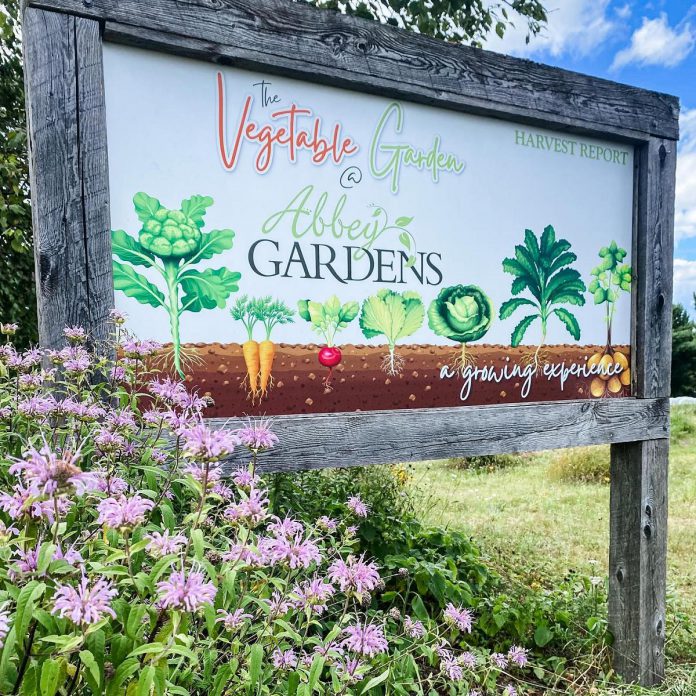 Abbey Gardens has a commercial kitchen facility on site, which allows them to reduce food waste by taking products that are at their peak of freshness and creating shelf-stable staples like soups and preserves. They also operate year-round hydroponic community-supported agriculture (CSA), which ensures participants always have access to fresh local greens.
Looking for an excuse to go? After a two-year hiatus because of the pandemic, Abbey Gardens is hosting their 15th annual Garlic Festival from 10 a.m. to 4 p.m. on Sunday, August 28th. The event will feature both a food and artisan market, as well as live music, pizza and a classic car show. Admission is by donation, with tickets available at abbeygardens.ca/product/garlic-festival-admission/.
Abbey Gardens is also hosting the "Music & the Gardens" festival from August 12 to 14, featuring Susan Aglukark, Dizzy & Fay, John McDermott, and more, and screens drive-in movies on Wednesday and Saturday nights during August. For more information, visit abbeygardens.ca.
Advertisement - content continues below
Lobsterfest at Chemong Lodge in Bridgenorth to honour ocean-loving "Con Man"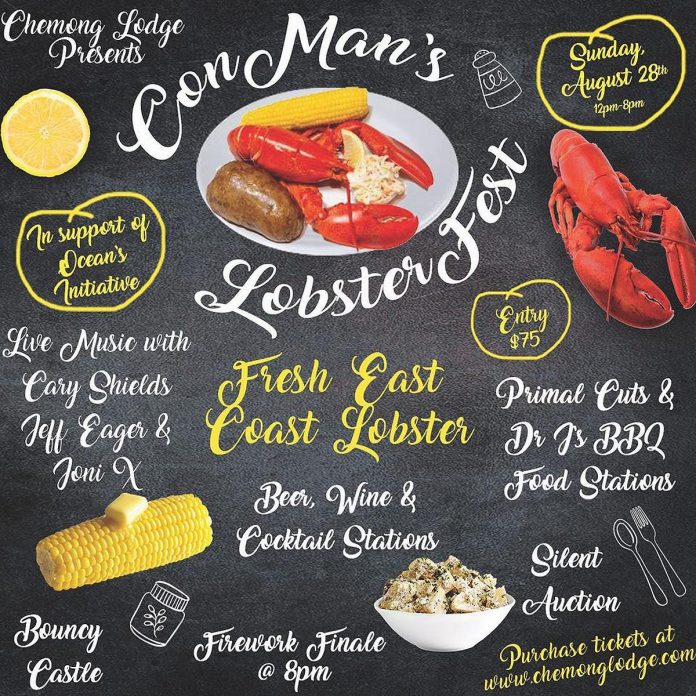 Chemong Lodge (764 Hunter St., Bridgenorth, 705-292-8435) is offering fresh east coast lobster at Con Man's Lobsterfest, an event with live music, food, and premium beverages taking place on Sunday August 28th from noon to 8 p.m.
Adam Brown (who owns the business with his brother AJ and his father Ted) says they decided to do the event in honour of his late brother Connor ("Con Man") Brown, who passed away in a commercial diving accident three years ago.
"It's been a real challenge and a real loss and we've looked to do things to honour him at many different opportunities," Adam explains. "Lobster was a passion of his — he went to school in PEI for diving."
Part of the proceeds from the event will go to support Ocean's Initiative, a Seattle-based nonprofit with a mandate to protect marine life and ecosystems.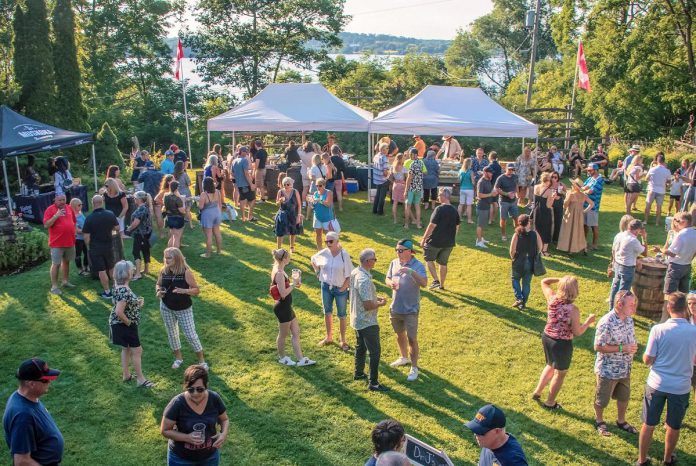 The event will be set up like a festival, featuring different beverage partners with tents set up in the Lakeview garden and food stations throughout the property. Entry includes two beverage tickets and a choice of food for lobster lovers: a pound-and-a-half lobster with potato salad and corn on the cob, two lobster rolls with corn on the cob, or lobster mac and cheese.
For those who prefer their food raised on dry land, there will be ribs, brisket, and pulled pork from Dr. J's BBQ & Brews (282 Aylmer St., Peterborough, 705-874-5717) and wagyu hotdogs from Primal Cuts (550 Lansdowne St. W., Peterborough, 705-775-6328).
For Adam, AJ and Ted, this is another way to inject some life into a place they've loved for years.
"The lodge has been a really special place for us growing up. I grew up down the hill. My parents are still there — they've been there 30 years. My wedding rehearsal dinner was here, and all sorts of great celebrations. There's a lot of passion attached to the project and it's really a revitalization project for us."
Tickets are available in person at Chemong Lodge or on their website at chemonglodge.com.