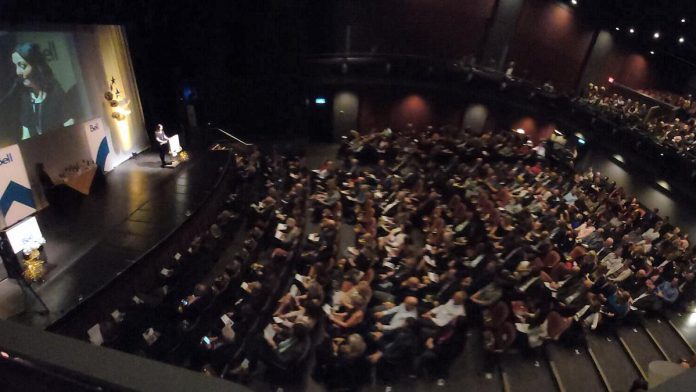 The Peterborough and the Kawarthas Chamber of Commerce has announced the finalists for the 19th annual Peterborough Business Excellence Awards and the recipients of the Businesswoman of the Year awards, with an in-person awards ceremony to be held this fall for the first time since the pandemic began.
Once again, the chamber is partnering with the Women's Business Network of Peterborough to present the Businesswomen of the Year Awards and with the Peterborough County Federation of Agriculture to recognize the Peterborough County Farm Family of the Year.
The 2022 awards event will take place in person on the evening of Wednesday, October 19th at Showplace Performance Centre in downtown Peterborough, with a pre-show party at The Venue. Tickets for the in-person event, which will also be livestreamed for free on YouTube, are available for $50 (plus HST) until September 19, and $60 (plus HST) thereafter. Tickets are available at pkexcellence.ca/tickets.
Advertisement - content continues below
Awards will be presented in move than 20 categories, including the prestigious Business Citizen of the Year award.
Along with the finalists for the Peterborough Business Excellence Awards, the recipients of the Women's Business Network of Peterborough Businesswomen of the Year Awards have been announced: Brenda Ibey of Avant-Garden Shop for entrepreneur and Alicia Dafoe of Village Dental Centre for organization.
The chamber also announced the recipients of its annual 4-Under-40 Profiles (Dr. Nicole Edgar of the Peterborough Centre of Naturopathic Medicine, Michael Gallant of Lett Architects Inc., Chad Hogan of Market Hall Performing Arts Centre, and Caitlin Smith of ReCreate Space), the recipient of this year's New Canadian Entrepreneur of the Year Award (Faheem and Fardos Mohammadzada, owners of Brothers Pizza), and the recipients of the Business Student Leadership Prizes (Jehan Mahboob of Trent University and Aiden Rice of Fleming College).
Here is the complete list of award finalists, in alphabetical order, and the already announced awards:
Advertisement - content continues below
Business Citizen of the Year
To be announced at the awards ceremony
Entrepreneurial Spirit
At the Lake Distributing
Organized by Design
Suzi Home Maker
Skilled Trades
CS Remodeling and Renovations
New Beginnings Contracting Services
Studio of Hair Design
Tourism
Hutchison House Museum
Kidz Playland
Lang Pioneer Village Museum
Retail
Central Smith
Dan Joyce Clothing
Millbrook Mercantile
Marketing & Promotion
Peterborough Humane Society (Our Pet Project)
Peterborough and the Kawarthas Home Builders Association (PKHBA Social Media Revamp)
Phillip Jolicoeur The Marketing Guy (Havelock Chamber of Commerce – Member Spotlight)
Advertisement - content continues below
Customer First
Bennett's Furniture and Mattresses
Kawartha Country Wines
Ricart Branded Apparel & Promo
Local Focus
Boardwalk Board Game Lounge
Living Local Marketplace
New Beginnings Contracting Services
Commercial Development or Renovation
CENTURY 21 United Realty Inc. Brokerage (Peterborough Office)
Lakeshore Designs (Boathouse Boutique and Bikini Beans Cafe)
TVM Group Integrated Real Estate Company (365 Armour Rd)
Professional Services
D.M. Wills Associates Limited
Gauvreau Accounting Tax Law Advisory
Hybrid Health and Rehabilitation
Green Initiatives
B!KE The Peterborough Community Bike Shop
Nutty Bean Cafe
Suzi Home Maker
Health & Wellness
Hybrid Health and Rehabilitation
The Mane Intent
Pulse Physio & Performance
Not-for-Profit
Community Care Peterborough
Kawartha-Haliburton Children's Foundation
Peterborough Humane Society
Employer of the Year
Friendly Fires
Gauvreau Accounting Tax Law Advisory
Savage Arms
Businesswoman of the Year
Entrepreneur: Brenda Ibey (Avant-Garden Shop)
Organization: Alicia Dafoe (Village Dental Centre)
Micro Business – Less than 5 employees
Dan Joyce Clothing
Flossophy Ptbo
The Mane Intent
Advertisement - content continues below
Hospitality
Boardwalk Board Game Lounge
Publican House Brewery & Pub
Starbucks at Trent
Peterborough County Farm Family of the Year
Business Student Leadership Prizes
Jehan Mahboob (Trent University)
Aiden Rice (Fleming College)
New Canadian Entrepreneur of the Year
Faheem and Fardos Mohammadzada (Brothers Pizza)
4-under-40 Profiles in memory of Kathy Windrem
Dr. Nicole Edgar (Peterborough Centre of Naturopathic Medicine)
Michael Gallant (Lett Architects Inc.)
Chad Hogan (Market Hall Performing Arts Centre)
Caitlin Smith (ReCreate Space)