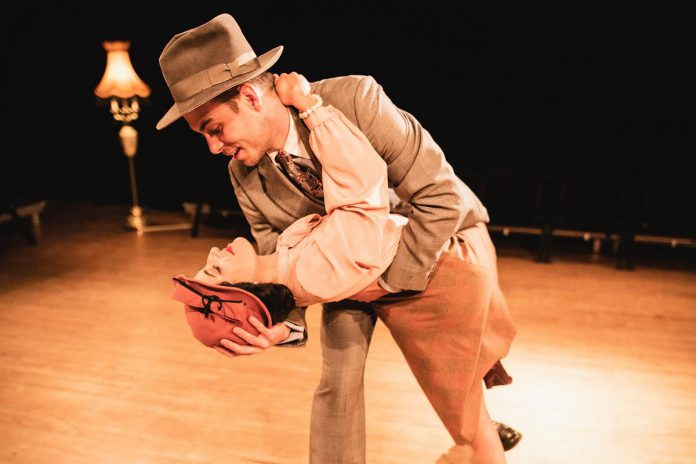 For the final play of its 19th summer season, Globus Theatre in Bobcaygeon is presenting acclaimed Canadian playwright Norm Foster's homage to the zany comedies of the 1930s, appropriately entitled Screwball Comedy.
The play opens on Wednesday (August 17) and runs for 11 performances until August 27 at the Lakeview Arts Barn at 2300 Pigeon Lake Road in Bobcaygeon.
Set in 1938, the play follows newly laid-off perfumier Mary Hayes as she tries to break into the male-dominated world of newspaper journalism.
Fed up with the lacklustre results from his star reporter Jeff Kincaid, editor-in-Chief Bosco Godfrey sets up a competition between the egotistical Jeff and the plucky Mary. He assigns both of them to cover the society wedding of Chauncey Diddle. If Jeff writes the better story, he gets to keep his job. If Mary wins, she will replace the ace newshound.
Advertisement - story continues below
Screwball Comedy stars returning Globus actors Katherine Cappellacci (That's Amore) as the budding reporter hoping to make a name for herself, Sarah Quick (Real Estate, Buying the Moose, Knickers! A Brief Comedy, Funny Farmers, Shirley Valentine) and James Barrett who perform a cast of secondary characters, and Jack Copland, a newcomer to the Globus stage, as the star reporter.
The play is directed by Barrett, who is also Globus's artistic producer and has directed and performed in a long list of Globus productions including Meet My Sister, The Three Musketeers, Do You Take This Man?, Fanny Hill, Educating Rita, Kitchen Witches, Talking Heads, Knickers! A Brief Comedy, The Woman in Black, Glorious, The 39 Steps, Harvest, 'Till it Hurts, The Men Commandments, Shirley Valentine, and Stones in His Pockets.
Globus veteran Mark Whelan, who is the play's assistant director, says the play is full of snappy period dialogue and outrageous characters and humour.
Tweet this quote
"I love this play because of the language of the period," Whelan explains. "We're revisiting the era of big band, fedoras, Babe Ruth, radio dramas, and high-stakes newspaper competition. Audiences can expect laughter and frivolity on this nostalgic journey through time to the style, wit, and optimism of the 1930s."
Screwball Comedy will be performed at 8 p.m. from Wednesday, August 17 to Saturday, August 20 and again from Tuesday, August 23 to Saturday, August 27, with additional matinee performances at 2 p.m. on Saturday, August 20 and Thursday, August 25.
A optional three-course table d'hôte menu is available at 6 p.m. prior to every evening performance (reservations required). All dinners are now sold out, although a waiting list is available and theatre-only tickets are still available for all dates.
Advertisement - story continues below
Tickets are $42.50 for the show only, or $85 for dinner and the show (all dinners are now sold out). To get your tickets, call the box office at 705-738-2037 or order online at www.globustheatre.com.
Globus Theatre is a registered not-for-profit charitable organization mandated to provide professional theatre to residents and visitors in the Kawartha Lakes, making top quality Canadian theatre accessible to all.