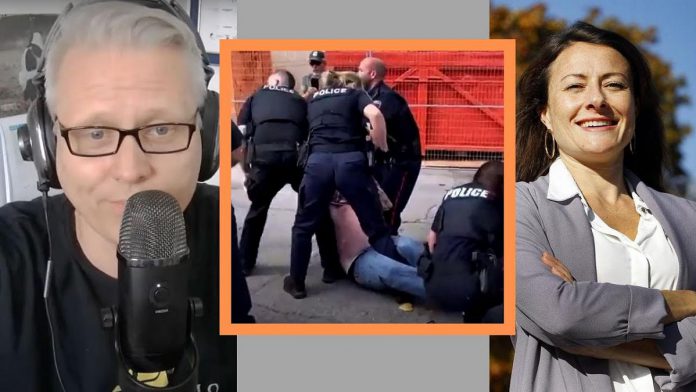 Peterborough mayor Diane Therrien's f-bomb laden tweet in response to Saturday's incident at the Peterborough police station has gone viral.
On Tuesday (August 16), Therrien commented on the incident, which saw a group of around 30 followers of self-proclaimed "Queen of Canada" Romana Didulo arrive at the police station with the intent of "arresting" police officers — only to see three of their group get arrested and police seeking two other suspects in an assault on a counter-protester.
"I hate giving airtime/spotlight to these imbeciles," Therrien wrote in part on her personal Twitter account. "Here is my comment: fuck off, you fuckwads."
Advertisement - story continues below
By Wednesday afternoon, that tweet had received almost 16,000 likes, over 2,500 retweets, and over 1,800 quote retweets, with "Mayor of Peterborough" trending on Twitter in Canada and the story appearing on the home page of Reddit. As well as local media, the National Post, CTV News, the Toronto Sun, BlogTO, and more have reported on the tweet. She was also interviewed by guest host Susan Bonner on CBC Radio's As It Happens.
This is not the first time Therrien's tweets have attracted national attention. In April 2021, when Lanark-Frontenac-Kingston MPP Randy Hillier and People's Party of Canada leader Maxime Bernier travelled to Peterborough to attend an anti-lockdown rally while Ontario was under a stay-at-home order, Therrien tagged both politicians in a photo of herself with the caption "Stay TF home" — with TF a common abbreviation for "the fuck."
People have been asking me to comment on the events of the past weekend in #ptbo. I hate giving airtime/spotlight to these imbeciles. Here is my comment: fuck off, you fuckwads. ???????

— Diane Therrien (@DianeNTherrien) August 16, 2022
As with Tuesday's tweet, the "Stay TF Home" tweet resulted in a range of reactions either supporting Therrien or criticizing her for her choice of language. It led in part to former Peterborough mayor Paul Ayotte filing a complaint against Therrien for contravening the City of Peterborough's code of conduct and the city's social media policy. The city's integrity commissioner later exonerated Therrien in a 24-page report.
On Wednesday afternoon, Therrien was invited on The Dean Blundell Show on YouTube to speak about the reasons for Tuesday's tweet and the reaction to it. Caryma Sa'd, who covered the Saturday incident in Peterborough on social media, was also a guest.
"There were some people who were so offended by that — the same people who fly the 'Fuck Trudeau' flags," Therrien said, referring to her Stay TF home tweet from last year.
Advertisement - story continues below
Tweet this quote
"I have a master's degree. I can talk to you in a scholarly fashion when I need to, but this is not a group of scholars we're dealing with," she added, referring to the participants in Saturday's incident. "It's been over two years of this kind of protest … these people come to Peterborough, or Ottawa, or wherever it may be, with the explicit stated intent to cause disruption, to cause harm to people, to disrupt our downtown, to arrest our police officers, to prevent people from living their normal daily life."
"These people exist in this delusional world, exacerbated by this sense of entitlement, because they're not used to be called out for their bullshit. Frankly, not enough politicians call them out on their bullshit. We're all somehow afraid to drop an f-bomb."
"It's lunacy that these people would come to Peterborough to try to arrest our police officers and then be upset that there are consequences for their actions," Therrien said. "That's a long way of saying that's where the tweet came from. I did not anticipate this level of interest in it."
"You're front page news," Blundell replied. "You know when they play the breaking news sounder? It's like you expect something major to come. It was like 'Breaking news! Peterborough mayor insults an entire group of idiots.'"
Advertisement - story continues below
Tweet this quote
"Peterborough is such a fabulous community of progressive people," Therrien said. "Progressive people are in Peterborough but we get dragged down by these dimwits who are pushing these wild conspiracy theories and this ideology that they're somehow oppressed when they're not."
"So it's not only embarrassing, it's infuriating because again it does damage to the city, not just our reputation but to our businesses, to families that want to come downtown but feel unsafe because they know that these people are going to be maybe blockading the street or doing whatever insane behaviour they're doing."
Asked about when she realized what was happening on Saturday, Therrien said she was aware of the planned protest as a member of the police services board, and was receiving updates from the police while she had family visiting her on the weekend.
"My assistant Deborah … she said 'People are asking you to comment', and I don't think this tweet was what she had in mind. But she also knows me well enough to know that this was the likely scenario."
Therrien also talked about the negative reaction to her tweets, with Blundell referring to the "hypocrisy" of Tom Marazzo, an organizer of the so-called Freedom Convoy who ran as the Ontario Party candidate for Peterborough-Kawartha in the last provincial election, who called Therrien an "unhinged bully" on Twitter because of the language in her tweet.
I absolutely don't agree with what these people did. I think their leader is a lunatic. What is as concerning to me is the conduct of the unhinged bully who gets away with despicable, hypocritical behaviour and is never challenged by the municipal council. They protect her.

— Tom Marazzo (@TomMarazzo) August 17, 2022
Advertisement - story continues below
Tweet this quote
"They don't like women generally, and especially women that have an opinion, and that's how it manifests," Therrien said, something that S'ad agreed with.
"Fundamentally they are authoritarian and regressive, and that shines through whenever there is push back," S'ad said.
"I think it's very telling that the three progressive women councillors in Peterborough — myself included, councillor (Kim) Zippell, councillor (Kemi) Akapo — none of us are running for re-election," Therrien said. "We have no support from our male colleagues for the most part and that's a broader trend that we're seeing throughout Canada. Young women want to be involved, but it's an immense load to carry, and you feel largely alone while you are doing it and you don't have support."
Apart from the negative reaction to her tweet, which included a man calling her a "whore" in an email, Therrien said people have been mainly supportive.
"People have been super supportive of this tweet and saying 'Thank you for being authentic' and 'Thank you for caring about the community', and 'Thank you for being an honest politician', and the fact that is such a foreign concept is problematic."
Oh, the irony of the trolls. ?????? pic.twitter.com/yYm314kdob

— Diane Therrien (@DianeNTherrien) August 17, 2022