If patrons of the Peterborough Musicians Benevolent Association show this Saturday afternoon (August 20) at Dr. J's BBQ & Brews in downtown Peterborough detect some extra spring in Mark Beatty's step, there's a simple explanation.
Beatty, who will front his band House Brand at the monthly live music showcase, recently learned he is the fifth round winner of the Don Skuce Memorial Music Collective songwriting contest.
One of 20 entrants in this round, Beatty's original song "If You Know About Love" caught the judges' attention in a big way and, as such, will now be recorded by Peterborough producer James McKenty before being sent for final mixing and mastering by Greg Wells at his Los Angeles-based Carousel Studios.
Advertisement - content continues below
Tweet this quote
Wells, a Peterborough native and Grammy Award-winning record producer, founded the collective and its associated songwriting contest in 2020 with his longtime friend and musician John Crown.
The concept was simple: support Peterborough musicians in much the way that the longtime owner of Ed's Music Workshop did for decades before he died in June 2018 at age 66 after a long battle with cancer.
Since launching the initiative, nine songs have now been chosen for the full Wells' treatment — a service that would cost local musicians thousands of dollars otherwise and, for all intents and purposes, be well out of reach. Once Wells has done his thing, each musician retains full rights to, and ownership of, his or her recorded song to do as he or she pleases.
Beatty, who also performs solo (most recently at the Black Horse Pub), says the message of his winning song is "love is work, but it's good work."
"You've got to take the good with the bad, push through it and work together," Beatty explains. "I believe love is an action. It's not a noun. It's an action word. Love is something that you have to do."
AUDIO: "If You Know About Love" by Mark Beatty

If you know about love you know talk is cheap,
If you know about love you know the lies are deep,
If you know about love you can help me sing this song,
If you know about love you know right is sometimes wrong.
If you know about love, if you know about love, if you know about love you know about me.
If you know about love you know about give and take,
If you know about love you know there's promises you make,
If you know about love you take the ups with the downs,
If you know about love you know it always comes back around.
If you know about love, if you know about love, if you know about love you know about me.
If you know about love you know time is on your side,
If you know about love there is nothing you can hide,
If you know about love there's a smile upon your face,
If you know about love nothing and no-one can take its place.
If you know about love, if you know about love, if you know about love you know about me.
Tweet this quote
For his part, Wells says Beatty's song "just felt great from the very first bar."
"It felt like (a type of song) we had not already picked (in previous judging rounds), so that made it stand out. But I could tell he really knows what he's doing. It's beautiful — it's really moving."
"This (contest) isn't about 'It's the best song and all the other songs are bad'," Wells notes. "That's not at all what I'm saying. I've had trouble picking one song in the past. At one point I picked three songs. John (Crown) has kind of forced me to pick one. Mark's song is a standout for lots of reasons. I really look forward to hearing what the final version of it becomes."
Advertisement - content continues below
Tweet this quote
Beatty, who has entered each round of the contest, admits that submitting an entry "is so hard for me."
"I've written more than 3,000 songs. Most of them are crap — they kind of have to be, right? So I'm not always the best person to judge what is good. (Peterborough musician) Bobby Watson says there are two kinds of songs: there are good songs and there are bad songs. If somebody likes something you've done, you can say 'Hey, that's a good song.'"
Beatty's first impression of "If You Know About Love" was "it was OK," adding that if he spends more than five minutes on a song and it doesn't feel it's going anywhere, he sends it to the scrap pile.
"Songwriting should never be work," Beatty says. "I don't get really artsy fartsy about my songwriting. I'm very matter of fact about it. People say 'Oh, you're born with a talent for this.' Well, yeah, maybe so but someone else has a talent for fixing cars. Everyone has a certain thing they're good at."
VIDEO: "Must Be The Gypsy in Me" by Mark Beatty performed by House Brand

If you've guessed that a guy who has written some 3,000 songs has a method behind his madness, you guessed right. Beatty says his approach is not unlike that applied by Andy Partridge, formerly of the English rock band XTC.
"I watched a documentary on him and he was describing how he writes songs," Beatty recalls. "When he got to that part, my girlfriend and I looked at each other and it was like 'That's what I do.' The term that he (Partridge) uses is synesthesia. The best way I can describe is it's kind of like Rorschach for the ears. Sometimes I'll put my fingers on the fret board on my guitar and go 'Oh, that's an interesting sound I just created there.'"
"Then I might find another chord that goes with it. That starts to conjure up images because you get a feel. If it's a minor chord, it's 'OK, this is going to be sad or angry or something.' It lets you do like a stream of consciousness thing. It lets images and words and phrases bubble up. That's kind of how I wrote this song."
Call it what you want but it's worked for Beatty, who self taught himself to play guitar in his early teens. He recalls "These things started coming out of me. I was like 'Hey, I really like this.' I found something that worked for me. (Late Peterborough musician) Buzz Thompson was my cousin, so you could say this (music) is in my blood a bit."
Advertisement - content continues below
Tweet this quote
Not unlike Wells, Crown, and a host of Peterborough musicians past and present, Beatty has nothing but good memories of his encounters with Skuce, a guitar luthier and musician who always made the time to help musicians who wandered into his store at the corner of Park and McDonnel streets. Like many people, Beatty too has a "funny Don story."
"I had one of the original Ovation guitars when they first came out back in the '70s," he recalls. "It had an accident. The head stock got completely decapitated from the guitar. The guitar fell down some stairs and it severed right off."
"So I took it Don. He looked me and said 'You know what you do with this? You take the guitar and you cut the top off it and it's an excellent oil pan for your car.' I'm was like 'That's not funny.' We always joked about that when I saw him."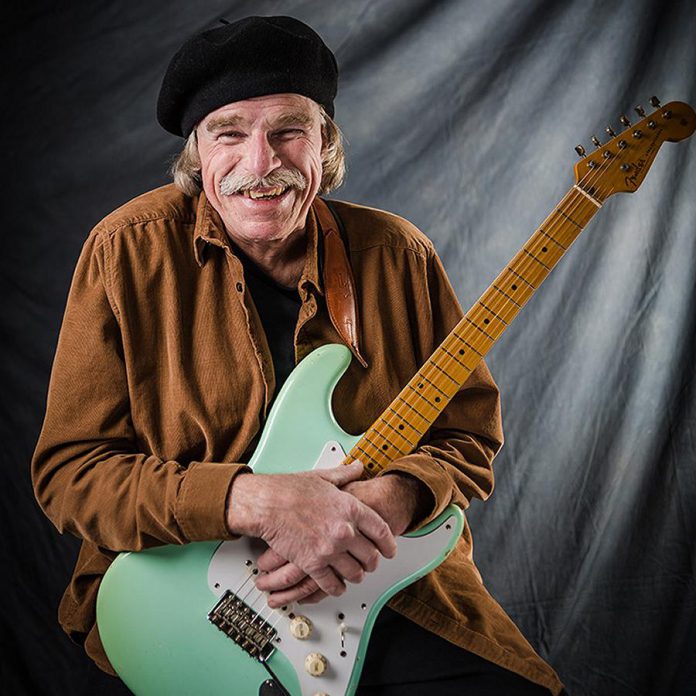 Two years in, Well says despite the vast distance from Los Angeles to Peterborough, he still feels "as connected to the whole thing as I did the night I was talking to John (Crown) on the phone coming up with this concept."
"I think about Don all the time. I have pictures of him in my recording studio. I have a picture of him under the Telecaster — his favourite guitar that he let me buy from him in the last year that he was alive. His spirit is a big one and it's around a lot of people."
"Don, like me, got excited about people doing music. It's that simple. It's got nothing to do with anything else other than people listening to music, watching people playing music, or trying to play music. The world is definitely a better place with music in it. Don was all about that."
Advertisement - content continues below
Wells says he's toying with the idea of producing a compilation album feature contest-winning songs at some point, or at least a streaming playlist.
"I'd love there to be celebration like 'Look at what we've compiled — amazing, local songwriters and artists.' I'm not trying to do that, but I'm thinking in my head what song is going to complement what we already have. That's part of what I'm listening for."
In the meantime, the next round of the songwriting contest is now open with the submission deadline being midnight January 31, 2023. The winning entry will be revealed exclusively by kawarthaNOW on February 15, 2023.
Entry details, as well as audio recordings of each round winning song to date, can be found at donskuce.com where entrants can also upload their MP3 file entries.