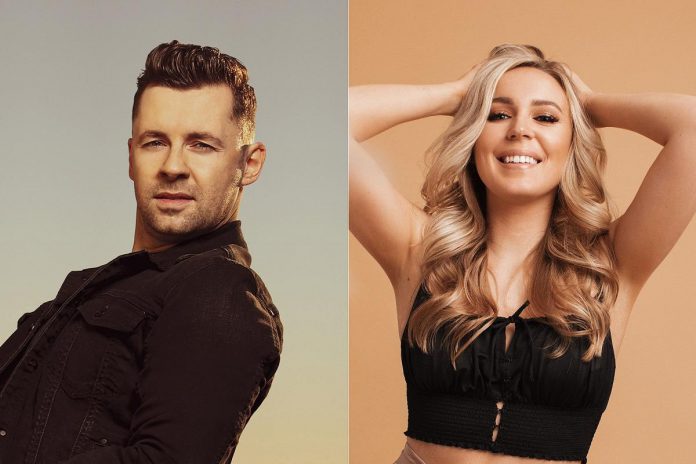 For the longest time, the closing night act for Peterborough Musicfest's 2022 summer season was a work in progress; so long you can bet more than a few thought "TBA" was the name of the act scheduled to perform.
While the music genre to be featured at the season finale was listed as country, that was all known for certain as the clock ticked down to the final hurrah.
Well, good things still come to those who anticipate — very good things with not just one but two of Canada's fastest rising and hardest working country music artists set to share the spotlight.
On Saturday, August 20th at Del Crary Park, Peterborough Musicfest welcomes Shawn Austin and Peterborough native Elyse Saunders to close out its 35th season. Admission to the 8 p.m. concert, as always, is free.
Advertisement - content continues below
A two-time Canadian Country Music Association (CCMA) Rising Star nominee (2019 and 2021), Vancouverite Shawn Austin began his musical journey as an independent artist before releasing his debut single "Paradise Found" in 2017. That song peaked at number eight on the Billboard Canada Country chart, serving notice that Austin was a talent who promised great things.
In 2018, Austin's self-titled debut EP, featuring the singles "Get Me There" and "You Belong," was released. Capitalizing on his early momentum, he released the single "What Do I Know," which attained the number seven spot on Canada Country and was included on his 2020 EP The Little Things.
Austin, whose music has been streamed a remarkable 23 million times, arrives in Peterborough fresh off the June 2022 release of Planes Don't Wait, his fourth EP, and the singles "Tailgate To Heaven," featuring American country artist Chris Lane, and "Get You."
VIDEO: "Tailgate To Heaven" – Shawn Austin featuring Chris Lane

In an August 2021 interview with Nanci Dagg of Canadian Beats Media, Austin touched on "Tailgate To Heaven," which is nominated as Single of the Year for the 2022 CCMA Awards presentation this September in Calgary.
"We (he and Chris Lane) were actually were going to do a different song together, but Chris heard what we had done with Tailgate to Heaven and asked to be part of it," recounted Austin, adding "Of course, without hesitation, we said yes."
"I hope people hear the song and are reminded of a time or person that holds a special spot in their heart," Austin says.
Advertisement - content continues below
Key to Austin's upward trajectory was his August 2021 signing with Nashville-based Big Loud Records and its Canadian imprint Local Hay Records. The impact of that, both currently and potentially, hasn't been lost on Austin.
"I think it'll be a complete game changer," he says. "It's two very strong teams coming together to make one. With all the combined expertise and resources, I feel Local Hay will offer new opportunities that might have taken much longer to achieve before. From really working to solidify my place in the Canadian market, it's starting to become an option to venture into the U.S. market at some point."
"Now we put our head down and get down to business. From recording new music, to raising the bar on the live show, to simply leveling up the project as a whole, I think the next few years will be controlled chaos in the best way."
The response to his music, says Austin, has been "surreal."
"I feel very lucky and very privileged to do what I love as a career. The fans have made me who I am and allow me to continue pushing the bar to my limits and beyond, so that's exactly what I plan to do."
VIDEO: "Get You" – Shawn Austin

Meanwhile, to say Elyse Saunders is excited to open for Austin is an understatement. In an August 11 Facebook post, she wrote "I AM PUMPED to be sharing the stage with the amaaazinngg Shawn Austin!!"
Saunders has fully realized her long-ago-set goal of being a major force on the country music landscape, having covered the route from her home base of Toronto to Nashville studios so many times she could probably walk it backwards.
A four-time Country Music Association of Ontario award nominee, including 2021 nominations for Female Artist of the Year and Rising Star, Saunders single "Free" was a Top Five finalist in the 2021 CBC Toyota Searchlight song competition.
Advertisement - content continues below
"I wanted to write a summer anthem song," said Saunders of Free in a June 2021 interview with kawarthaNOW.
"I was really inspired by my hometown of Peterborough, growing up there and the times of being a teen and feeling a little more free of responsibilities — a time when weekends are most important to you. I wanted to capture those moments. I love nature and the simple things in life, and I wanted to put that into lyrics."
Included on Saunders' latest EP Free, nominated for a 2022 CMAOntario award, is her latest single "Genes."
VIDEO: "Free" by Elyse Saunders

On the strength of earlier released singles "Wine Down" and 2022 CMAOntario award-nominated Sunshine "State Of Mind" — both of which garnered considerable radio air play and have helped bring more than 2.5 million streams her way — Saunders' powerful vocals and engaging stage presence have brought her to some big stages, including Boots & Hearts and at the Sunfest Country Music Festival in BC.
"I've been doing this for so long that it's just part of my life … I don't really know any different," said Saunders, whose music journey began in earnest close to 15 years ago when she released her debut self-titled album I'm On My Way after working closely with Peterborough-based country songwriter Cyril Rawson.
"Where I start to pinch myself is when these successes come or I reach major goals. It's a reminder to me that it's pretty amazing to be able to have this gift and be able to help people's lives in some way through music. It's pretty cool that I get to do this."
VIDEO: "Genes" by Elyse Saunders

"I've just scratched the surface," Saunders adds. "I feel now is the time that I've graduated. Now I get to shine."
Dan Swinimer, a CCMA Award-nominated producer who has worked with Saunders, couldn't agree more.
"A producer is only as good as the song and the artist they are producing and Elyse Saunders is a dream come true," he said. "She has profound natural talent combined with the rare work ethic needed to stand out in a very crowded music industry … I hope the world discovers what I already know. Elyse Saunders is a star."
Advertisement - content continues below
Peterborough Musicfest is presenting 16 free-admission concerts during its milestone 35th anniversary season, each staged Wednesday and Saturday nights at Del Crary Park in downtown Peterborough.
Overseen by general manager Tracey Randall and staff, a board of directors, and numerous volunteers, Peterborough Musicfest's stated mission remains "to provide diverse, affordable live music to enrich cultural and economic prosperity in our community."
For more information on this concert or the entire 2022 season, visit www.ptbomusicfest.ca or phone the Peterborough Musicfest office at 705-755-1111.