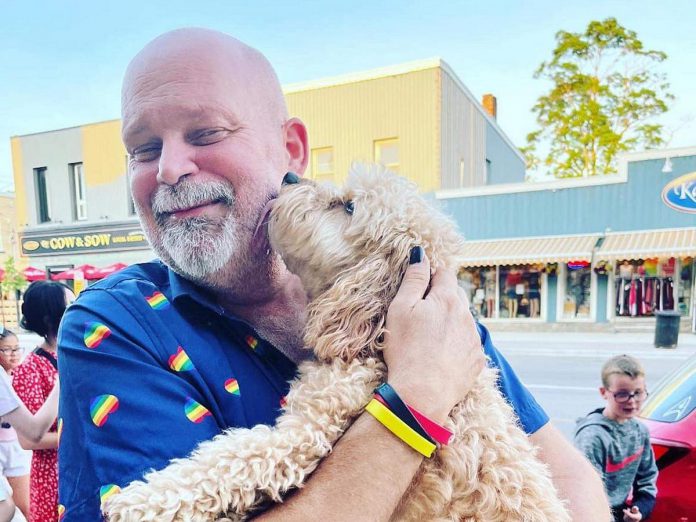 The community of Fenelon Falls in the City of Kawartha Lakes has been devastated by the news of the unexpected passing of Randy Meredith, the popular owner of Grr8 Finds Market and a LGBTQ+ champion. Meredith passed away peacefully at his Fenelon Falls his home on Saturday (September 3) at the age of 56.
Meredith opened Grr8 Finds Market in downtown Fenelon Falls 13 years ago, initially as an indoor vendors market at 27 Colborne Street, and then expanding to include 29 Colborne Street. With an eclectic mix of antiques and upcycled, recycled, and retro collectibles and home decor, it was voted as Best Antique Shop in Kawartha Lakes six times and also appeared on HGTV's "Scott's Vacation House Rules."
Grr8 Finds Market also became known as a pillar of love and acceptance in Fenelon Falls with Meredith, who identified as gay, offering a safe and inclusive space for anyone, including those in the LGBTQ+ community and especially youth who needed support.
Advertisement - content continues below
Meredith also became known for the often-outrageous outfits he wore for "Wacky Wednesdays," with photos shared on the store's social media accounts.
Rylee Rae, who works at Grr8 Finds Market and is an organizer of Kawartha Lakes Pride, posted Sunday morning about Meredith on the Grr8 Finds Market's Facebook page.
"Our community lost one of its pillars yesterday and I lost someone who was an elder, parent, friend and anything else I could ever need," the post reads in part. "Randy was and will always be the unconventional necessity we all needed. He lived his truth so loudly, it made it safe for anyone and everyone else to do the same. His heart was almost as enormous as his wardrobe."
Since news of Meredith's passing, social media has been flooded with comments from people mourning his passing.
"We were devastated yesterday to find out that our dear friend Randy Meredith passed away in his sleep early Saturday morning," wrote Fenelon Falls resident Sylvia Keesmaat on Facebook. "Randy was, in many ways, the beating heart of downtown Fenelon Falls. He was a pastoral presence for young people who needed a listening ear, a staunch friend in all circumstances, and his heart was one of welcome, especially for those in the LGBTQ+ community."
As a champion of both Fenelon Falls and the LGBTQ+, Meredith has hosted a window window display for Kawartha Lakes Pride every year for the past five years.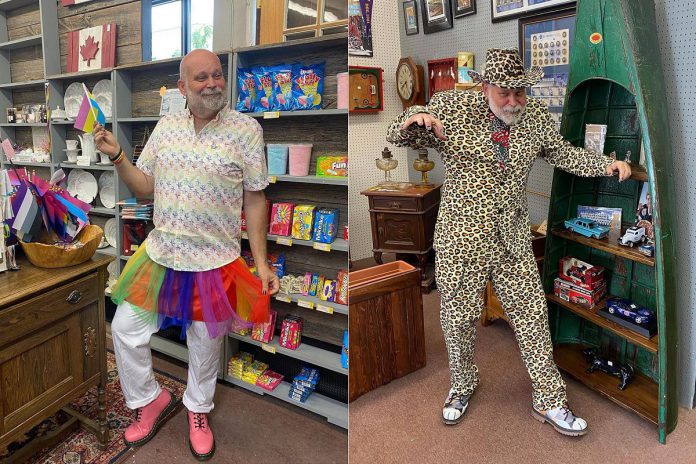 Advertisement - content continues below
The Fenelon Falls community rallied behind Meredith in July 2022, after a man entered Grr8 Finds Market and subjected both Meredith and Rae to hateful slurs about their sexual orientation.
In December 2021, CBC's comedy-reality series Still Standing with comedian Jonny Harris filmed an episode in Fenelon Falls.
That episode, broadcast in March 2022 on the series' seventh season, featured a segment on "Wacky Wednesdays" with Meredith and Rae.
VIDEO: "Wacky Wednesdays in Fenelon Falls" – Still Standing
On Wednesday (September 7), members of the Fenelon Falls business community were asked to pay tribute to Meredith with a village-wide "Wacky Wednesday," with everyone invited to wear wacky clothing and gather outside of of Grr8 Finds at noon for a group photo.
People were also are encouraged to post photos of their "Wacky Wednesday" outfits on social media with the hashtag #WackyforRandy.
Here a few of the #WackyforRandy posts on Facebook:
A celebration of Meredith's life will take place at The Grove Theatre (27 Veterans Way, Fenelon Falls) at 7 p.m. on Sunday, September 18th, followed by a candle light service. People are encouraged to come dressed as their most authentic selves to honour Meredith.
Memorial donations can be made to Kawartha Lakes Pride or the Kawartha Lakes Animal Wellness Society (KLAWS).
This story has been updated with some of the #WackyforRandy photos posted on Facebook and details about the celebration of life planned for Randy Meredith.