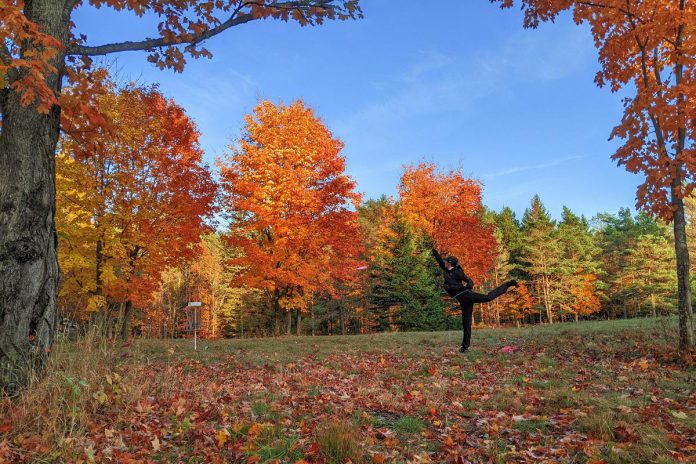 Kawartha Conservation is launching a nine-hole disc golf course at Ken Reid Conservation Area near Lindsay.
Formalized in the 1970s, disc golf has become an increasingly popular sport. Played much like traditional golf, but with a flying disc instead of a ball and clubs, participants try to complete each "hole" (usually an elevated metal basket) using the fewest number of throws.
The Ken Reid Disc Golf course will be a four-season attraction that can be used in local tournaments or for individual play.
Advertisement - content continues below
Tweet this quote
Designed by Huntsville-based Fluent Disc Sport, the course is being constructed and integrated into parts of the escarpment loop and grasslands area at Ken Reid Conservation Area.
"Conservation areas and provincial parks can be ideal homes for disc golf courses," explains Fluent Disc Sport designer Kevin Farley. "Because we're playing with flying discs and aren't concerned with the need for a smooth ground surface, disc golf doesn't require manicured fairways, it doesn't need perfectly maintained greens, it doesn't need cart paths, it doesn't need any of the things that play the biggest role in golf's environmental footprint."
Furthering Kawartha Conservation's vision for engaged communities that appreciate the natural environment, each hole on the course will provide information on a local bird species and connect disc golfers to the more than 170 species of birds that visit or live in Ken Reid.
"It was important to all of us that the disc golf course is more than just a recreational opportunity," explains Kristie Virgoe, Kawartha Conservation's director of stewardship and conservation lands. "We also wanted to make sure it was an opportunity to connect, engage, and educate new and existing Ken Reid visitors."
The Ken Reid Disc Golf course is expected to open before the end of 2022.
This story has been updated to correct the spelling of disc throughout.