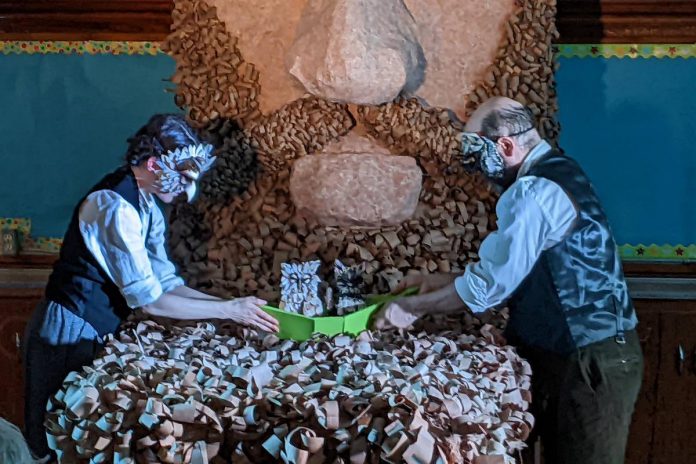 Kim Blackwell, Kathryn Durst, Jon Hedderwick, Nicole Malbeuf, Justin Million, Kate Suhr, Brad Brackenridge, Matt Snell, Kate Story, Lynda Todd, and Gillian Turnham are among the 20 Peterborough-area artists who have been awarded a total of $47,720 in grants through the Grants for Individual Artists program.
Designed, delivered, and administered by the Electric City Culture Council and jointly funded by the not-for-profit arts organization and the City of Peterborough, the program offered grants of up to $1,500 or $3,500 for local professional artists.
There are two components to the program, which was announced in June as a pilot program, with the first offering grants up to $1,500 for creative research and professional development and the second grants offering grants up to $3,500 for the creation, production, and presentation of innovative new projects or works in progress in any artistic discipline taking place virtually or live in Peterborough in the next two years.
Advertisement - content continues below
Tweet this quote
A peer assessment jury awarded grants to 20 of the 40 artists who applied to the program, including a total of $16,500 to 11 artists for the first component and a total of $31,220 to nine artists for the second component. A full list of all the artists who received grants in each component is provided below in alphabetical order.
"We are grateful to the City of Peterborough for their ground-breaking support of this program," says Electric City Culture Council executive director Su Ditta in a media release. "These investments in the work of our very talented and hardworking artists means more artists can realize their visions, contribute to our cultural and social well-being, and make Peterborough a more vibrant, dazzling city for all of us."
Component One: Mini Development Grants For Individual Professional Artists
Kim Blackwell – The Auction
Development of a theatrical new work exploring hording, difficult relations between a father and daughter set against a backdrop of 1970s nuclear proliferation, the Cold War, and the soundtrack to Jesus Christ Superstar.
Kathryn Durst – First Lady Of The Accordion: Minnie White Research Project
Biographical and visual research about Canadian folk music icon Minnie White of Newfoundland, with the goal of illustrating a new book based on her life.
Lesley Givens – Moving: Beyond Comfort Zones
A veteran arts educator revives her personal practice, building upon her body of work as a visual artist with dance and movement to create a new performance work. "To occupy space with my 50-year-old body is an authentic and powerful expression of freedom."
Sarah Elise Hall – Stacks
An accomplished sculptor and installation artist explores the state of our environment, pollution, climate change and our global future, using recycled and discarded plastic containers to create large sculptural pieces that reflect natural minerals and erosion.
Advertisement - content continues below
Jon Hedderwick – One City Community University: Storytelling And Spoken Word As Advocacy
Outreach to those experiencing homelessness and precariously housed and economically marginalized members of our community to engage in writing, storytelling, and recording.
Julia Huỳnh – nhạc xuân, ở đây và ở đó (Spring Music, Here And There)
Exploring Vietnamese migration and cultural preservation through re-imagined archives, photography, sound, and plants, leading to the creation of sound and video works.
Nicole Malbeuf – Aerial Arts: Hair Suspension Practice
Circus artist explores techniques in 'hair suspension' — acts flying high in the air suspended only by the performer's long hair — through professional instruction, culminating in a workshop performance of a new performance piece.
Justin Million – Carry It All (Poetry Manuscript)
Following years of performing and releasing chapbooks with the Show and Tell Poetry Series, the artist will research and write their first book-length poetry collection of unpublished work.
Ireni Stamou – Media, Medusa, Cassandra Unearthed
Experimenting with texts and devised theatre for a new choreographic creation inspired by feminine archetypes found in Ancient Greek theatre and mythology.
Kate Suhr – Grace
Development of a new autobiographical show that uses music and storytelling to describe the effects of addiction on children in the home.
Advertisement - content continues below
Ziysah von Bieberstein – Manuscript Mentorship
Engaging professional edits, revisions and consultation for the artist's next manuscript and publication process, while simultaneously mentoring an emerging poet to develop their first self-published chapbook.
Component Two: Production And Presentation Grants For Individual Professional Artists
Brad Brackenridge – The Lear Project
Dance, puppetry, and song come together for a theatrical production based on the life and work of Victorian nonsense poet Edward Lear (for presentation at the Market Hall).
Jennifer Elchuk – Weathering and Waiting
Evolving their work with the flying 'aerial canoe,' including expansion of technical and narrative techniques, culminates in a circus arts performance at the Canadian Canoe Museum's grand opening.
Karol Orzechowski – Enantiodromia
Local musician Garbageface (Karol Orzechowski) releases a new album, exploring the polarized nature of our society, with a unique, one-time, live performance at The Theatre On King in Fall of 2023, which will be documented for later digital release.
Kaz Rahman – Experimental Documentary Film: Digital Dervish (Working Title)
An experimental documentary featurette that mixes performance footage of the internationally touring Digital Dervish dance performance with interviews, verite-style sequences, and animated shots.
Advertisement - content continues below
Elisha Rubacha – Loop
Workshop process and work-in-progress performance at The Theatre on King for a stage play about ambiguous family history, intergenerational trauma, mental illness, and fascism.
Matt Snell – Fortune Cookie
In this unique and comedic short film, a man attempting to live without a smartphone finds himself increasingly addicted to fortune cookies instead. A new work from this award-winning director.
Kate Story – Anxiety
A one-person devised theatre/dance performance work from this Governor General's Literary Awards nominated artist exploring the Old English epic poem Beowulf, the current rise of white supremacy, language, the artist's childhood, and her father's work as a Newfoundland lexicographer.
Lynda Todd – Tap: Please Touch (Tactile Art Project)
Creating accessible, tactile art designed for diverse audiences, including blind and visually impaired audience members, with a live exhibition at The Mount Community Centre, online, and on social media.
Gillian Turnham – Interlaced
Visual artist shares her explorations of traditional Islamic geometric art with three non-gallery popup exhibitions, connected to an online gallery with instructions on drawing each pattern using ruler and compass.