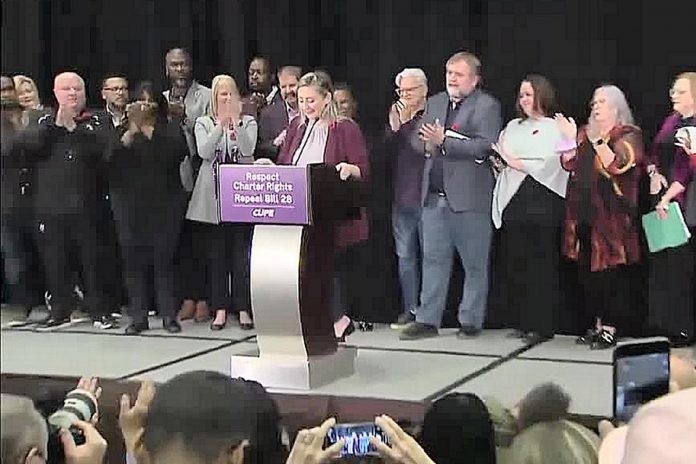 "They took on the Ford government, and the government blinked."
That was how Mark Hancock, the national president of the Canadian Union of Public Employees (CUPE), characterized the Ontario government's offer to repeal its controversial legislation imposing a four-year contract on CUPE education workers in Ontario, banning them from striking and invoking the notwithstanding clause of the Canadian Charter of Rights and Freedoms to prevent legal challenges against the legislation.
Hancock was speaking at a media conference in Toronto at noon on Monday (November 7), the second day of a walkout by CUPE education workers to protest the legislation and several hours after Ontario Premier Doug Ford held his own media conference offering to repeal Bill 28 if CUPE ended its walkout.
Advertisement - content continues below
Tweet this quote
"As a gesture of good faith, our government is willing to rescind the legislation — we're willing to rescind section 33 (the notwithstanding clause) — but only if CUPE agrees to show a similar gesture of good faith by stopping their strike and letting our kids back into their classrooms," Ford said at his media conference. "I urge CUPE to continue to talk with us at the bargaining table. We're willing to make a fair deal."
Before Ford spoke, a media conference had already been scheduled with labour leaders and representatives from a wide range of both public and private sector unions — including the Canadian Labour Congress, Ontario Federation of Labour, Toronto and York Regional Labour Council, ATU Canada, Elementary Teachers' Federation of Ontario, Ontario English Catholic Teachers' Association, Ontario Secondary School Teachers' Federation, Public Service Alliance of Canada, Canadian Union of Postal Workers, Ontario Public Services Employees Union, Ontario Nurses Association, SEIU Healthcare, Canadian Office and Professional Employees Union, Society of United Professionals, AEFO, United Steelworkers, United Food and Commercial Workers Union, Unifor, Ontario Building Trades, United Association of Plumbers and Pipefitters, Sheet Metal Workers, Unite Here, IATSE, and the National Union of Public and General Employees — representing millions of public and private sector workers across the country.
Some of the private sector unions at the media conference had endorsed the Ford government before the last provincial election, based on his promises to improve the economy, but saw Bill 28 as a threat to all Ontario workers.
"This is an unprecedented gathering of labour leaders because of the attack against worker rights that we've seen from this government," Hancock said, referring to Bill 28. "That regressive attack on workers united the labour movement like never before."
"I am so proud of CUPE's frontline education workers, 70 per cent of whom are women, and that they stood firm. They went out on a political protest. They brought their message and their anger to more than 100 sites (government MPP constituency offices) across this province. They took on the Ford government, and the government blinked."
Tweet this quote
CUPE education workers — including education assistants, school library workers, administrative assistants, custodians and tradespeople, early childhood educators, child and youth workers, and more — walked off the job last Friday, the day after they were in a legal strike position and the day after the Ford government passed Bill 28 in the Ontario legislature outlawing their right to strike. School boards across the province announced schools would be closed as they could not operate safely without the workers, and schools remained closed on Monday.
The media conference was originally scheduled for 11 a.m., but was delayed by an hour so that CUPE could get written confirmation of the provincial government's offer, given Ford's comment in his media conference implying that only the section of Bill 28 invoking the notwithstanding clause would be rescinded.
"The delay, and I want to thank you all for your patience, was to receive in writing the Premier's intent," said Laura Walton, president of the Ontario School Board Council of Unions (OSBCU) that represents the education workers. "We have received, and can confirm, that the Premier will introduce and support legislation that will repeal Bill 28 in its entirety."
The legislation will be repealed, Walton added, in a way that ensures it was never legally in force — meaning workers participating in the walkouts would not be retroactively subject to the enormous $4,000 per day fine outlined in Bill 28.
Advertisement - content continues below
Tweet this quote
"As a gesture of good faith to this announcement, CUPE OSBCU will be collapsing its protest sites starting tomorrow. We hope that this gesture is met with the same good faith by this government in a new proposal at the bargaining table as soon as possible."
Other labour leaders and union representatives spoke at the media conference in solidarity with CUPE and against the Ontario government's legislation. Had Ford not offered to repeal Bill 28, more extensive protest action involving other unions would have been on the way — including by Unifor, the largest private sector union in Canada.
"Bill 28, as you've already heard, represents an outrageous and unprecedented attack on workers' rights and trade union freedoms and, as a labour movement, we were prepared to respond with an unprecedented response," said Lana Payne, Unifor's national president. "If fundamental rights can be taken away from public sector workers without recourse, no one's rights are safe."
"Workers made it clear that they will not tolerate the weaponizing of the notwithstanding clause to strip away our Charter rights — not today, not tomorrow, not ever."
Advertisement - content continues below
Tweet this quote
"Our 180,000 members of OPSEU are not standing down, we are standing by," said JP Hornick, president of OPSEU/SEFPO, the largest public sector union in Ontario. "All Ontarians should be terrified of this abuse of our Charter rights."
"When you come from one of us, you come for all of us," Hornick added. "I know that workers, united, will shut down this province down whenever we need to."
In response to questions from the media, Walton confirmed that OSBCU will immediately return to the bargaining table and CUPE education workers will return to work on Tuesday morning.
CUPE also said it is not aware of the province's timeline for repealing the legislation.
Once Bill 28 is repealed, the CUPE education workers will once again be in a legal strike position. Should negotiations break down, the union will be required to provide five-day notice to the provincial government of a strike action.
This story has been updated to add a missing word in a quote by Lana Payne.