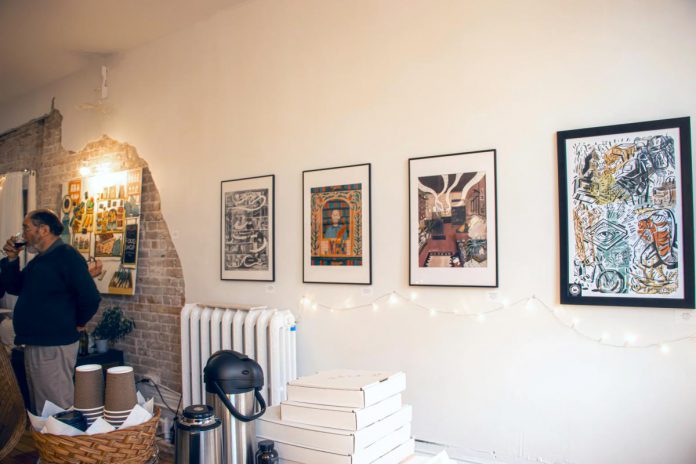 Shops in downtown Peterborough ("The Boro") have been reimagined through the eyes of local artists for a public art exhibit that was on display during the First Friday Art Crawl on November 4.
For The Illustrated Boro Project, the Peterborough Downtown Business Improvement Area (DBIA) commissioned five artists — Jason Wilkins, Samantha Chiusolo, Julii McMillan, Kathryn Durst, and Brooklin Holbrough — to create 10 illustrations of downtown businesses.
Each artist chose a business based on their own personal connection to the downtown area: Mark Jokinen Books, Statement House, Ritual Apothecary, Night Kitchen, Couture Candy, Providence, The Food Shop, Bijoux Bar, Blue Streak Records, and Black Honey Café.
Advertisement - story continues below
"With the Illustrated Boro project, we honour the art of illustration with drawings of familiar downtown Peterborough shops handpicked by five local artists," says Peterborough DBIA board member and marketing chair Sacha Lai-Svirk.
"This is how they see their favourite businesses in The Boro. These talented artists see what others may only catch a glimpse of: whimsy, charm and a generosity of spirit — a few hallmarks of The Boro."
For Friday's exhibition of The Illustrated Boro Project, local photographer Heather Doughty donated the use of her studio in the Commerce Building on Hunter Street West. The art show also included the sale of postcard sets with all 10 illustrations, as well as prints and other original works by the artists, with all proceeds going directly to the artists.
"As a newer resident to Peterborough, I felt so honoured to be a part of this wonderful collaboration with the DBIA, the shops, and fellow artists," says illustrator Samantha Chiusolo. "My family and I have had the pleasure to meet wonderful shop owners that help remind us we are a part of a larger community, with whom we will support and foster new long-lasting relationships."
"Speaking as an artist, this project has helped support my foray into narrative illustration as well as build-up a fellowship within the artist's community."
The Illustrated Boro Project was funded by the federal government's Tourism Relief Fund, delivered by the Federal Economic Development Agency for Southern Ontario (FedDev Ontario).
Advertisement - story continues below
In October, Regional Tourism Organization 8 (RTO8) announced 37 recipients of $2.8 million in funding to help local tourism organizations and businesses safely welcome back visitors, recover from the impacts of the pandemic, create jobs, and prepare for future growth.
The Peterborough DBIA received $96,100 in funding for its downtown vibrancy project, including the delivery of public art projects like The Illustrated Boro Project, downtown events, map creation, and the Urban Park Grand Opening to renew the downtown core to elicit increased tourism traffic to the Peterborough area.