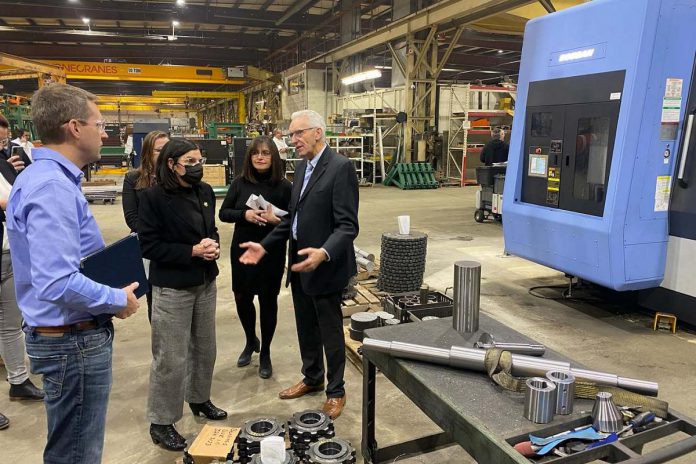 Filomena Tassi, the minister responsible for the Federal Economic Development Agency for Southern Ontario (FedDev Ontario), was in Lindsay on Friday (November 25) to announce investments totalling over $2.5 million in manufacturer TS Manufacturing Company and not-for-profit organization Pinnguaq Association.
TS Manufacturing Company, a Lindsay-based family-owned and operated manufacturer of equipment for the global forest products industry, is receiving over $1.5 million from FedDev Ontario to expand production by acquiring advanced manufacturing equipment including automated solutions such as a first-in-the-world robotic lumber sorter.
According to a media release from FedDev Ontario, the funding will also boost local supply chain spending, reduce waste in lumber production, and strengthen the regional economy in Lindsay and the Kawartha Lakes, as well as bolstering the success of the manufacturing industry in both the Kawartha Lakes and Peterborough regions.
Advertisement - content continues below
Founded in 1972, TS Manufacturing designs, manufactures and installs equipment such as conveyers, stackers, and bulk handling systems for high-production lumber manufacturers and sawmills, mines, and pulp and paper mills worldwide. Owned and operated by Ted and Evelyn Smith with their three sons, the company employs more than 100 workers.
"We've experienced significant growth over the past few years and this funding allows us to scale-up our production capacity to meet demand for our solutions," says Kris Smith, VP of manufacturing. "We are investing in advanced equipment and expanded infrastructure which will create jobs and allow us to produce the highest quality machinery for the sawmill industry. We are pleased to have the Government of Canada's support for this project — it is a fantastic way to celebrate our 50th anniversary and look ahead to our future."
FedDev Ontario is also investing more than $1 million through the federal Jobs and Growth Fund in the Pinnguaq Association (Pinnguaq), a not-for-profit organization focused on working with rural, remote, and Indigenous communities to ensure they have the support they need to develop the digital literacy and skills needed to position them for success.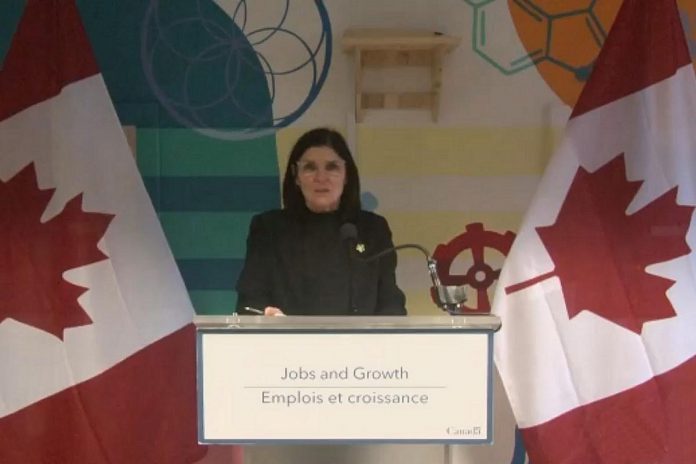 The investment will help Pinnguaq adapt its digital literacy training tools to support businesses and underrepresented job-seekers in Indigenous communities in southeastern Ontario. Through the two-year project, businesses will be supported and Indigenous job-seekers will receive training to strengthen their digital abilities from basic computer skills to digital marketing and communications, as well as website and graphic design to prepare them for employment.
Participants will also receive internship opportunities, job placements, and targeted recruitment activities, gaining on-the-job experience to prepare for future employment. The project is expected to support 60 Indigenous businesses, with funding to support up to 120 internships and job placements. All supported businesses will be Indigenous-owned or majority-led, with the internships and job placement component of the program targeting youth, women, and 2SLGBTQI+ people.
"The Pinnguaq Association is delighted by the support for this program," says CEO Ryan Oliver. "It is our honour to be able to co-deliver these opportunities with Indigenous communities and businesses in both settler communities and Indigenous Nations on Treaty 20 and Williams Treaty land."
Founded in 2012 in Nunavut, the Pinnguaq Association has expanded into a national not-for-profit organization with dual-headquarters in Iqaluit in Nunavut and Lindsay in Ontario. To date, Pinnquaq has assisted more than 50,000 participants through training classes and in-person interactions.