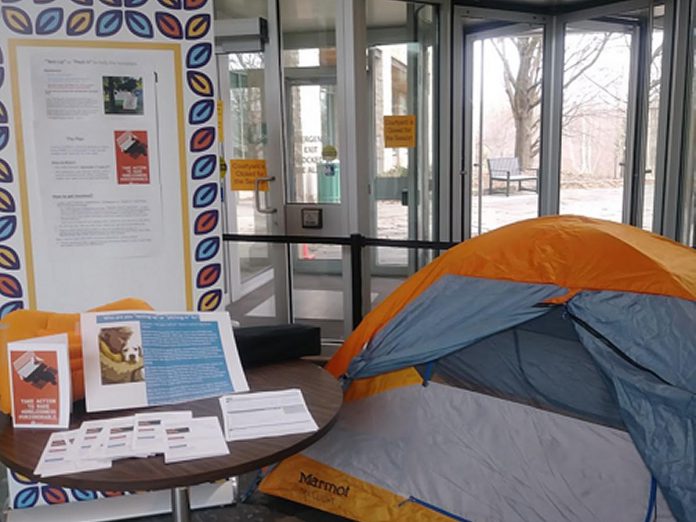 A Peterborough woman will be "tenting up" and spending the night outside on Saturday (December 10) — International Human Rights Day — to raise awareness about homelessness and to raise funds for local homelessness initiatives.
Wilhelmina Don-Venus, an employee of the Ministry of Natural Resources and Forestry on Water Street, has also challenged her work colleagues to join the cause and sleep outside for one night this week.
In a media release, Don-Venus says she met a woman and her dog last year — who she calls "Jessica" and "Hailey" — who have been homeless for more than five years and "and will likely face another winter outside."
Advertisement - story continues below
Tweet this quote
"Her love and commitment to faithful companion Hailey has precluded her from many temporary and more permanent housing options and, although some local shelters provide accommodation, she had had several bad experiences and no longer feels safe," Don-Venus says.
"While I can't change the circumstances in Jessica's life, I feel that it is very important for us all to do what we can every day, to have empathy and compassion for all of our neighbours. We are all born equal in dignity and human rights. And given that, taking a moment to share a kind word or offer encouragement to those who are struggling is meaningful and may be the one thing that keeps them going for another day."
As well as raising awareness, Don-Venus is raising funds for the United Way Peterborough & District to support services that local charitable organizations provide to those who are facing another winter outside.
According to a motion presented by councillor Alex Bierk at Monday's city council meeting, there were 326 unhoused people in the city and county of Peterborough as of October. Bierk's motion for the city to provide $100,000 for an emergency winter response to homelessness was defeated.
"There is a network of agencies who work to provide outreach, cold weather survival gear, counselling and so many integral supports to our neighbours experiencing homelessness and I want to help by raising funds to be invested in these services," Don-Venus says.
Using the tag line "Tent-Up to make homelessness #UNIGNORABLE," Don-Venus's goal is to raise $2,500 by December 13. The United Way Peterborough & District has set up a giving page at weblink.donorperfect.com/TentUp to help to help Don-Venus reach her goal and ensure donors can receive a charitable tax receipt for their donations of $20 or more.
"On behalf of my homeless friend and her dog, and all those who aren't sheltered, thank you for caring," Don-Venus says.