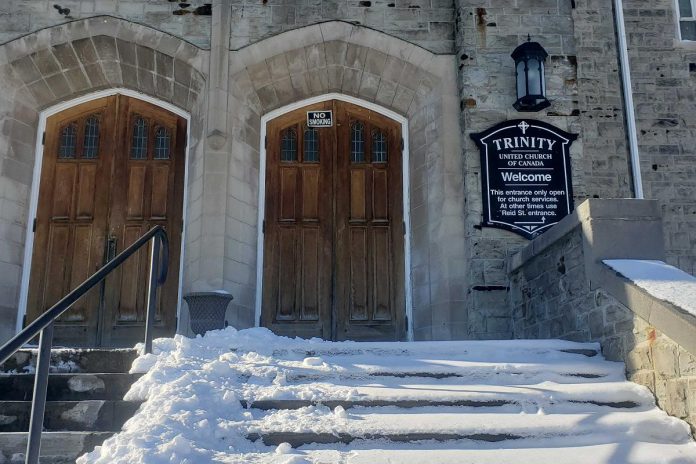 A new overnight drop-in centre, where people living outside can warm up, is opening Monday night (January 16) at Trinity United Church in Peterborough.
Supported by a coalition of community agencies without any municipal funding, the Stop-Gap Drop-in Centre at 360 Reid Street will run from 8 p.m. to 8 a.m. until the end of April.
The centre is being operated by One City Peterborough, which ran a similar drop-in centre last winter in The Bridge Youth Centre, with the support of the United Way Peterborough and District, Community Foundation of Greater Peterborough, Fourcast, Canadian Mental Health Association of Haliburton Kawartha Pine Ridge, John Howard Society of Peterborough, Elizabeth Fry Society of Peterborough, and Research for Social Change Lab (Trent University).
Advertisement - content continues below
Tweet this quote
In an interview Monday morning with CBC Radio Ontario Morning host Ramraajh Sharvendiran, United Way CEO Jim Russell said the overnight drop-in centre is intended for unhoused people who are unable to access the city's shelter system. For every shelter bed that exists, according to Russell, there are three people who are unhoused.
"There's a number of reasons people can't access the shelter system," Russell said. "They could be banned, they could have pets, they may not feel safe."
The centre has opened despite a December decision by Peterborough city council not to provide $100,000 for the operation of the centre, which the coalition had proposed as an emergency winter response to the city's homelessness crisis.
"There was a handful of agencies that were able to find budgets — unspent budget lines — and cobbled together some dollars to make sure we could open some doors this year," Russell explained. "We had to come together because we weren't willing to take the chance that people would die this winter, and so people felt the necessity to do that in the absence of a city response."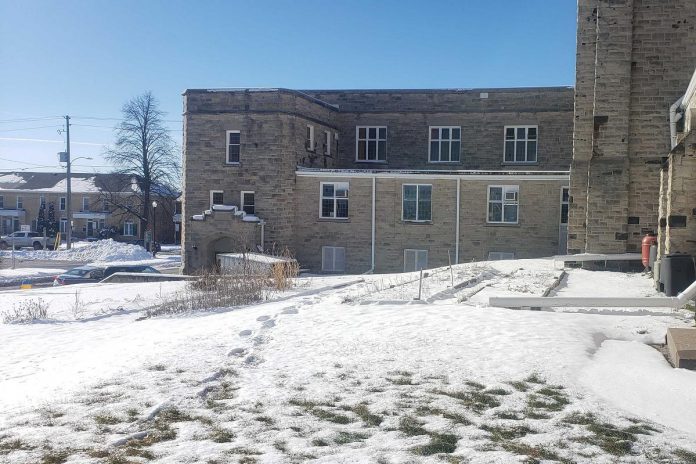 As for city councillors who have claimed there are sufficient beds in Peterborough's shelter system for the number of unhoused people in Peterborough, Russell explained there is a difference between shifts in homelessness and individual people who are unhoused.
"It's disingenuous to say that people are simply choosing not to come inside," Russell said. "What happens is you may have one person that's moved six or seven or eight or 10 times in and out of transitional housing, or in and out of permanent housing … and so when they say 'We've housed 300 people,' (they) haven't. The city has shifted people — had shifts from homelessness to being housed — but that's not necessarily 300 individuals. It could be 50 individuals cycled in and out six different times."
Russell noted the ability of the coalition of agencies to "pull this together in a matter of weeks, not months," hiring and training 20 people and securing a space for the drop-in centre, will serve as an example for how the city can react more proactively to the homelessness crisis.
Advertisement - content continues below
Tweet this quote
"That's the thing we hope for the most — that this engenders a sense of urgency (at) the city," Russell said. "Homelessness is deepening; we know that from our own research. The city (says) the number of people that are moving into being homeless for more than six months is increasing."
"That's troublesome because the longer people are unhoused, the harder it is to get people a safe place to live. So my hope is that it engenders a sense of urgency and that we work together: the municipality and agencies that are front-facing and serving people that are unhoused."
The Stop-Gap Drop-in Centre is located at Trinity United Church at 360 Reid Street in Peterborough (enter through the church's Simcoe Street entrance). It will run from 8 p.m. to 8 a.m. daily from January 16 to April 30. The phone number for the drop-in centre is 705-313-4714. For more information, call 705-313-9856.