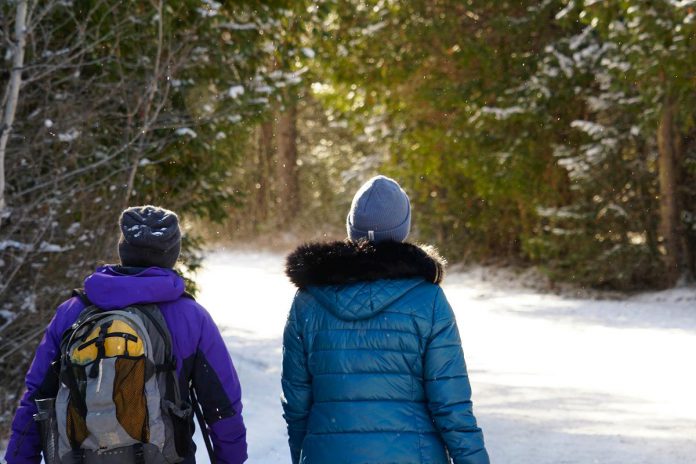 Lindsay law firm Wards Lawyers is sponsoring Kawartha Conservation's forest therapy program for 2023, the conservation authority announced on Friday (January 13).
The annual program, designed to promote mental health and wellness in the community using the therapeutic benefits of nature, will kick off in 2023 with a special three-session event at Ken Reid Conservation Area near Lindsay on January 25 during Bell Let's Talk Day, which aims to raise awareness and break the stigma surrounding mental health.
Research has shown spending time in nature can help reduce stress, anxiety, and depression, and also improve mood, cognitive function, and overall well-being. The guided walks in Kawartha Conservation's conservation areas help participants disconnect from the stresses of daily life and reconnect with the natural world. The program also includes activities such as mindfulness and meditation that can further enhance the therapeutic benefits of nature.
Advertisement - content continues below
Tweet this quote
"At Wards Lawyers, we understand the importance of mental health and the impact it has on individuals, families, and the community as a whole," says CEO Melissa Wemyss in a media release. "Our commitment to the community goes beyond providing legal services. We believe that by giving back to the community and supporting programs like the Forest Therapy program, we can make a positive impact on the lives of those around us."
Wards Lawyers' sponsorship of the program throughout 2023 means participation in the forest therapy walks are free, although donations are accepted. All proceeds from donations will support the Canadian Mental Health Association Haliburton, Kawartha, Pine Ridge.
Each 90-minute forest therapy walk is led by Kristie Virgoe, a certified forest therapy guide who is also Kawartha Conservation's director of stewardship and conservation lands.
"We are so pleased to be able to partner with Wards Lawyers for 2023 to provide Kawartha Conservation's Forest Therapy program at no cost to the community, and can't think of a better time to kick off the 2023 forest therapy sessions than on Bell Let's Talk Day," Virgoe says. "And we hope to raise awareness about the importance of mental health and the benefits of spending time in nature."
The forest therapy walks at Ken Reid Conservation Area run at 9:30 to 11 a.m., 11:30 a.m. to 1 p.m., and 1:30 p.m to 3 p.m. on Wednesday, January 25th. While each walk is free, advance registration is required at kawarthaconservation.com/foresttherapy.
Additional sessions will be scheduled in the coming months.