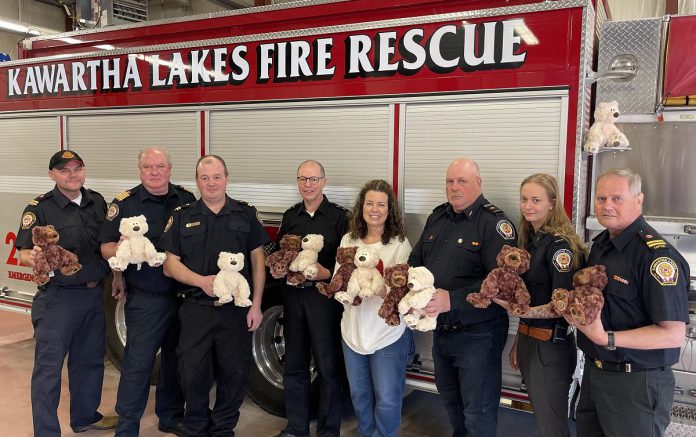 A Fenelon Falls business has donated 12 teddy bears to Kawartha Lakes Fire Rescue so emergency responders can help comfort children who have been involved in a fire or other emergencies.
Rob and Monica Jardine of Jardine Funeral Home — in collaboration with one of their funeral home suppliers, Life Expressions — donated the licensed Gund Teddy Bears, with Station 12 Cameron, Station 19 Coboconk, Station 20 Burnt River, and Station 22 Fenelon Falls each receiving three of the teddy bears.
Rob, who is also a volunteer firefighter with Kawartha Lakes Fire Rescue, recently participated in a training session at Station 22 Fenelon Falls that discussed the benefits of having comfort or trauma teddies available for children who have experienced a tragic emergency.
Advertisement - story continues below
Tweet this quote
Rob noticed that, while the fire station had a few stuffed animals that had been donated over the years, they were not in the best shape.
"Through my time as a volunteer firefighter, I've responded to many emergency incidents where children have been involved," Rob says in a media release. "I know first-hand that holding a teddy bear can help provide kids in stressful or traumatic situations with a sense of comfort and security."
With the Kawartha Lakes Fire Rescue logo on the bottom of their paws, the Gund Teddy Bears will be used to help bring comfort to children who have been involved in traumatic experiences.