If you see a group of emergency responders in the waters off the shore of Peterborough's Little Lake during the week of February 13, don't be alarmed.
Firefighters with Peterborough Fire Services are conducting their annual water and ice rescue training at Roger's Cove in East City.
Designated as a Level 3 Water Rescue Response, Peterborough Fire Services can be called upon any time of the year for a water rescue along the Otonabee River and the Trent-Severn Waterway. They use three flat-bottom boats, throw ropes, swiftwater rescue gear, and cold water immersion suits.
Advertisement - content continues below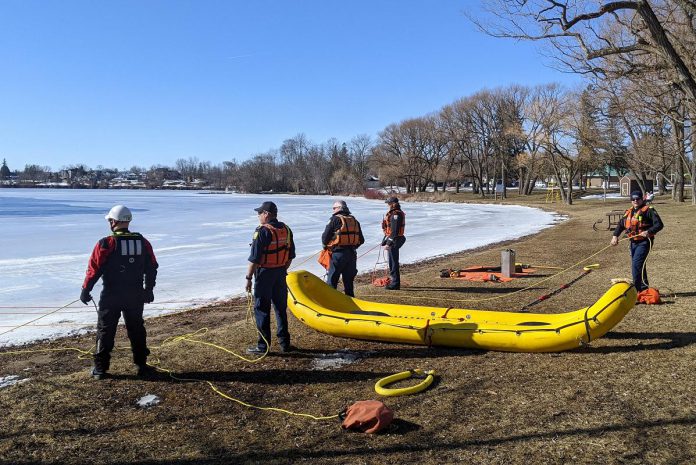 The group of 10 firefighters includes captain and chief training officer Dave Gillespie, who told kawarthaNOW on Tuesday (February 14) they were training for their provincial certification. The group includes new recruits receiving first-time training.
Gillespie said the ice was still around four inches thick near the shore so they had to go some distance out to find thinner ice that could be broken for the training.
Despite the mild weather, he said the temperature of the water was around 3°C. For anyone immersed in the water who is not wearing protective gear, they can experience loss of dexterity in under three minutes and exhaustion or unconsciousness in 15 to 30 minutes.
Signs are posted on the paths at Roger's Cove to tell passersby the fire department is conducting operational training.
Gillespie (who wears a white helmet) said he is happy to answer any questions members of the public may have about the training.
This story has been updated to clarify the training will take place all week.