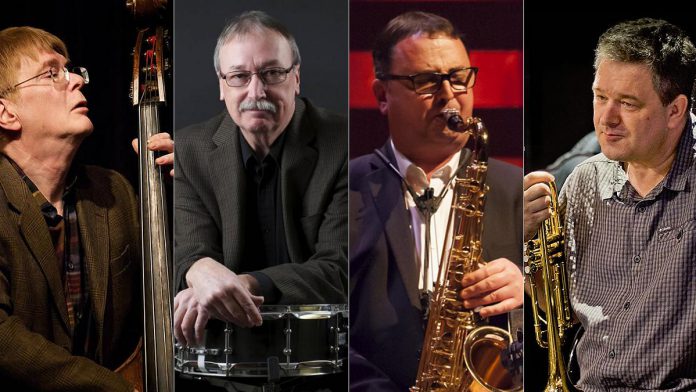 After a three-year hiatus due to the pandemic, International Jazz Day musical celebrations are returning to downtown Peterborough at the end of April.
International Jazz Day was first proposed by iconic jazz pianist and composer Herbie Hancock in 2011, after he was designated as a Goodwill Ambassador for Intercultural Dialogue for the United Nations Educational, Scientific and Cultural Organization (UNESCO).
UNESCO subsequently proclaimed April 30th to be International Jazz Day beginning in 2012 and now, 11 years later, over 200 countries participate every year.
Advertisement - content continues below
"The reason is because jazz has functioned in a lot of obvious ways, as music that has made a lot of people over the planet very happy," Hancock said in a 2012 interview. "At the same time, it's been a music that has brought people together. It has been embraced by people from various cultures as their own — it's not thought of as a foreign music. We thought it's long overdue that jazz be recognized in this very special way."
International Jazz Day Peterborough was first organized in 2015 by local jazz musicians including Craig Paterson, with the goal of bringing together the community, local businesses, and jazz enthusiasts so that people can enjoy the diversity of the genre today. Once again this year, the City of Peterborough has proclaimed April 30th as International Jazz Day.
This year's event will be celebrated over two days. 'Dine with Jazz' performances featuring local jazz musicians will take place the evening of Saturday, April 29th at four restaurants in downtown Peterborough, along with a Saturday night jazz show at the Black Horse Pub featuring Toronto jazz vocalist Denielle Bassels, followed by a ticketed concert the afternoon of Sunday, April 30th at Market Hall Performing Arts Centre featuring Canadian jazz quartet Time Warp.
Advertisement - content continues below
Dine with Jazz – Saturday, April 29 from 6 to 8 p.m.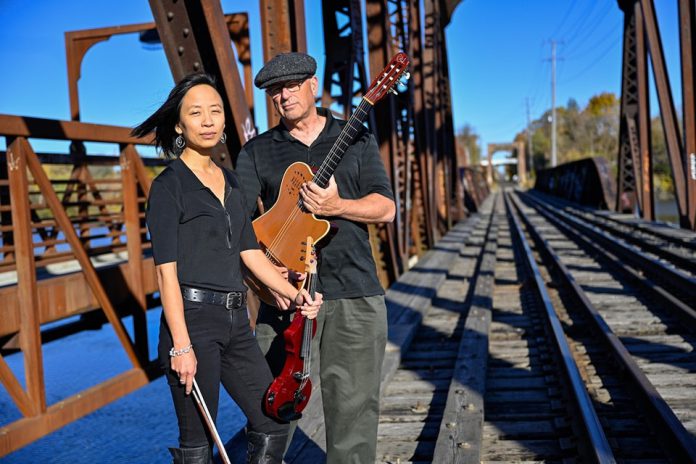 Mike Graham and Victoria Yeh at Amandala's Restaurant (375 Water St., Peterborough, 705-749-9090). Mike Graham has been playing jazz guitar in Peterborough for many years in a variety of settings and groups. Victoria Yeh is a jazz violinist who recently moved to Peterborough.
Pete Woolidge and Michael Monis at La Hacienda Mexican Restaurant (190 Hunter St. W., Peterborough, 705-742-1559). Pete Woolidge has been playing jazz piano for many years. A career guitarist, Michael Monis is a talented player of jazz.
Chris Parnis and Miles Cakebread-Kraus at Curry Village (306 George St. N., Peterborough, 705-742-1432). Chris Parnis is a young bassist from Peterborough who has been studying and playing in Toronto. Miles Cakebread-Kraus is a young guitarist who has also been studying and playing in Toronto.
Rob Phillips Trio at Nateure's Plate (182 Charlotte St., Peterborough, 705-874-1215). Pianist Rob Phillips has played at the Black Horse Pub's Thursday night jazz show for 10 years, having recently celebrated his 500th performance there. The other long-time members of the Rob Phillips Trio are bassist Dennis Pendrith and drummer Curtis Cronkwright.
Advertisement - content continues below
Denielle Bassels Quintet – Saturday, April 29 from 9 to 11 p.m.
Toronto jazz vocalist and songwriter Denielle Bassels will perform with her quintet (Jacob Gorzhaltsan on sax/clarinet, Julien Bradley Combs on guitar, Ross Macintyre on upright bass, and Andrew Scott on drums) at The Black Horse Pub (452 George St. N., Peterborough, 705-742-0633), with no cover charge.
A rising star on the Canadian jazz scene, Bassels's music is a mix of jazz manouche, blues, folk, and pop delivered with her powerful contralto voice. "Think of Ella Fitzgerald sipping tea on a rollercoaster with the Mad Hatter, and you will know what a night of a Denielle Bassels concert is like," according to her website.
VIDEO: "Little Bit A' Love" – Denielle Bassels

Bassels' first album of original songs, What About Wool Wishbags, was voted one of the top five albums of 2017 by Terry McElligot of JAZZ.FM91, and seven of the 11 songs went on to win songwriting awards, with "Cool Cool Water" garnering the grand prize in the John Lennon Song Competition.
With her new single "Little Bit A' Love" out now and three more singles coming, Bassels will be releasing a new album in early June.
Time Warp – Sunday, April 30th from 2 to 4 p.m.
Canadian jazz quartet Time Warp will perform a matinee concert at 140 Charlotte St., Peterborough, 705-749-1146).
One of Canada's longest-lived jazz groups, the Juno-nominated band was co-founded in Toronto in 1980 by drummer Barry Elmes and bassist Al Henderson, who currently co-lead the band. The group once included Juno award-winning saxophonist Mike Murley, and currently features Kelly Jefferson on tenor and soprano sax along with long-time member Kevin Turcotte on trumpet and flugelhorn.
VIDEO: "Savanna" – Time Warp (1992, featuring Mike Murley on tenor sax)

Time Warp has a unique style and vast original repertoire drawing on musical and cultural influences from around the world, including contemporary and traditional jazz, R&B, and blues as well as West African music, Japanese koto music, Hungarian folk songs, North American urban funk rhythms, New Orleans parade music, country waltzes, and more.
The band's best-known pieces include Henderson's 'Theme for Coleman Hawkins', 'Nommo', and 'Crankcase', and Elmes' 'Black Koto', 'Sonny's Tune', and 'Blue Mustard'. A folio of 21 Time Warp compositions was issued by Galt Rhythm Machine Music in 1985. Time Warp's tunes also have been recorded by Jane Bunnett, Shox Johnson and the Jive Bombers, Moe Koffman, and the Shuffle Demons.
Advertisement - content continues below
The late Geoff Chapman, former jazz writer for The Toronto Star, once wrote "Is there a better band in this part of the world? I doubt it."
Tickets are $36 (plus fees) for assigned cabaret table and assigned regular seating and are available in person at the Market Hall box office from 12 to 5 p.m. Monday to Friday or online anytime at markethall.org.
For more information on International Jazz Day Peterborough, visit facebook.com/internationaljazzdaypeterborough.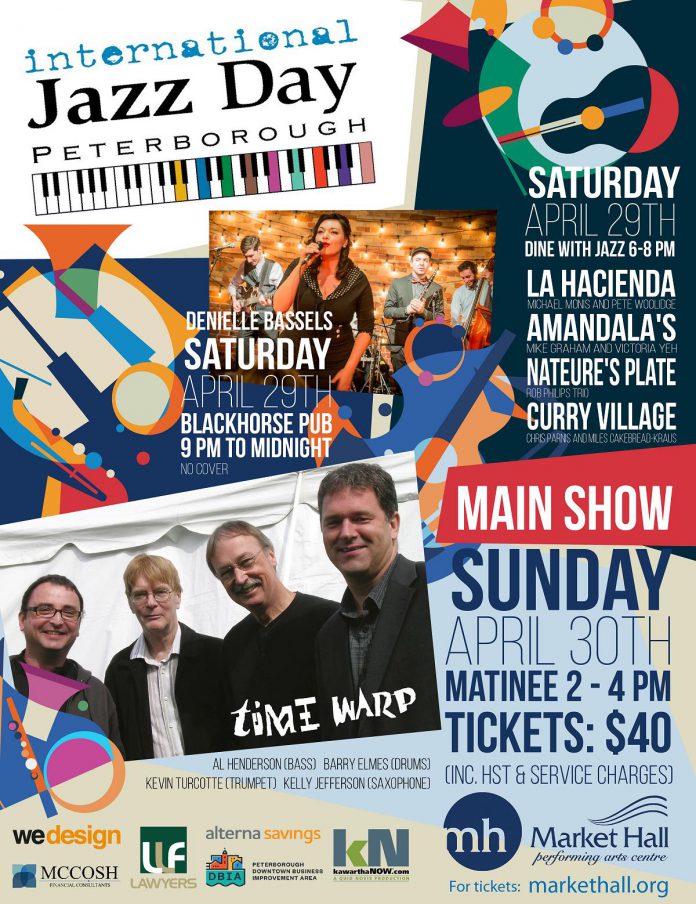 kawarthaNOW is proud to be a long-time media sponsor of International Jazz Day Peterborough.