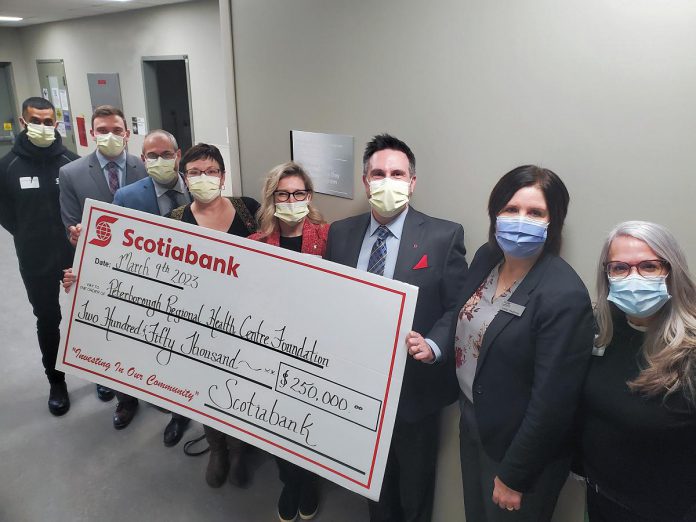 Peterborough Regional Health Centre (PRHC) has officially unveiled its new youth eating disorders day treatment program and clinic space, which has been named after Scotiabank.
Scotiabank representatives were at the hospital on March 9 for the dedication event, which celebrated Scotiabank's $250,000 pledge to fund the essential treatment area for the program..
The day treatment program and clinic space launched in December in response to "devastating increases in demand," according to a media release from the PRHC Foundation.
Advertisement - story continues below
Tweet this quote
"Eating disorders are known to thrive in isolation, something young people have had an abundance of during the pandemic," said Jennifer Cox, director of mental health and addictions at PRHC. "When you combine changes in routine, the anxiety many of us are feeling about the future, and increased media attention on weight and our bodies, the result is a perfect storm for increasing susceptibility in developing life-threatening eating disorders."
The Scotiabank Youth Eating Disorders Day Treatment Program is designed to support youth 12 to 25 years old who need lifesaving care to normalize their eating and restore weight.
The program will help fill the treatment gap between those who can be successfully treated in an out-patient setting, and those who need more supervised acute treatment and support to avoid admission to hospital or a long-term residential program.
Advertisement - story continues below
Chris Skinner, Scotiabank's district vice president of central east Ontario, says the financial institution has a long history and strong culture of investing in the communities where they operate.
"Supporting the youth eating disorders day treatment program at PRHC is a vital opportunity to contribute to the mental and physical health of young people in this area now, so that they may have a better chance at a healthy future," Skinner said.
According to PRHC Foundation president and CEO Lesley Heighway, the program has been having a "tremendous impact" on young people in the region since it opened in December.
Advertisement - story continues below
"Even before the pandemic, referrals for PRHC's outpatient program were on the rise," Heighway explained. "The impact of that pre-existing surge combined with pandemic-exacerbated mental health challenges is now being felt across the health system."
"PRHC's doctors, nurses and staff want to give their patients and participants the best care possible, but we needed to invest in the safe, functional, and healing spaces that support that lifesaving and life-changing care," she added.
"On behalf of everyone at PRHC and the many youth who rely on the health centre for eating disorders treatment, thank you to Scotiabank for sharing that vision and helping to ensure young people will receive the specialized, compassionate care they need and deserve."
This story has been updated to correct the date of the dedication ceremony, which took place on March 9 rather than March 24, 2023.