This summer, a Kawartha Lakes entrepreneur is launching a new business — literally.
Tony Scherzo's start-up company, called 'Pie In The Sky – Dockside Pizza Delivery', promises to do exactly what its name implies: deliver pizza right to your dockside using drones.
"The idea came to me way back in 2018 when a bunch of friends from Toronto were visiting our family's cottage on Pigeon Lake," Scherzo tells kawarthaNOW. "The power went out and then we discovered we were out of propane for the barbecue. One of the guys from Toronto said 'Why don't we just order pizza?' He was shocked to find out there was no pizza delivery to our cottage. You know … city folk."
Advertisement - content continues below
Tweet this quote
According to Scherzo, "after a few beers on empty stomachs" they had an "animated discussion" about using drones to deliver pizza.
Drone delivery is a growing industry in North America, with large companies including Amazon, Google, DHL, and UPS perfecting drone delivery systems. Over the past three years, there have been over 660,000 commercial drone deliveries, with other companies in the space including Antwork, Flytrex, Manna, Matternet, Skyports, Swoop Aero, Wing, and Zipline.
These and other drone-delivery companies have received more than $1 billion in disclosed funding over the past 10 years.
VIDEO: World's First Pizza Delivery by Drone – Domino's Pizza (2016)

When it comes to pizza delivery by drone, one of Scherzo's cottage guests pointed out Dominos Pizza had successfully made the world's first pizza delivery in New Zealand in 2016. As of last year, their drones can deliver up to 3.5 kilograms of pizzas in a single delivery.
"It got me thinking, 'Wouldn't it be great if pizza could be delivered right to our dock?'" Scherzo recalls. "Maybe it's my Italian heritage, but I saw an opportunity."
Over the next year, Scherzo worked on a business plan and — thanks to one of his cottage guests who works in the financial sector — he connected with some angel investors in Toronto.
Advertisement - content continues below
Tweet this quote
"I told my investors it wasn't a pie-in-the-sky type of idea, but it really kind of is," he said, explaining where the name of his business came from.
He eventually secured "several million dollars" in venture capital to make his flying pizza dream a reality.
Over the next three years, Scherzo worked with a drone start-up based in Waterloo to develop and test custom prototypes, and also partnered with several pizzeria owners to determine the best way to make the pizzas for delivery.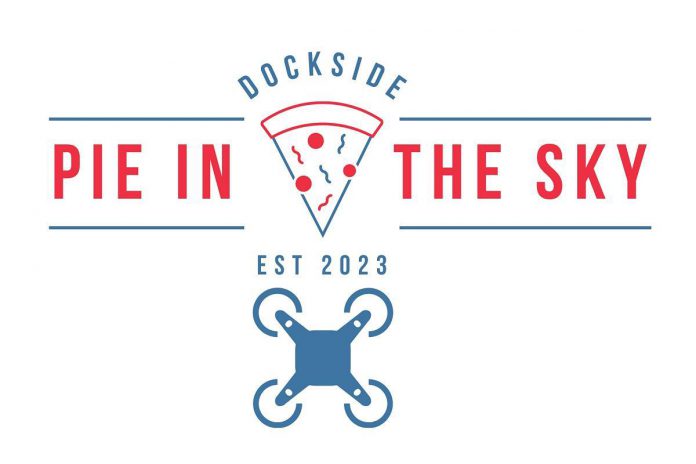 "We now have a fleet of self-contained mobile pizzeria stations that we'll park at strategic locations near the lakes we will serve," Scherzo explains. "The drones will be launched and recharged from those locations. They have a range of around 80 kilometres, flying at an altitude of between 60 and 120 metres."
To work out some of the kinks, Scherzo's company ran a pilot project last summer around two undisclosed lakes, one in Kawartha Lakes and one in Peterborough County. Customers — who had to sign a non-disclosure agreement to participate in the pilot — installed the Pie In The Sky app on their phones to order the pizza.
The drones communicate with the app "using a proprietary GPS-based system" that allows them to hone in on the customer's exact location. An insulated container is then lowered from the drone at a safe height to the customer, who then removes their pizza from the container. Each drone can deliver up to five freshly made pizzas in a single container, which is "lock-coded" to the app so the customer can only remove the pizza they ordered.
Advertisement - content continues below
Tweet this quote
Scherzo says the pilot project went flawlessly and was "a resounding success," with customers raving about how quickly their still-hot pizzas arrived.
"Like Big Pizza, we guarantee delivery in 30 minutes or it's free," Scherzo says. "And it's a damn good pie, too."
Before the success of the pilot project, Scherzo says there were "a big bunch of hurdles" to get the idea from concept to reality. Along with perfecting the technology itself, the company had to deal with federal regulations on drones, safety testing ("We had to geo-locate all the cell towers in the area"), privacy concerns, delivery logistics, and — one of the most important challenges — noise.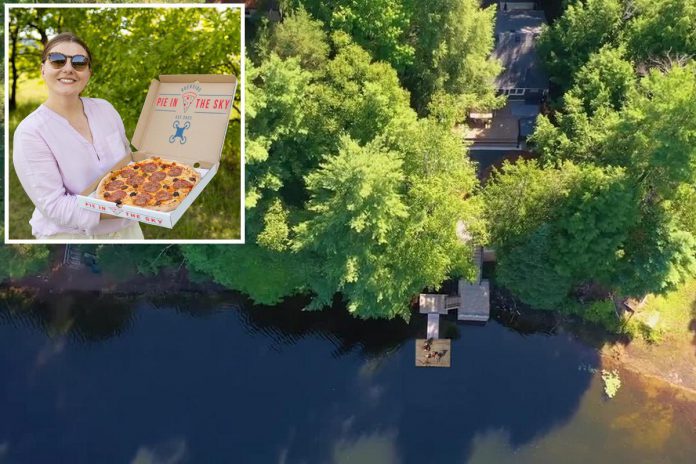 "Cottagers don't want to hear drones buzzing around their lakes," he says. "It was a design priority to make our drones super quiet. They still make noise, but it's more of a gentle hum. We believe the sound of our drones won't annoy people, but just make them hungry."
Scherzo says there are no plans to make the drone pizza delivery service available in urban centres like Peterborough or Lindsay, or even in smaller rural communities.
"There are too many regulatory and safety issues with flying our drones in more densely populated areas," he says. "Plus, we aren't trying to put local pizza joints out of business. We're just filling a huge gap in the cottager market."
Advertisement - content continues below
Tweet this quote
If everything goes according to plan this summer, Scherzo says the company may eventually expand the service to include Chinese food delivery.
For this summer, Scherzo says his company has already identified a number of target lakes in Kawartha Lakes and Peterborough County where the business will operate,.
He's also encouraging cottagers to contact the company if they want their lake to be considered. Everyone who calls will be entered in a promotional contest to win an eight-slice "pizza floatie".
If you'd like to see your lake added to the delivery list and to enter the contest, call the 'Pie In The Sky – Dockside Pizza Delivery' toll-free number at 1-888-APR-FOOL.
We'd love to see dockside pizza delivery by drone but, in case you didn't notice the toll-free number or if you don't know that "scherzo" is Italian for "prank", this story is an April Fool's Day joke.
Here are our April Fool's stories from the past five years: