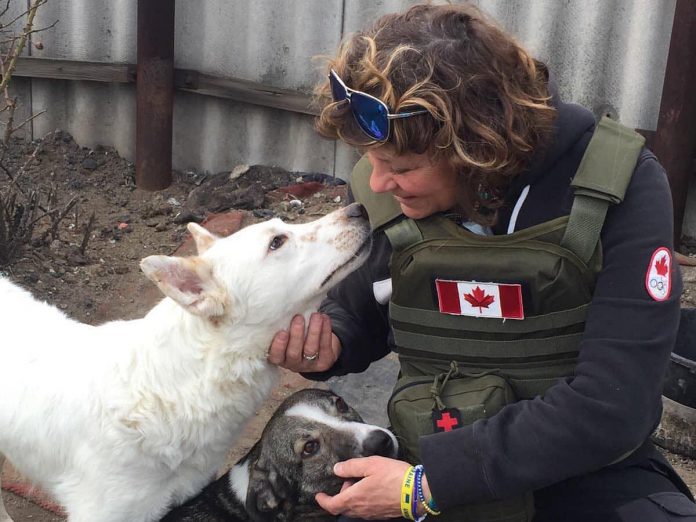 Parents are no doubt familiar with the uneasy feeling associated with one of your children being away from home, whether that's for one night or an extended stay of several weeks or months.
Knowing that, it's easier to appreciate the feeling of relief washing over Peterborough's Al Black these days. You can see it in his face and you can hear it in his voice — his daughter Chloë is back home and all is as it should be.
For the better part of the past year, Al fretted while Chloë sweated, initially in Arad, Romania where she helped rescue and house animals from war-ravaged Ukraine, and then in Ukraine where, as a volunteer with Ukrainian Patriot, she helped deliver humanitarian aid packages to frontline soldiers and civilians living with the constant threat of shelling.
Advertisement - content continues below
Tweet this quote
"When she told me she was going to Ukraine, I tried to talk her out of it but, after five minutes, I realized I'm not going to win," recounts Black, a lifelong musician best known for his time with twice Juno Award-nominated Jackson Delta.
Now, as Chloë ponders a possible future return to Ukraine, Al is helping her continue her work by organizing 'Blues For Ukraine', a live music-based event that will be held Sunday, April 30th from 2 to 5 p.m. at Showplace Performance Centre's Nexicom Studio in downtown Peterborough.
General admission tickets cost $30 and are available at showplace.org, with proceeds going to Ukrainian Patriot as well as the continuing effort to rescue animals abandoned or lost amid the chaos of the past year.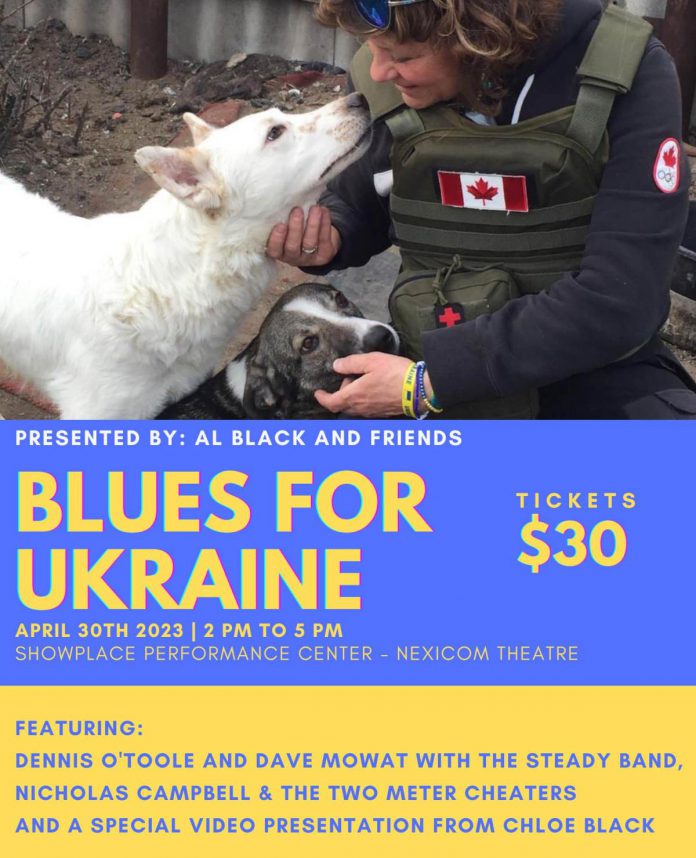 The stage lineup will feature Al Black and the Steady Band (with Gary Peeples and Andy Pryde), Nicholas Campbell and The Two-Metre Cheaters (with Rob Foreman and Matt Greco), Dave Mowat, Dennis O'Toole and his cousin Michael O'Toole, and Jim Usher.
As well, Chloë will give a video presentation detailing her trips and the important relief work she has been involved with.
"I wanted to do something, but what do I ever have to offer but some music?" says Al. "Dennis (O'Toole) said 'You should do something for Chloë and for her mission.'
"I don't like to go back to the well too often. I had a little discomfort about it, hoping somebody else might step up, but it's up to me. I put the word out to some musicians and here we are."
"What's going on over there is affecting everyone on the planet but it gets pushed back in the news. We should be paying close attention."
Advertisement - content continues below
Tweet this quote
Chloë has certainly done that, from the perspective of someone with a special place in her heart for animals. On Easter Sunday of last year — just a few weeks after Russia launched its invasion of Ukraine — she answered a Facebook plea for volunteers to build an animal shelter and care for animals evacuated from war zones.
"I wanted to do something but I didn't know what I could do," says Chloë, who was living in Arizona at the time. "When the call out came on social media for people to help, I felt it was something I could reasonably do. I'm not a skilled labourer, but I have worked on a job site before and I know how to handle myself."
Once in Arad, Chloë helped the volunteer group build a shelter capable of housing some 800 animals, the hope being they could be reunited with their humans or, barring that, have homes for them in other European countries.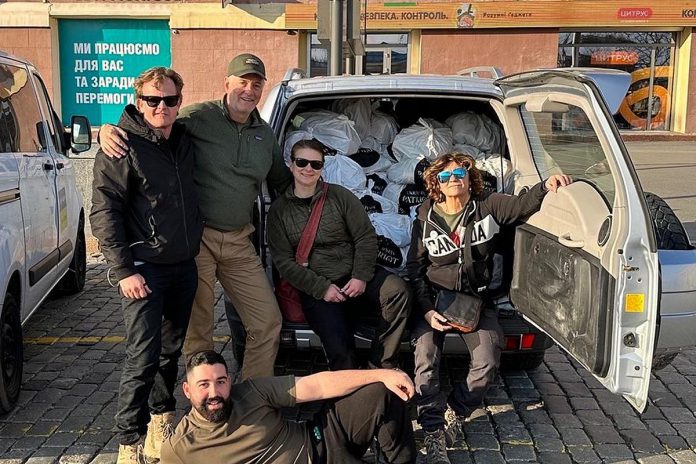 "Come September, Canada had a ban in place on the mass import of animals from Ukraine — certainly dogs anyway," notes Chloë. "They called out for volunteers to go to Ukraine to help take care of animals they could no longer evacuate. That's when I decided to cross the border and go (from Romania) into Ukraine. It was supposed to be five weeks but it ended up being eight weeks."
Once back home from that trip, the pull to return was too strong for Chloë.
"Once didn't feel like it was enough," she says. "I'm not in any way comparing what I experienced to what a soldier experiences, but you do feel very disconnected from what you once felt very connected to. Now I had this perspective of what's happening there, not just from the television. It's actual people you know and places you've been."
Chloë returned twice more, hooking up with Ukrainian Patriot. Founded by Saskatoon native Lana Nicole Niland, the group is comprised of Ukrainians and internationals working to aid volunteers defending Ukraine and civilians caught in the crossfire.
Advertisement - content continues below
Tweet this quote
Chloë, an accomplished competitive cyclist and Peterborough Sports Hall of Fame inductee who has represented Canada on the international stage at numerous track and road events, admits to "the worst case of nerves" before each trip that was well beyond anything she experienced prior to competing.
"Once I got there, half the battle was what was going on in my head. That's not to say there wasn't danger, but it was the what-ifs that made it really terrifying. There were enough situations that happened where I realized I am in a war zone and this is actually happening and I have no control over it."
"One night we were being bombed in Kharkiv. We had bombs around us on a couple of occasions, but at four (o'clock) in the morning, it's terrifying. It was close and it was loud. The people around you become your family at that moment. What hit me at is you think it (injury or death) is not going to happen to you. Curled up in a fetal position, I was pretty naive to think that."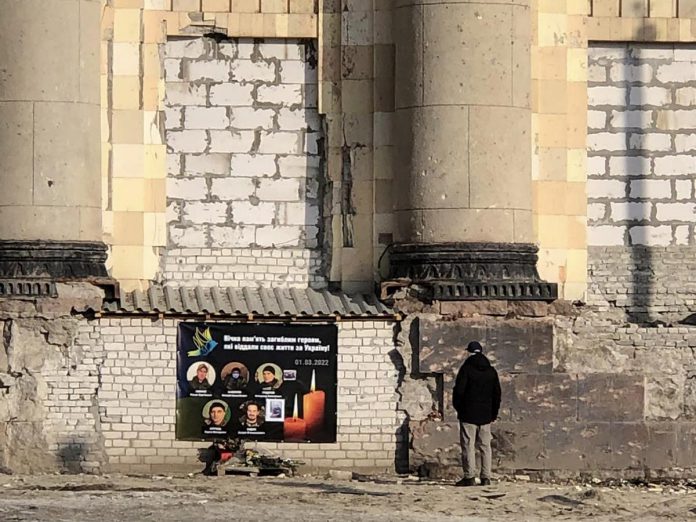 For the most part, Chloë was in Kyiv, the home base for Ukrainian Patriot, but relief provision excursions took her to points well east in the embattled and very dangerous Donetsk region of the country.
"I just followed the van in front of me. We'd get instructions — 'Now you have to put your vest on. We want your helmet in the front seat. Keep the windows cracked and heads on a swivel.' When I came home and was looking at the route we were on, I was like 'Wait a minute. That's Bakhmut right there.' We were in Kostiantynivka. I didn't realize how close (to Russia) we were."
Reflecting on her motivation for making the trips and putting herself in harm's way, Chloë says she couldn't "shut off" was happening to both people and animals. At the time, as COVID restrictions lessened, she says she had a hard time with that "after two-and-a-half years of listening to people complain about being out of chocolate chip cookies."
Advertisement - content continues below
Tweet this quote
Asked if she will return to continue volunteering with Ukrainian Patriot, Chloë isn't ruling that out, admitting she felt "very emotional" leaving to return to Canada and her relieved family.
"Seeing people older than my parents living in these buildings that have no running water and no heat … they're grateful that we're handing them bags of rice and cans of fruit. It's so heartbreaking."
"The things that drew me to sports (are) feeling like you're part of a team and having a common goal. This felt like that on steroids because you're doing something that's so much more important than winning a championship."
Now, as Al pulls together plans for Blues For Ukraine, he's left with one inescapable thought.
"I'm proud of all our kids, but I never knew I'd have a daughter like this."