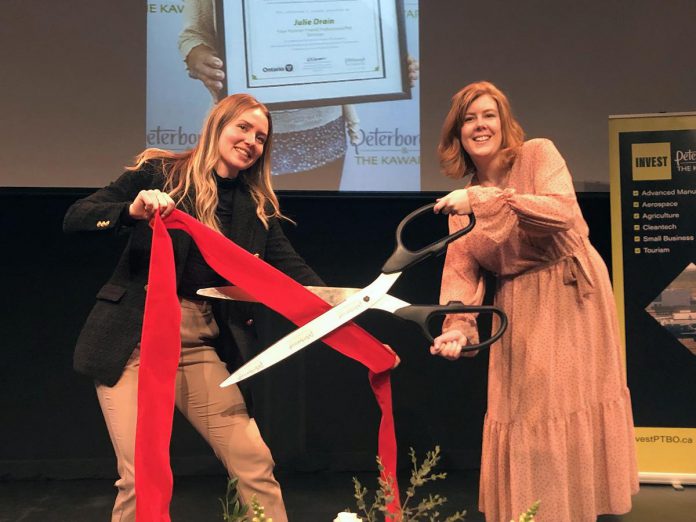 As Manager of Peterborough & the Kawarthas Economic Development's Business Advisory Centre, Madeleine Hurrell has had the opportunity to work with a lot of entrepreneurs and discover what motivates them to launch a new venture or take their existing business to the next level.
"One overall theme is that they are all problem solvers, and they're all what I would term helpers," Hurrell says. "A lot of them have worked in certain industries or fields but saw a niche or a gap. And they're driven. They have an idea, they have a passion to help, but they may not have all the answers."
That's one of the reasons behind Starter Company Plus, an entrepreneurial training program funded by the Ontario government and offered locally by the Business Advisory Centre. Applications are now open at investptbo.ca/starter until April 30th for the spring intake of the program, which will help 12 Peterborough-area entrepreneurs learn how to make their business ideas a reality and see six of them each receive a $5,000 microgrant.
VIDEO: Starter Company Plus with Peterborough & the Kawarthas Business Advisory Centre

Since the Business Advisory Centre began delivering Starter Company Plus in 2017, the program has helped over 215 local entrepreneurs and more than 174 small businesses succeed, creating over 200 jobs in the local economy. During the pandemic alone, there were seven Starter Company Plus intakes that helped 86 entrepreneurs achieve success despite the challenges of the pandemic.
Hurrell says applications for Starter Company Plus typically come from aspiring and established entrepreneurs representing a wide range of both services and products. Still, she notes, there are some typical applicants.
"We have a lot of businesses that I would classify as those in the health and wellness, including practitioners who received their training elsewhere and relocated here and are looking to start their own practice," Hurrell explains.
"We also see a lot of makers and creators — people who had a side hustle or a passion project they were doing outside of their corporate 9-to-5 job. Pandemic downtime allowed them the opportunity to explore that a little bit more."
"Because we cover Peterborough County, there have also been a number of applicants who have an agricultural or rural component to their business idea."
Hurrell says entrepreneurs who apply to participate in Starter Company Plus must already have an initial idea for what they want to do and must have completed some basic market research.
Tweet this quote
"We're not asking for a fully developed idea, but you need to know enough about what it is you're looking to do and where you're looking to go," she notes.
"You need to understand what it is that makes your idea for your product or service unique, or unique for Peterborough and the Kawarthas. You also need to have a sense of what it's going to take to launch the business — a sense of the costs involved but also a sense of any permitting or licensing required, and what it is going to take from a marketing perspective."
VIDEO: Why A Small Business Should Apply to Starter Company Plus

To help entrepreneurs develop their business idea, the Business Advisory Centre offers a series of live online workshops called "Business Fundamentals." Delivered weekly, the workshops cover topics such as business planning, using the "Lean Canvas" business model, and market research. The Business Advisory Centre also offers the Small Business Toolkit, a downloadable step-by-step guide that describes what entrepreneurs need to consider before launching a business.
From there, Starter Company Plus will provide entrepreneurs with the training and assistance they need to create a detailed business plan through a series of five all-day virtual workshops over five weeks. After they successfully complete the program, entrepreneurs will submit their final business plan and pitch their business idea for a chance to receive one of six $5,000 microgrants.
Hurrell points out one of the great strengths of Starter Company Plus is the networking and relationships the program facilitates between like-minded entrepreneurs — which, she says, can be as beneficial as the microgrant itself.
VIDEO: What Starter Company Plus Entrepreneurs Learned From the Program

"They are put together in a class format, and that first class is like the first day of school — no one wants to mess up and no one wants to say the wrong thing," Hurrell explains. "But five weeks later, especially once they've completed their business plan and their pitch, they are very close and continue to bounce ideas off of each other. Once they go on to finish the program and launch their business, many of them stay connected."
The Business Advisory Centre also stays connected with the program participants. As Hurrell notes, support doesn't end after entrepreneurs have completed Starter Company Plus.
Tweet this quote
"Everyone who is part of the program can continue to meet with us at the Business Advisory Centre," Hurrell says. "We meet weekly with participants as part of the training and also meet afterwards for one-on-one consultations. We stay in touch for a determined period with those who secured a microgrant. We want to see what they're going to do, what they're going to be using those grant dollars for, and where their business is going."
As one example, Hurrell visited Roxanne McDonald-Brown, the owner of Renew Medi Spa, on the day of this interview. A graduate of the first Starter Company Plus cohort six years ago, McDonald-Brown has continued to grow her business and has hired team to support her.
"We want to see what happens next," Hurrell says. "We want to see when you make that first hire or move into a brick-and-mortar location if that's part of your plan. We stay in touch with all our participants."
VIDEO: What Inspired Starter Company Plus Entrepreneurs to Apply

Hurrell smiles when she talks about the value of Starter Company Plus for both entrepreneurs and the local economy.
"I get a lot of satisfaction when friends and family visit Peterborough and the Kawarthas and they drive through the community and they ask 'What's going in there?'," she says, referring to the opening of a new business.
"Knowing that Peterborough & the Kawarthas Economic Development and Team Ptbo had a part in that store opening and somebody's dream is incredibly rewarding … even more so when the entrepreneur makes their first sale and moves forward with their first hire."
VIDEO: How the Starter Company Plus microgrant benefits businesses

Entrepreneurs in the City and County of Peterborough who are launching a new business or expanding an existing one that has been operating for five years or less are eligible to apply for Starter Company Plus.
To learn more and to apply, visit investptbo.ca/starter. Applications close on Sunday, April 30th.
For those who are unable to apply or who are not selected for the spring intake of Starter Company Plus, another intake will take place in the fall.
This is one of a series of branded editorials created in partnership with Peterborough & the Kawarthas Economic Development. If your organization or business is interested in a branded editorial, contact us.