Spring is the time when many folks reach for their handlebars and get their bike ready for warmer weather.
The first bike ride of the year can be a joyful thing for Peterborough residents, even if there might be some residual creaks and squeaks to tend to after a long winter.
A city like Peterborough is a great place to make the most of your spring rides and to motivate you to start your biking journey. Here are some tips from B!KE: The Peterborough Community Bike Shop how to do so.
Advertisement - content continues below
Choose a fun destination
It can be a good way to motivate yourself and others to get out and see new sights.
For example, the Trans Canada Trail runs through the heart of Peterborough, and boasts many destinations perfect for a picnic to celebrate the spring blooms.
Bike with friends and/or family
Good company can be part of the pleasure. B!KE is a community cycling hub that offers seasonal rides for those looking to join a social ride.
On Earth Day (Saturday, April 22), the Odoonabii Watershed Stewards are organizing a ride leaving from B!KE's George Street location to connect riders to different parts of our watershed.
Choose quality time on a bike over fitness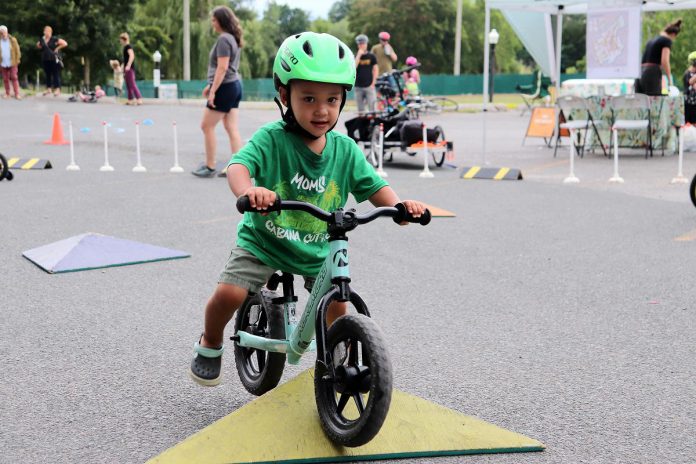 Starting new things can often not be easy, but it can feel great once you get the hang of it.
Taking time to enjoy sights and sounds or other moments can be more rewarding than a new 'personal best' on a segment of road or trail. Connect with each other and the great outdoors.
Make sure your bike is up to the task
Get a tune up or perhaps install some useful accessories that make your ride safer or more comfortable.
Learn the basics of do-it-yourself bicycle care at B!KE.
Advertisement - content continues below
For the size of the city that Peterborough is, it is astounding how many options it has for anyone new to biking. If you are looking for resources to start riding again or more often, Peterborough has what you need. You could pick up a trail map at any of our local bike shops, at Peterborough Tourism, or at the GreenUP Store & Resource Centre.
Cycling is becoming more and more popular in Peterborough, but quality equipment may still be inaccessible to those who want to bike this season.
This is why B!KE organizes the annual Kids' Bike Build. This season, donations of used kids bikes streamed in from all over Peterborough and the Kawarthas. On March 26 and April 2, staff and volunteers tuned up over 55 bikes and gave them to the New Canadians Centre, Children's Aid Foundation, Boys & Girls Club, and the YES Shelter for Youth and Families.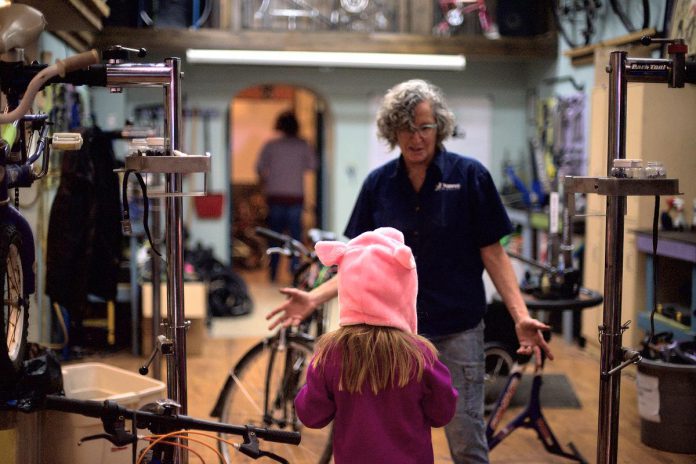 It is easier to say 'yes' to biking when there is so much community support.
B!KE's mission is to empower people to travel by bike. B!KE provides an 'open shop' program which boasts a supervised do-it-yourself workshop space with the tools, parts, and expertise for bike repair. The shop is perfect for both aspiring and experienced mechanics alike.
Eileen Kimmett, GreenUP Store & Resource Centre coordinator and Peterborough bike advocate, was one such newcomer to biking regularly.
Advertisement - content continues below
"I started commuting by bike in 2020," Eileen says. "There are so many types of bikes and so many places to bike around in Peterborough. Programs like Shifting Gears at GreenUP and buying an affordable bike from B!KE helped me cycle in fairer weather and access the tools needed to do so."
"Fitness aside, it's a great stress relief. It's amazing to be out there, in all seasons, feeling very proud of yourself that you are helping the environment and your personal health and well-being. You start thinking, 'What if everybody rode their bikes?'"
We hope that, like Eileen, you are excited to ride your bike more this spring. See you on the roads and trails!
Mark Romeril is the executive director of B!KE, a not-for-profit, member-based cycling education and support organization. If you're interested in learning more about B!KE's workshops, events, and programming, check them out at ommunitybikeshop.org and follow them on Facebook, Instagram, and Twitter.