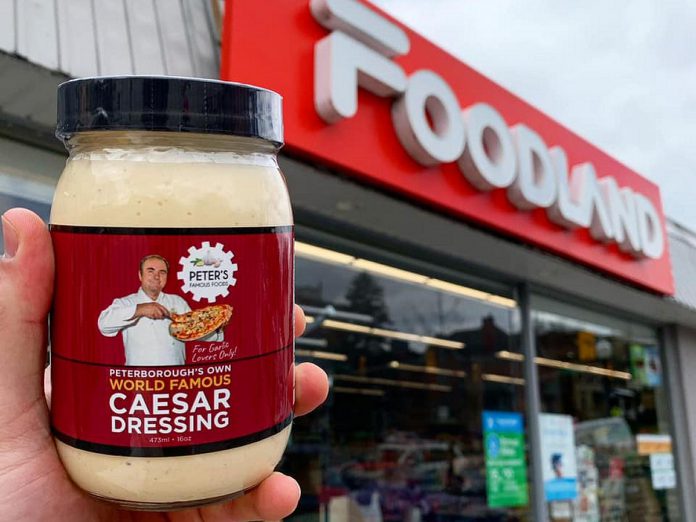 Close to three months since The Pizza Factory served its last customer, it's difficult to pinpoint what once loyal patrons of the iconic Peterborough restaurant miss the most.
Is it the incomparable hospitality of former owners Peter and Anna Bouzinelos, or is it Peter's signature World Famous Caesar Dressing? For many, it's most likely a combination of both.
While The Pizza Factory remains relegated to the past as Peter and Anna enjoy the early days of their retirement, the good news is the garlic explosion that is Peter's signature salad dressing will soon once again be widely available for purchase at several local food outlets.
Advertisement - content continues below
Tweet this quote
"We're going to launch at the end of this week," Peter tells kawarthaNOW.
Produced and bottled at two locations — one in Peterborough and the other in Norwood — and marketed under the Peter's Famous Foods banner, Peter's World Famous Caesar Dressing will be available in Peterborough at Sobeys and Foodland locations, at Farmboy on Lansdowne Street West, and at Taso's Restaurant and Pizzeria on George Street North. It will also be available in Bridgenorth at Pizza Villa and in Norwood at Ralph's Butcher Shop.
"I'm retired but I'm not retired," says Peter. "I'm supposed to be taking it easy but when you have a young wife, she doesn't let you relax. I never got a pink slip in my working life. I don't want to get one now during my retirement."
Asked if it's his sense people miss his salad dressing, Peter says "Very much so."
"Everywhere when we come across anybody, they say 'OK, we can't have The Pizza Factory food, but where's the salad dressing?' That was more encouragement for us to do this."
While both Peter and Anna are delighted to continue offering the salad dressing to the garlic-starved, another post-restaurant closing development has left them both feeling particularly proud.
During the final weeks leading up to restaurant's closing on January 29 — close to 43 years after it opened — diners and well-wishers had the opportunity to purchase coffee mugs, T-shirts, toques, and hats emblazoned with The Pizza Factory logo, produced by Ricart Branded Apparel and Promo. In addition to that, restaurant tables, furniture and assorted items were sold off.
Advertisement - content continues below
Tweet this quote
When all was said and done, $17,140.12 was the net result, with every penny of that amount going toward the purchase of food for Kawartha Food Share.
With the help of Al Armstrong and his staff at Sobeys on Lansdowne Street West, purchased no-perishable food items were loaded onto six skids and then delivered by Cathcart Trucking to Kawartha Food Share's warehouse on Neal Drive.
"Once again we were surprised by the support of Peterborough and area, and how thrilled they were to be part of such a thing," marvels Peter.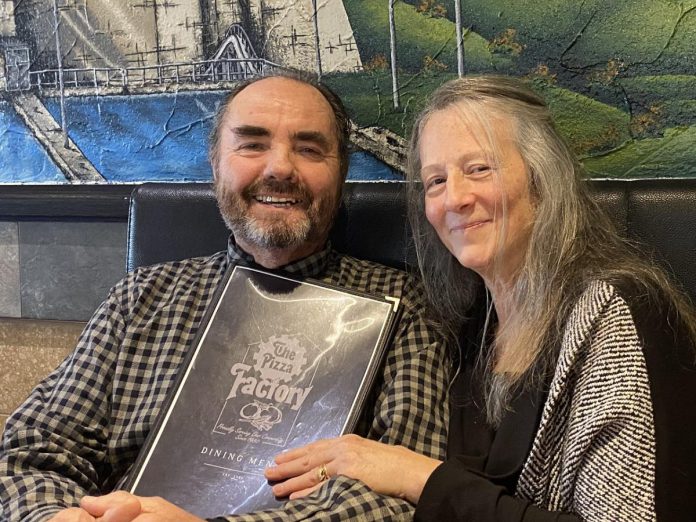 In early January, when Peter and Anna sat down for an extensive interview with kawarthaNOW, the couple revealed the decision to close The Pizza Factory and retire was prompted, in large part, by his doctor's stern orders "to step back." Besides feeling the effects of rheumatoid arthritis, stress was taking a toll on Peter's 68-year-old body.
While he deflects questions about his health, Peter says he is feeling good. But one thing he will talk about all day is his appreciation for Peterborough's support, both then and now.
"If there was a way that I could go and stay at the corner of Lansdowne and The Parkway, I would do it," he says, referencing how much his misses interacting with longtime patrons.
Advertisement - content continues below
At their home, a wall is home to plaques, citations, and other forms of recognition Peter and Anna received over the years for their numerous contributions to sports organizations, community events, and various causes.
"That comforts me but it makes me anxious to get out and do something more," says Peter, noting the many notes of good wishes they received from patrons during the final weeks before closing are destined for keepsake albums.
In the meantime, the couple's immediate attention is on the production and distribution of Peter's World Famous Signature Dressing "unless I get a job at Walmart as a greeter."