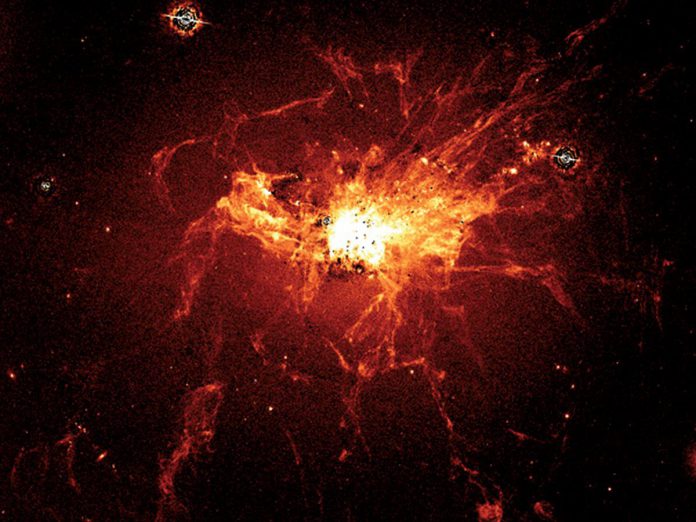 Fans of music and stargazing will have the opportunity to fulfill both desires Friday night (May 5) at 9 p.m. with '3C84: Music Under the Stars' in performance at the top of Armour Hill on the opening night of Artsweek Peterborough.
Featuring Charlie Glasspool, Jose Contreras, Victoria Yeh, Susan Newman, Evangeline Gentle, and Jessie Pilgrim, 3C84 perfectly encompasses Artsweek's theme this year of 'art in unexpected places' in that it is inspired by and named after a distant radio source, located in the Perseus A galaxy approximately 237 million light-years away from Earth, that emits a constant subsonic B flat.
The idea that this note should be a tuning note struck Glasspool as rather poetic and led him to feel compelled to "send a message back to where the B flat is coming from" as a tribute to the intergalactic universality of music. That inspiration led to the recording of an album, aptly titled b, which was released in 2008.
Advertisement - content continues below
Tweet this quote
"A lot of the pieces are not necessarily about the galaxy NGC 1275, as it was called, but they're definitely reflective in nature, about human existence," Glasspool said in a phone interview with kawarthaNOW. "Some of the pieces are about space, some are about what it's like to be alive."
A previous member of the Silver Hearts, an instrumental music teacher and band director, and a collaborator with innumerable musicians, Glasspool has returned to Peterborough, saying that he had "felt its pull like a blackhole" and has recently found himself playing as part of Evangeline Gentle's band.
The breadth of themes on the b album and its emphasis on the subjectivity of human experiences is apparent in a track like "When I Was Dead," which serves as a meditation on the inevitability of death alongside mundane tasks of living like paying rent and missing the sublime experiences of love and connection with other people, thereby aligning both as equal experiences.
VIDEO: "When I Was Dead" – 3C48 (video by LA Alfonso)
As Glasspool recalls, the first time he heard about the 3C84 was from Ian Osbourne, who at the time ran the soundboard at the Gordon Best Theatre above The Only Café in downtown Peterborough.
"He always seemed to have an encyclopedic knowledge of kind of unusual things," Glasspool said. "I guess what really grabbed me as someone who maybe is a bit sentimental — it's just curious to me to b flat. I grew up playing in concert bands and wind orchestras and conducting them later in life. And that's the note that you tune to."
The opportunity to bring 3C84 back into existence came when Su Ditta of Electric City Culture Council called Glasspool asking if he would revisit the project for Artsweek.
Advertisement - content continues below
Tweet this quote
"Given the nature of the project, I think it's kind of fitting," Glasspool said. "I'm also not terribly interested anymore in like 'This is a band, we're at a bar, we play a show, the end'. I'm more interested in music in alternative spaces."
The performance takes place Friday night at the Heritage Pavilion Stage on Armour Hill, and attendees are encouraged to bring a telescope if they have one.
Beyond the recording, Glasspool could only think of two or three times 3C84 has performed the material. However, Glasspool recalls the group connecting with the Peterborough Astronomy Club, who would run impromptu tutorials on using telescopes, citing one performance that took place on Armour Hill as part of Astronomy Day on May 26, 2007.
"I always wanted this music to kind of be a soundtrack to stargazing," Glasspool said, explaining the vision behind the outdoor performance and 3C84's hopes for clear skies on the night of the concert.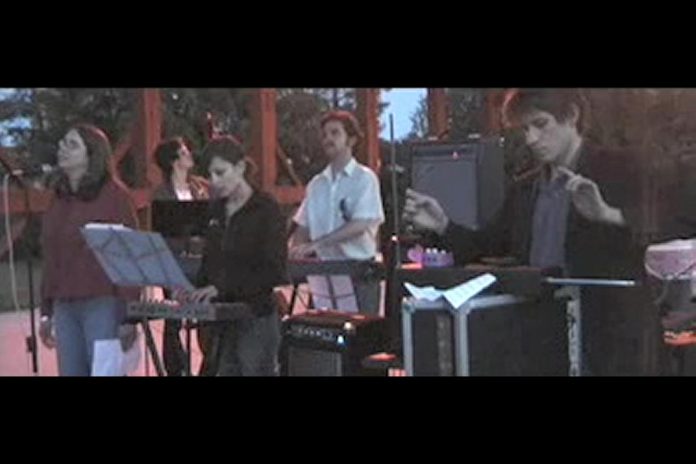 Glasspool couldn't help but speak in astronomical terms when discussing the resurrection of his 15-year-old collaborative project.
"I kind of gravitate to working with others," he said. "Music for me is a kind of a community experience and something to share with others."
Glasspool says free copies of 3C84's b album will be distributed to attendees following the May 5th performance. The show itself will be a top-to-bottom recreation of the original 11-song album, which is available for streaming and a digital download on Glasspool's Bandcamp page.
Advertisement - content continues below
Tweet this quote
Glasspool says he is thrilled by the opportunity to revisit material which hasn't been played for over a decade and to do so alongside some of those who were involved in the original incarnation of 3C84. Besides Glasspool, Jessie Pilgrim and Susan Newman are among the artists involved in the original recording project, alongside the album's producer Jose Contreras.
"Maybe it didn't get a fair shake the first time," Glasspool said, adding that perhaps getting it back together with some of the original members in the same room will regenerate or rejuvenate the project or perhaps act as a springboard for another project.
Besides wondering how the material would hold up after so many years, Glasspool has also been reflecting on how his relationship with the material has changed. For example, he said songs that were deeply personal when they were first written now feel like they're about someone else entirely.
Specifically, Glasspool pointed to the song "And Me" which was written about an unhappy relationship and now sounds like it could have been written about some megalomaniacal figure like Elon Musk or Jeff Bezos who shoots themselves into space for fun.
Picking up on this theme is the track "Yuri Gagarin's Lullaby" about the first human being to venture into outer space aboard the Vostok 1 capsule in 1961.
As human ingenuity and scientific achievement reach their peak, it ultimately leaves the lonesome adventurer swearing to give up his helmet, air, and view for his mother's cabbage stew as we are left with the poignant single-lined chorus "I looked but I could not see God."
Advertisement - content continues below
"Fifteen years ago, I was maybe a little more, I don't know, not conceited, but maybe a little more self-centred," Glasspool said, chuckling a little bit as he reflects on the passage of time and the opportunity to revisit this material, and how he views the subject of space and the stars as grounds for fostering rich conversation amongst audiences.
Naturally, that is exactly what Glasspool is hoping will occur on May 5th as Artsweek kicks off with the opportunity to reach beyond the visible stars and answer the inaudible hum of the universe through music and community.
3C84 performs on the Heritage Pavilion Stage on Armour Hill at the Peterborough Museum & Archives from 9 to 10 p.m. on Friday, May 5th. As with all Artsweek Peterborough events, the perfrmance is free. For more information about Artsweek and a full schedule of events, visit artsweekpeterborough.ca.
VIDEO: "Let's See What My Telescope Says" – 3C84 (video by LA Alfonso)

kawarthaNOW is proud to be the official media sponsor of Artsweek Peterborough 2023.