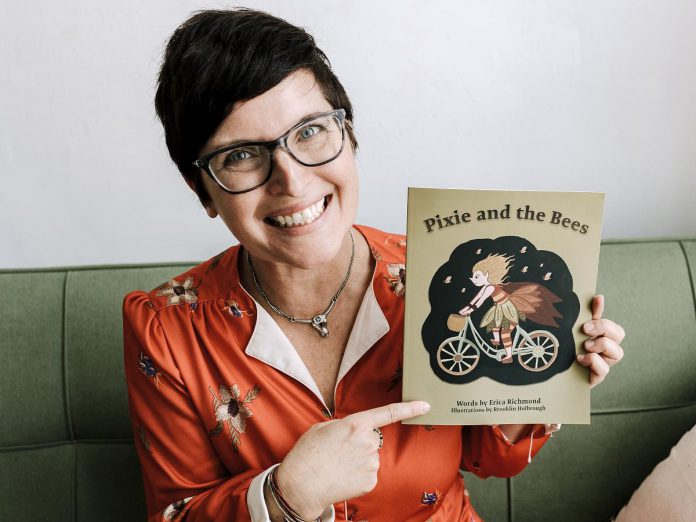 For the second year in a row, Peterborough writer Erica Richmond is donating half of the sales of her children's book Pixie and the Bees to a local charity during May for Mental Health Month.
Last year, Richmond raised $530 for the Trans Peer Outreach program at the Canadian Mental Health Association, Haliburton, Kawartha, Pine Ridge (Richmond's youngest child is transgender). This year, she will be raising funds for Peterborough Youth Services.
Mental health awareness is a cause close to Richmond's heart. She wrote Pixie and the Bees, her first book, while she was struggling with a diagnosed anxiety disorder.
Advertisement - content continues below
"The only way I could describe my anxiety to anyone was that I felt like I had bees swarming through my body all the time," says Richmond in a media release, adding she also felt lonely because no one else could see anything wrong with her.
Published in November 2020, Pixie and the Bees tells the story of a happy Pixie who has an encounter while picking wildflowers that leaves her with constant pain and discomfort that nobody else understands at first. The book is illustrated by Peterborough artist Brooklin Holborough.
The month of May also marks the anniversary of the death of the father of Richmond's children to suicide.
"This fundraiser is my way of acknowledging the deep impact his death had on my family and the great need to support others who are struggling," Richmond says.
Peterborough Youth Services provides accessible services that engage youth in a respectful, professional, and therapeutic relationship to foster emotional and social health. In 2021-2022, the organization provided support to 728 local youth through their mental health programs.
"Funds raised through this generous project will assist our efforts to reach out to young people and their families to offer counselling, support, and youth justice services," says Peterborough Youth Services executive director Gord Langill. "Thank you, Erica."
Advertisement - content continues below
Tweet this quote
The owner of Open Sky Stories, Richmond leads a variety of workshops focusing on connection and healing using expressive writing. In addition to Pixie and the Bees, Richmond partnered with North Carolina's Shannon Fitzgerald to write The Mail Art Stories Project: Mail Art in the Time of Covid-19, which showcases 119 decorated envelopes and postcards received from 52 people from 11 different countries around the world.
For more information about Pixie and the Bees and to order a copy of the book in support of Peterborough Youth Services, visit openskystories.com/product/pixie-and-the-bees/.
For more information about Peterborough Youth Services, their programs, or how to access support, visit www.pysonline.ca or call 705-743-1681.