There will be a comedy homecoming in Bobcaygeon on Saturday night (May 27) when the award-winning improv comedy troupe Slap Happy reunites on the Lakeview Arts Barn stage at Globus Theatre for one night only.
The quartet of Dave Pearce, Sandy Jobin-Bevans, Tabetha Wells, and Kerry Griffin first came together in 1997 as an ad hoc group for the now-defunct Peterborough Fringe Festival.
"We were all students together at The Second City, looking for places to play, when Sandy found out that the Peterborough Fringe Festival had a ridiculously low entry fee," Pearce told Brianne Hogan of the Streets of Toronto in 2012. "We didn't have to work to connect or be funny. Improv should feel easy, and we could relax onstage."
Advertisement - content continues below
Tweet this quote
The troupe soon found success and began performing across North America and Europe in the early 2000s. During that time, Slap Happy won three Canadian Comedy Awards for "Pretty Funny Improv Troupe," with individual members also winning awards as writers, directors, and performers.
"We tried a lot of different things over the years — bigger production values, costumes, a DJ, or duelling guitarists as musical directors — but we always come back to telling a story, playing at the absolute top of our intelligence, and open-mouthed kissing," Pearce joked when asked about Slap Happy's brand of comedy.
According to a media release from Globus Theatre, the professional theatre company asked the quartet to reunite for Globus' 20th anniversary season.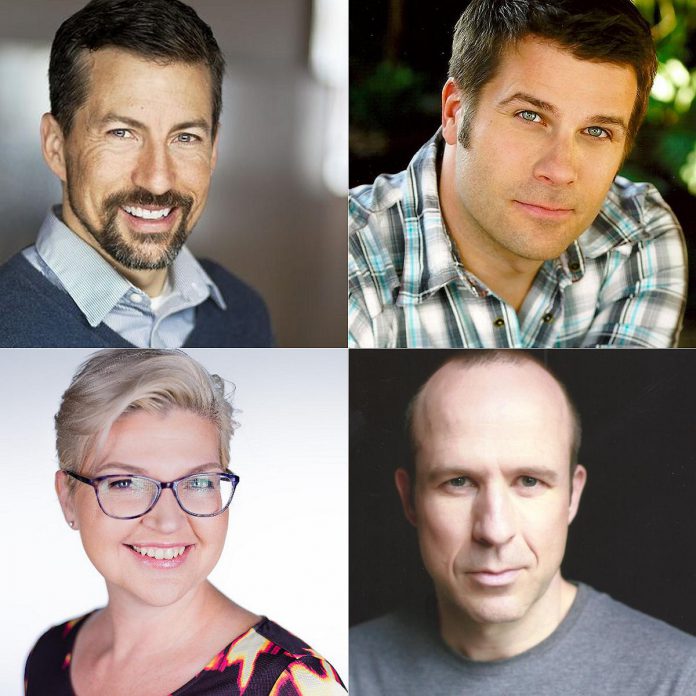 "Slap Happy were a regular fixture in early seasons of Globus before the four parted ways to have excellent individual careers on the comedy circuit and on TV," says Globus Theatre's artistic director Sarah Quick. "They're excited, we're excited, and you won't want to miss it."
Dave Pearce is no stranger to Globus Theatre, having performed at the Lakeview Arts Barn in Meet My Sister, Making a Move, and countless murder mysteries, including last November's Murder at the Match: A World Cup Murder Mystery. A former senior writer on George Stroumboulopoulos Tonight and regular contributor to The Beaverton and CBC Radio's The Irrelevant Show, Pearce moved from Toronto to Bobcaygeon eight years ago.
Sandy Jobin-Bevans, a Second City veteran and a nine-time Canadian Comedy Award winner, is the host of HGTV's Great Home Giveaway, host of Deal With It on the W Network, a star of YTVs Life With Boys and co-host (with his wife Kylee) of Yes TV's game show Just Like Mom and Dad.
Advertisement - content continues below
Tabetha Wells, Slap Happy's lone female member, is a former member of Second City's Touring Company in Toronto. Now living in Chicago, Wells has worked for many years with Second City as a director and instructor.
Kerry Griffin, a past member of the mainstage cast at Second City Toronto, has been performing in the Toronto improv scene for over 20 years. Along with being an instructor and director at Second City, Bad Dog Theatre, and The Social Capital, he has appeared in over 100 television and radio commercials as well as appearances on numerous television shows such as CBC's Schitt's Creek, Murdoch Mysteries, and Baroness Von Sketch Show, Amazon's The Expanse, and ABC's Designated Survivor.
Slap Happy performs at the Lakeview Arts Barn in Bobcaygeon at 8 p.m. on Saturday, May 27th. An optional dinner is available before the show at 6 p.m. Tickets are $45 for the show only, or $90 for dinner and the show, and are available by calling the Globus Theatre box office at 705-738-2037 or online at globustheatre.com.