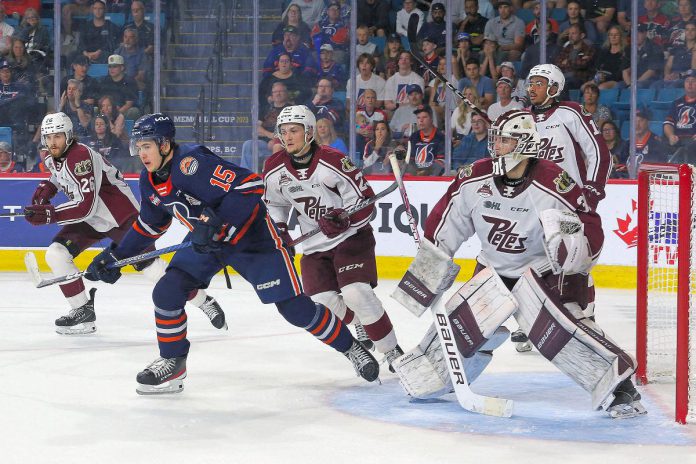 The Peterborough Petes are one game away from the Memorial Cup final after defeating the host Kamloops Blazers in a 5-4 comeback overtime win on Thursday night (June 1) at the Sandman Centre in Kamloops, B.C.
On the verge of elimination early in the tournament after losing their first two round robin games, including a 10-2 blowout loss to the Blazers on Sunday, the Petes secured a 4-2 win against the top-seed Quebec Remparts in the third and final round robin on Tuesday night to set the stage for Thursday's tie-breaker game.
At first, Thursday's game looked like it may be a repeat of the Petes' Sunday loss to the Blazers. Although Connor Lockhart of the Petes opened the scoring, the Blazers had scored three times by the end of the first period and added another goal early in the second period, leaving the Petes trailing 4-1.
Advertisement - content continues below
However, the Petes evened the score by the end of the second period with three successive goals by Brennan Othmann, Sam Mayer, and Brian Zanetti.
The third period was scoreless, moving the game into overtime when J.R. Avon scored the winning goal for the Petes, with an assist by Owen Beck. Goalie Michael Simpson stopped 43 of 47 shots by the Blazers for the win.
With Thursday night's win, the Petes advance to Friday night's semi-final game against the Seattle Thunderbirds. The winner of that game will face the Quebec Remparts in the Memorial Cup final on Sunday.
Puck drop for Friday night's game is scheduled for 10 p.m. EDT. Fans can catch the games on TSN, Freq 90.5, Oldies 96.7, and Classic Rock 107.9.