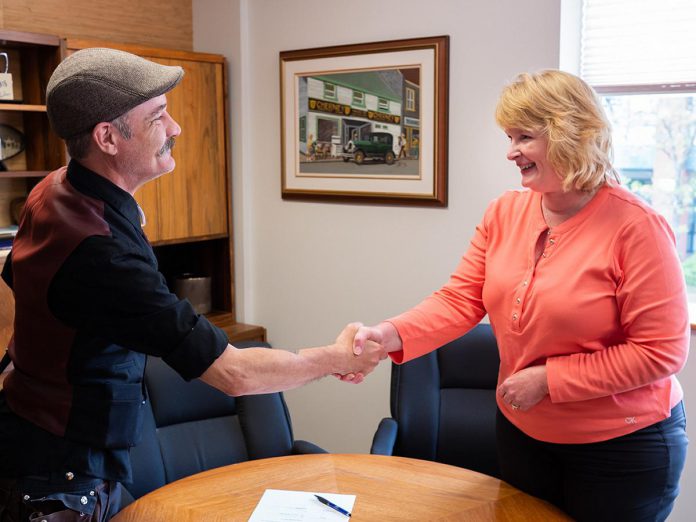 The Theatre On King (TTOK) is still standing, thanks to support from the Peterborough community.
Artistic administrator Kate Story announced in an email on Tuesday (June 6) that artistic director Ryan Kerr has renewed the organization's lease for its 171 King Street location for another two years.
"Earlier this spring, Ryan and I weren't sure if reaching this milestone would be possible," Story writes. "Turns out, there's an incredible community of people out there who declared — loud and clear — that TTOK matters!"
Advertisement - content continues below
The future of Peterborough's only black-box theatre was thrown into doubt in March when Peterborough city council voted 7-3 against providing any funding for TTOK, after Kerr and Story and several arts leaders and supporters had appeared in front of council with impassioned pleas appealing an earlier decision to deny TTOK's application for funding under the city's community investment grant program.
"My lease is up in the summer and so depending on what happens between now and June, we'll determine what happens in the future," Kerr told kawarthaNOW after the decision.
"I also need to talk to my landlord to see how long the lease will be … if it's going to be a five-year lease or a two-year lease or stuff like that. That will also affect the decision about going forward, because we can't do this — we can't live like this for the next five years."
Following the city's denial of funding, the community stepped up with donations to ensure The Theatre On King could continue to operate.
Tweet this quote
"Thanks to an overwhelming amount of support from each and every one of you, TTOK is renewed, re-charged, and ready to take on the future," Story writes in her email. "I cannot stress enough that TTOK is still standing — stronger than ever before — because of your steadfast belief in and support of art. Thank you. So much."
No small measure of that support has come from Michael Cherney of Cherney Properties, who Story calls "TTOK's amazingly supportive landlord." According to Story, Cherney has renewed TTOK's lease at 2018 rental rates.
To celebrate TTOK's 10-year anniversary, Kerr and Story will be hosting a party at 6 p.m. on Friday, July 14th. Both the Peterborough Downtown Business Improvement Area and the City of Peterborough have provided funding for the 10-year anniversary party.
"This celebration is a special tribute to each and every one of you who has played a vital role in ensuring the longevity of this beloved black-box theatre," Story writes. "It's your unwavering dedication and belief in our cause that has made TTOK what it is today — an enduring symbol of artistic expression, community, and resilience."
Planning is still underway for the celebration, with Story promising "more details and surprises" are to come.
Despite the earlier uncertainty about TTOK's future, the organization has continued to mount productions over the past two months. This week, Tom Stoppard's The Real Inspector Hound will run for five performances from June 7 to 10.
Advertisement - content continues below
Directed by Sarah Tye, the hilarious Agatha Christie-like melodrama spoof features Chancellor Scott McGuigan, Daniel Smith, Dianne Latchford, Eddy Sweeney, Lela Fox-Doran, Lindsay Unterlander, Hani Yakan, Noah William, and the voice of Andrew Root. Tickets are $20 or pay what you can, available in advance at eventbrite.ca/e/635003983007.
In other TTOK news, Sarah McNeilly's critically acclaimed debut solo show Titty Cakes: A Recipe for Radical Acceptance, which she performed to sold-out audiences at TTOK last October, is now available online at tittycakes.ca, where you can also find out how to bake and eat your very own titty cakes.
To support the work of TTOK, you can donate through Public Energy Performing Arts' page on CanadaHelps. Public Energy is a charitable organization, and all donations collected on that page will be allocated to The Theatre On King through Public Energy's charitable trustee program.