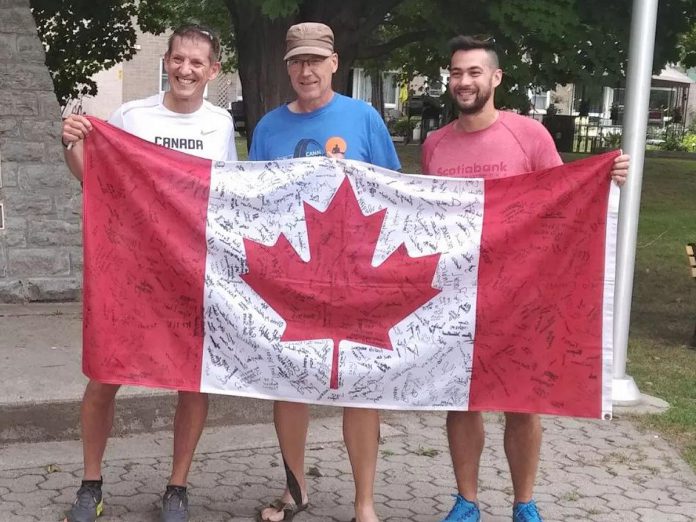 In August 2015, when Clay Williams ran the length of the Trent-Severn and Rideau canals, from Port Severn to Parliament Hill in Ottawa, he was the epitome of the loneliness of the long distance runner.
Covering an average of 94 kilometres daily over seven days and six nights, the Elmira resident's goal was to raise funds for the Belleville-based Mood Disorders Society of Canada and to raise awareness and dialogue about depression, anxiety, and post-traumatic stress disorder (PTSD).
Nine years after that inaugural event, Williams, 63, isn't running alone.
Advertisement - content continues below
The event he started — now known as the Canal Pursuit For Mental Health — has since become a relay run and from August 19 to 26 this year will see at least 35 runners join Williams for the 700-kilometre relay run alongside or very near both canals.
Starting at 8 a.m. at Port Severn's Lock 45, teams of two runners will cover the route in a week, finishing on Parliament Hill in Ottawa at 4:30 p.m. Each runner is bringing sponsor money to the table that will be added to the $115,000 raised to date for the Mood Disorders Society of Canada.
How the Canal Pursuit For Mental Health got legs, both figuratively and literally, is rooted in Williams' personal loss as well as an event south of the border that he registered for.
"I had done really well in a 48-hour race and was looking for my next event," recalls Williams. "There was this thing in New York State called the Erie Canal Marathon Tour. It was a multi-day run from Rochester to Buffalo along the Erie Canal — about 600 kilometres. I registered and got a team together to support me. I then connected with the Mood Disorders Society and started to publicize I was going to do this run."
"In January, months before the event, the race directors cancelled it because there weren't enough people registered, so I had to make up my own thing. I was kind of stuck on canals and I discovered we've got a couple of cool canals in Ontario too."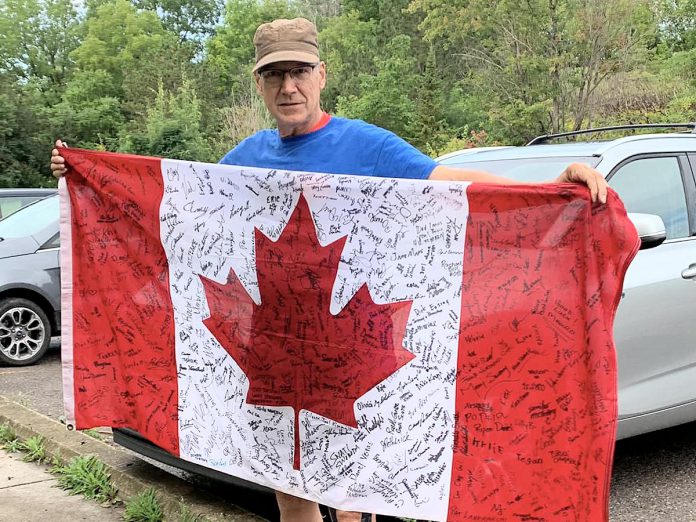 Have lost two brothers to suicide — one in the 1980s and the other in the early 2000s — and with mood disorders afflicting his wife, daughter, and sister, Williams' choice of a benefactor was an easy one.
"A big thing that played a part in the deaths of my brothers was the stigma around mental health issues," he explains. "(The response to mental health issues) was 'Suck it up, buddy. You've got to be tougher than this.' But just in the past 10 years, we've knocked down a lot of walls. Everyone is a lot less uncomfortable talking about their mental health."
That first run in 2015, notes William, was supposed to be a one-off "but as I learned a more about Canada's mental health care system, both the gaps and the efficiencies, I stuck with (raising funds and awareness) for mental health."
Advertisement - content continues below
Tweet this quote
In 2016, Williams again ran the route solo but covered about 60 kilometres daily, resulting in a two-week trek. The following year, he started to recruit other runners who, relay style, would cover shorter distances.
"Awareness is so powerful," says Williams, noting how he's had numerous conversations with people along the route who are going through their own mental health struggle or have a loved one or friend who is struggling.
"Awareness is the stigma buster. The more people hear conversations around mental health, the less uncomfortable they'll be around it. We would be hard pressed to find someone who hasn't been affected in some way or who doesn't know someone who has been affected by depression, anxiety, or PTSD."
That includes many first responders, which is why this year's relay run is dedicated to the mental well-being and support of those who keep us safe. Daily starting August 19th, in order, CFB Borden, CFB Trenton, CFB Kingston, paramedics, firefighters, the OPP, the RCMP, and the Ottawa Police Service will be feted with members of those organizations coming out in support of the runners.
Among this year's participants are Eileen and Joel Kimmett of Peterborough, this being the fourth year the husband-and-wife team have participated (although Eileen missed the 2022 run due to COVID-related illness). They'll join the relay on Sunday, August 20th in Brechin south of Orillia, running 10 kilometres each before finishing at Lock 34 in Fenelon Falls.
"I live with mental illness," says Eileen of her connection with the cause. "Physical activity has helped me get through episodes of depression. It helps keep my brain healthy so I don't slip back. It helps me cope."
Cycling more as of late as opposed to running — "I had long COVID and it did a number on my lungs" — Eileen acknowledges covering her 10-kilometre stretch "will be difficult but so is having a mental illness. This is about connecting with other people that have mental health challenges. It raises awareness and gives people hope."
Another Peterborough participant of note is Nicole Armstrong, who has run every year.
Advertisement - content continues below
Tweet this quote
During the relay run, a cherished symbol of what the event is all about and who it's helping will be close at hand.
"That first year, 2015, as part of my training, I did a bunch of races leading up to the August event," recounts Williams. "I bought a Canadian flag and brought it to each of the races and I asked people 'If you or someone you love is struggling with depression, anxiety or PTSD, sign my flag and I'll carry it the full distance of my run as a symbol that you don't have to carry your burdens alone.'"
"Each year we've been carrying that same flag. We've got around 400 signatures on it now. It's the relay baton. I've had the honour of carrying it to Parliament Hill and waving it there eight years in a row and I'm going to do that again this year. It's a tangible responsibility to carry that because the people who signed it have trusted that we're trying to help."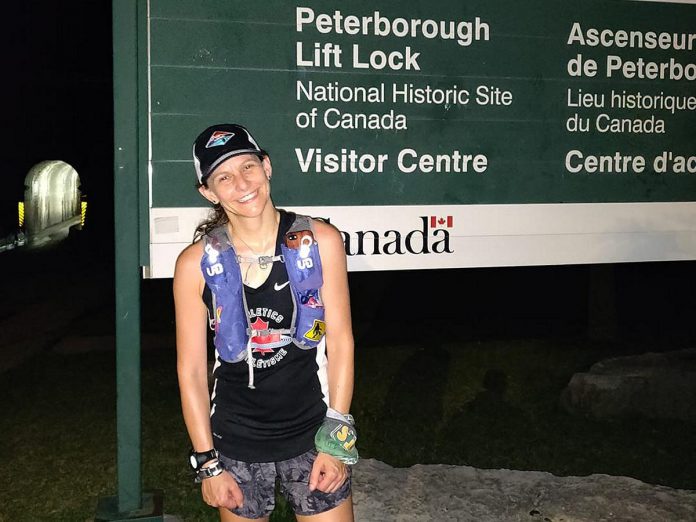 Now, as the relay run's start nears, Williams admits to his usual pre-run event nervousness but is excited to again see many of the familiar faces that have participated in past years.
"One of the things I learned in that first year is if you're doing something that's good and something that's right, people will want to help," says Williams. "People have been helping along the way all through this. It's not all resting on my shoulders anymore."
In the meantime, thoughts of his two brothers, always there, will be even more present.
Advertisement - content continues below
Tweet this quote
"Far too many people I've met have said they've lost someone close to suicide — a brother, an uncle, a sister," Williams says. "That brings it home and reinforces the reason I do this."
Williams is already looking ahead to 2024, which will be the 10th anniversary run of Canal Pursuit For Mental Health.
"This year, I'll be running about 60 kilometres total. Next year, I plan to run the entire thing again. It's year number 10 — the last hurrah. I don't know what's going to happen after that. Maybe a hand off or maybe other some sort of change."
To register or donate for the Canal Pursuit For Mental Health, visit canalpursuit.defeatdepression.ca, where you can also find more information about the relay run, including a schedule of each day with locations and times. To follow the progress of the runners for this year's event, follow Canal Pursuit For Mental Health on Facebook, Instagram, or X (formerly known as Twitter).