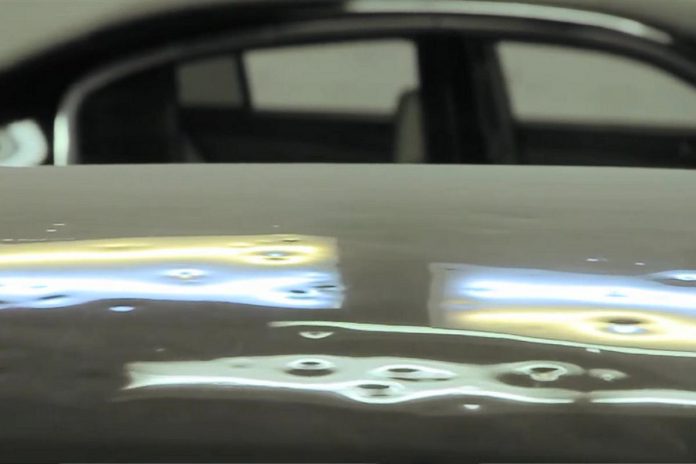 It only took eight minutes in August for a freak storm to leave Lindsay car owners with thousands of dollars of damage from hail.
The severe storm that swept across eastern Ontario and southern Quebec on August 3, 2023 brought high winds, tornadoes, and — in Lindsay — golf-ball-sized hail.
In the days following, social media posts documented the scene left behind, including downed trees, caved-in roofs, and flooded streets, with many people also posting photos of the large hail that damaged their cars and homes.
There are so, so many cars with hail damage in Lindsay. They took a heavy hit here. At least one resident told me that the hail barrage lasted an hour! @weathernetwork #ONStorm pic.twitter.com/P8MnqsaRks

— Mark Robinson (@StormhunterTWN) August 4, 2023
Tweet this quote
"I haven't seen anything like this in a long time," says Warren Bell, CEO and president of Dent Tech Inc., a pioneer in automobile dent removal. Considering the Durham-based company has been repairing hail damage, door dings, and minor dents across the country since 1994, that says a lot about the storm. "The hail pelted hoods, destroyed roofs, and broke windshields — it was some serious damage."
According to Bell, the hail that fell on August 3 ranged from 1-3/4 to 3-1/4 inches wide, with the storm lasting about eight minutes, which is double the length of an average hailstorm.
Based on the population of Lindsay and an average damage of $10,000 per vehicle, Bell estimates there was about $100 million of car damage caused over the course of the "catastrophic" storm.
"Lindsay has never really been affected by hail damage before, so people were really confused by how to handle it," he says.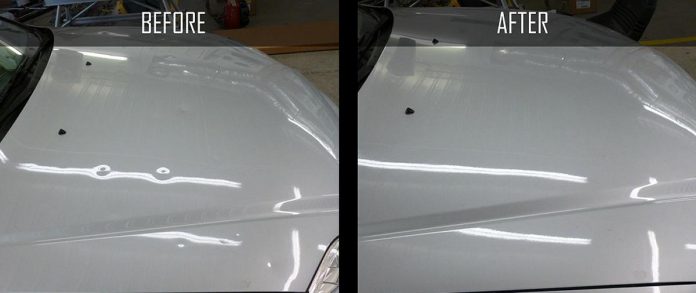 Tweet this quote
Dent Tech Inc., which has operations across Ontario and Alberta, has launched a new Lindsay office to help local vehicle owners repair their hail damage while assisting them with insurance claims. You can contact the Lindsay office by visiting repairs.denttech.ca.
"People may not even realize that hail damage falls under comprehensive claims on your insurance policy if you have automobile coverage and won't affect your insurance rates," Bell points out.
Over their years of service, Dent Tech Inc. has worked with many commercial businesses and car dealers, including General Motors Insurance Company, where the company repaired all dealer fleets across Ontario that were affected by hail damage.
Though Dent Tech Inc. is new to Lindsay, Bell is no stranger to the Kawarthas. He has been visiting the region his whole life and now resides in Fenelon Falls.
"My parents had a cottage in Fenelon Falls before they owned their first home," he says. "I've been going up there for my whole life. I'm very familiar with it and glad to connect with and help out some neighbours."
Dent Tech Inc. offers paintless dent removal, an environmentally friendly process of fixing dents to return the exterior of a vehicle back to showroom condition without the use of fillers, sanding, or painting. Custom-designed hand tools are applied to the underside of the sheet metal panels to remove the dents, so there's no need for any panel replacements or paint matching and blending.
Tweet this quote
"We massage the metal back to the original finish," explains Bell. "It's a skilled trade. It's not something that you can pick up and anyone can do. Our highly skilled technicians are able to repair hail damage without having to replace panels and paint vehicles."
He adds it's common for an insurance company to refer claimants with hail damage to a traditional body shop, which will replace the damaged panels and repaint them, reducing the vehicle's resale value.
Bell says that's not the case with paintless dent removal.
"We're there to maintain the finish on your car, which means your car gains its value back."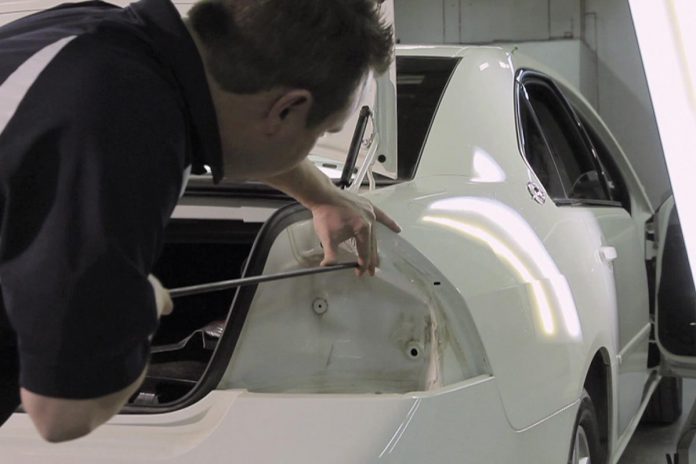 Tweet this quote
Bell adds it will likely take a lot longer to get repairs done at a traditional body shop. Depending on the number of customers, especially after a hailstorm, it can take upwards of six months between the appraisal and the booking time to get the repairs done, and can take up to a month to even have your vehicle appraised.
Since Dent Tech Inc. specializes in paintless dent removal, Bell says, they can get your vehicle repaired more quickly. Even if your insurance company has referred you to a traditional body shop, you can still get a free estimate at Dent Tech Inc., which can help you walk through your insurance claim. Dent Tech Inc. can even send out a technician to your home for a driveway appraisal.
"We want to educate that the customer has the ability to choose where to get their car fixed," Bell explains. "The consumer has the option to take that estimate from their insurance company, and get their vehicle repaired anywhere."
VIDEO: Dent Tech Inc. Paintless Dent Repair (PDR) – Hail Damage

In some cases, Bell explains, Dent Tech Inc. might even be able to waive or reduce the deductible the client must pay following the comprehensive damage — something that body shops working with the insurance companies are unable to do.
"It's something we can negotiate once we get a look at the car," says Bell.
The Dent Tech Inc. CEO explains he's eager to help his neighbours in Kawartha Lakes by educating them on their options when it comes to hail damage repair, especially since managing insurance claims and hail damage might be an entirely new process for them.
One Hell of a storm in Lindsay #ONStorm. Broken windshield, countless dents on the cars, and holes in the siding of my house the size of my fist. Will be calling the insurance in the morning ?? pic.twitter.com/Xy8uGUlAmZ

— Leigh (@Canadian_gurl14) August 4, 2023
Tweet this quote
"We've been around for almost 30 years and we're one of the few companies that has the experience to manage the severity of the damage that's in Lindsay," says Bell.
To make an appointment or discuss your insurance options with Dent Tech Inc., email claims@denttech.ca or call 1-705-307-3750. For more information about their services, visit denttech.ca.
This branded editorial was created in partnership with Dent Tech Inc. If your business or organization is interested in a branded editorial, contact us.