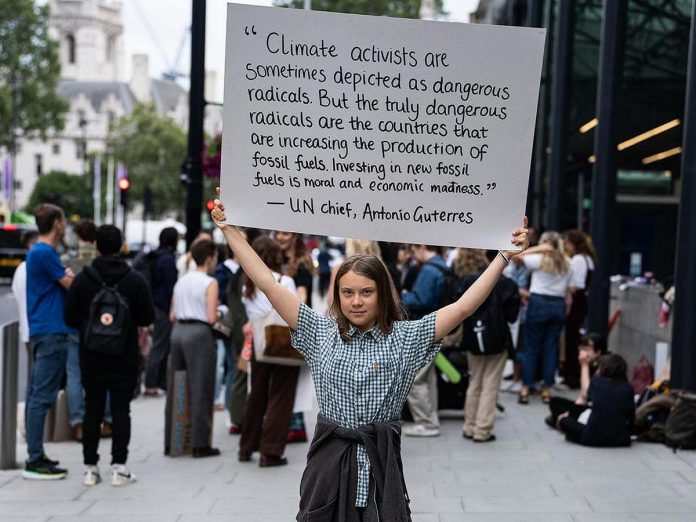 Local climate activists are participating in a global climate strike on Friday, September 15th in Confederation Park across from Peterborough's City Hall.
The youth-led worldwide protest was recently announced on social media by Swedish environmental activist Greta Thunberg, who pointed to the extreme heat waves, forest fires, and flooding experienced around the world this past summer.
"We need climate activists now more than ever," Thunberg wrote. "After a summer full of extreme weather and shattered records, the world is still gearing up towards climate catastrophe. People all over the globe are already experiencing the first hand consequences of this crisis, and it will get much worse unless we radically change course."
Advertisement - content continues below
Thunberg posted a photo of herself holding a sign with a quote from United Nations chief Antonio Guterres.
"Climate activists are sometimes depicted as dangerous radicals," Guterres said. "But the truly dangerous radicals are the countries that are increasing the production of fossil fuels. Investing in new fossil fuels is moral and economic madness."
Taking place two days before world leaders are scheduled to meet in New York City for the United Nations Secretary General's Climate Ambition Summit, the global climate strike is being organized by the Global Fight to End Fossil Fuels and aligns with ongoing protests being held by organizers from Fridays for Future, an international movement of school students inspired by Thunberg's first 2018 protest in Sweden when she was 15 years old.
Advertisement - content continues below
Protests on September 15 are being planned in major cities around the world, including Toronto, Ottawa, and Vancouver in Canada. The Peterborough protest is being organized by Kawartha World Issues Centre and Sustainable Trent, supported by For Our Grandchildren.
"It is up to the richest governments of the world, those that lead the developed nations who are causing the climate crisis, to take meaningful action by ending the production, use, and funding of fossil fuels and transition to renewable energy sources," reads a media release from the local organizers. "The transition away from using fossil fuels as energy sources must be just, equitable, and fast. This transition must prioritize those most affected by the climate crisis, and ensure no one gets left behind."
The Peterborough protest takes place from 12 to 2 p.m. on September 15 in Confederation Park.
"This is an opportunity to support the youth-led climate movement, listen to local community members, and share why a fast, fair, and permanent end to fossil fuels use and production is important to you," organizers say.